Rising house artist DONPAIRION offers his perspective on his new alias, his production process, and overcoming challenges as a rising artist.
---
Closing one door can open a new one that leads to a world of potential, and such was the case for rising producer DONPAIRION. Formerly known under the Alpha Trap alias, his beginnings found him immersed in riddim and dubstep stylings, consistently releasing headbang-worthy tracks. But the Texas native officially said farewell to the bass and trap-heavy side of his sound and hopped aboard the house and techno train.
Come 2021, and his rebrand officially commenced with the release of his first single, "On Tha Dance Floor," as well as the launch of his Particle Party mix series that is filled with house, disco, and techno galore. Now a year into this new side of his artistry, it's clear to see that DONPAIRION is coming into his own, unlike ever before.
DONPAIRION transition into the world of house music has graced us with incredible releases like the upbeat "Move With the Drums" and, most recently, the infectiously groovy "Blue Moon Boogie." From making dirty dubstep to releasing irresistible house edits of Beyoncé tunes, he's shedding his old skin and making room for this new side of his artistry to shine through.
The rising producer stopped by to give us the inside scoop on all things surrounding his new project and cooked up a mix filled with his most danceable tunes to date. With a tracklist featuring tons of goodness from his own unreleased tunes to an edit of Beyoncé's "Irreplaceable," this mix is filled with funky tunes that are guaranteed to get you on your feet. Give it a spin and read on for the full conversation with DONPAIRION.
Stream EDMID Guest Mix 335 || DONPAIRION on SoundCloud:
---
Hi DONPAIRION, thanks for stopping by to talk with us! First and foremost, you were previously known under the moniker Alpha Trap, where you leaned heavier into bass and trap stylings. What inspired you to rebrand and launch the DONPAIRION project? 
The shift from being a bass-head to house-head has been a beautiful transition. I attribute the change to dedicating myself to spending more time learning about production + writing. 
As I became more comfortable with my work in year 2, learning how to play it out live is extremely close to my heart. Like something special, something for me. Nightbass music was not as engaging for me. I felt better at channeling my life into my art with house music, so I pursued the path of least resistance.
Where did your love of house and techno originate from?
Probably 2019. It really wasn't my thing before. I had followed big artists like Dillon Francis for house or Armin van Buuren for trance, but it feels like it wasn't until John Summit that I was looking over at names like Dom Dolla and Dombresky. I feel my music taste went from 0 to 100 real quick. Artists like Ranger Trucco, No Thanks, Wax Motif, Lee Foss, and even Sofi Tukker are really the ones who changed the game for me. I was over the top inspired by the music these artists have created. Their leads and lyrics were simple to follow, the basslines were punchy and catchy, plus the drum arrangements were fascinating to me. 
Your releases under this project radiate club-ready energy, such as on your recent singles "Blue Moon Boogie" and "Move With the Drums." Who and what are some of the influences you tap into during your production process? 
Defyre was a great resource for feedback sessions and house music-producing classes. Blue Moon Boogie was inspired after I was listening to Matroda, I think. The bass roll from his song "The Movement" inspired my drop variation. Move With The Drums I wrote after a drop arrangement class with Bleu Clair. A lot of songs I have been writing lately have been influenced by Sammy Legs, another very inspiring artist. 
Your Particle Party mix series on SoundCloud is always packed with an incredible selection of house tunes. What was your motivation behind starting this series? With 7 volumes under your belt so far, what does your process for creating these mixes typically look like? 
Having mixes to work out to and share! It also not only keeps me very honest with an up-to-date music library but also gives me the opportunity to showcase some new music every month. I've been writing a song a month since I finished my unreleased song "Perignon" back in December. 
What is a "particle party," anyway?
Came up with Particle Party because my main symbol is an Atom, which is within the last part of my name Pair(ion). The O is actually an Atom symbol. So, although I love my play on words with Dom Perignon… I mean, Pair(ion), charged Ions are the roots of my brand. Ions, by definition, are electrically charged particles that can contain atoms. So since I create new "Ions" (music) and put them into the mix with all the other "Ions" (other house music), it's a "Particle Party" every month!
What has been the most rewarding part of your journey as an artist thus far? What has been your biggest growth moment?
Sharing music with friends in person and receiving their reactions. Also, those times I get to play on a stage and control the feel, the color, the vibe of the entire dancefloor. It's those out-of-body experiences that keep me fueled. This fuel gives me the energy to finish those one or two things that will have the song ready to send and not be sitting around. Finishing is so fulfilling, and I feel tremendous growth toward reaching my full potential.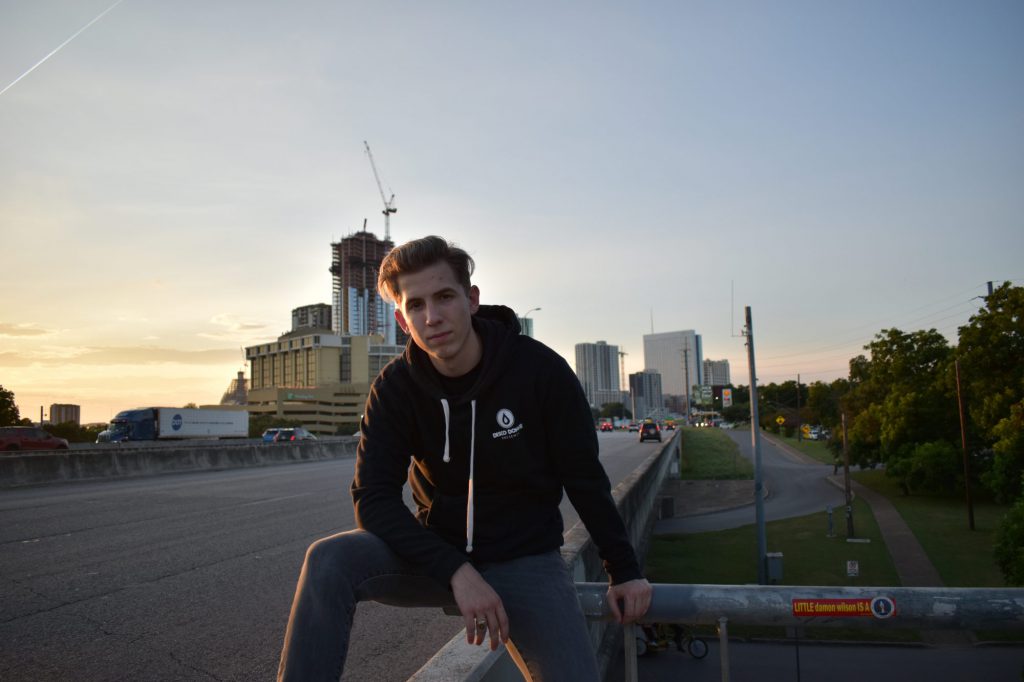 On the flip side, what has been the biggest challenge you've faced so far?
Engagement and getting booked. This seems to be the one I jump in the ring and strategize on. It's tough, really. You either must be a part of that community which means going out, having fun, and maintaining yourself to eventually be invited to play for those events being put on. Or you become famous through bigger artists playing your music, inviting you to open locally, or wishfully asking to go on tour.
The world of getting to a stage is tedious but fulfilling, and it's imperative actually to enjoy the process. From making the music to getting it played, if there is something that is annoying, it's like we need to find a way to learn it well and then enjoy it, so we can do it over and over again. Then it becomes fun because it's part of our living nature to do so! Learning to channel life into art is one of the most beautiful things I have found life to offer.  
Imagine you're popping a bottle of Dom Perignon to celebrate just having played your dream venue or festival. What venue or festival would that be?
Any House/Electronic Music Festival at The Gorge in Washington.
Finally, what is one goal you would like to achieve in the latter half of 2022, and what is one goal you'd like to achieve in the long term? 
I'd like to play in LA for the first time and would also like to release a three to five song EP that has a clear message and can capture a specific emotion in each specific song that makes my audience feel a story. 
---
Follow DONPAIRION on Social Media:
Facebook | Twitter | Instagram | SoundCloud | Spotify