Lollapalooza brought fans of all ages from near and far to celebrate another fantastic weekend of music and more at Chicago's Grant Park.
---
Four days of nothing but a variety of music genres, great eats, and outrageously contagious energy – that's the short but sweet version of what Lollapalooza is. From Thursday to Sunday, fans flocked to Grant Park for one of the biggest weekends in Chicago. Being a multi-genre festival, Lollapalooza attendees were presented with headliners like Green Day, Dua Lipa, Kaskade, Rezz, J.Hope, Metallica, and more. There's always a little something for everyone at the festival, whether you're into pop, hip hop, rock, or EDM, and new this year, K-pop!
I set off for my 13th time attending Lollapalooza and was flying solo for the weekend, but I didn't mind at all as I'm comfortable with the layout of Grant Park and how everything works when it comes to the festival. It began with a ride from just outside the city into downtown with little traffic until you reached The Loop. That's when you were greeted by tons of everyday people on top of the festival patrons, which were very easy to differentiate. The closer you got to the gates more basketball jerseys and rave outfits flooded the streets. Needless to say, there were plenty of fans in their festival gear, ready to get the party started.
Thursday started with me going to the opposite end of the park to grab my wristband and go through security. The staff was efficient and thorough as usual when it came to the bag check. Once I made my way in, I passed loads of interactive pop-ups from various brands, charging stations usually associated with those brands, and an NFT booth, where you could make your face an NFT.
I went straight to the Solana x Perry's stage by catching the tail end of BIJOU, who threw down a bumpin' set. Although the main thing people think of when they think of that stage is that it's only a ton of drunk teenagers who can't handle their alcohol, that wasn't entirely the case this year. I could walk around pretty easily without bumping into any drunk teens or your average wannabe influencer on their phones the whole time. It was relatively moderate in the back of the crowd, with fewer teenagers but plenty of people who wanted to party.
From there, I got my first taste of the sounds that TSHA crafts up.
TSHA's set was really enjoyable, especially after I ran into some old friends telling me how cool of a DJ she is, and it proved true because the entire crowd couldn't stop dancing. By the time this set was done, I had switched stages and headed to the T-Mobile stage to catch Still Woozy, who brought out Remi Wolf to perform their song "Pool," and they both did a great job getting the crowd pumped up for Billy Strings.
"Wow, Billy Strings can shred!" was my reaction to his set. I was near the front with two friends, and it's not often that I can be close in the crowd and have enough room to move around comfortably, so that was an extra treat. Caroline Polachek, ZHU, Metallica, and Lil Baby were headlining Thursday night. My body was not ready for the weekend since I did not remember to stretch, so I sat in the back to see Metallica close out the night before leaving to beat the rush of fans exiting the festival.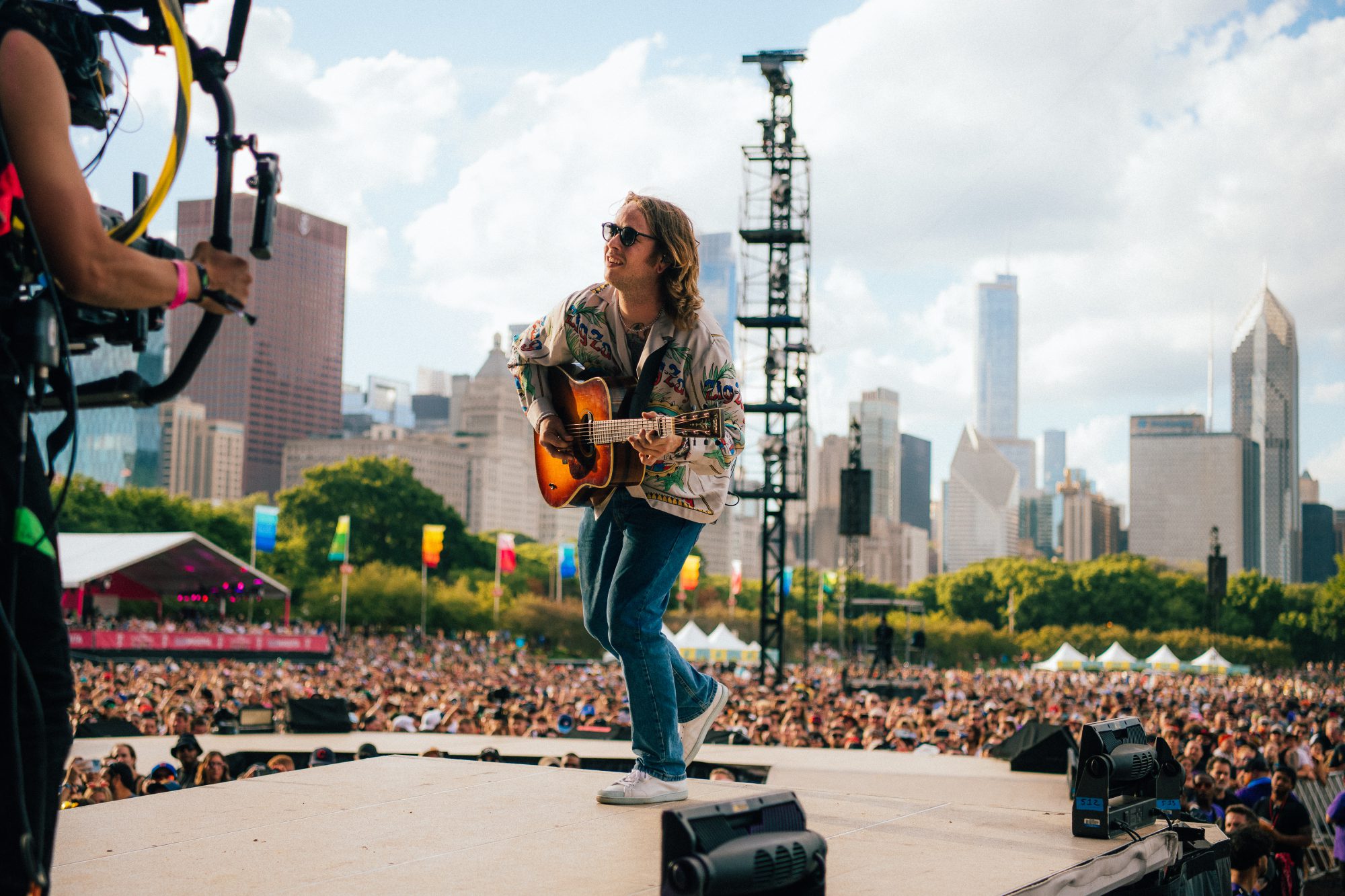 The second day began with food – and what else was I to enjoy other than tacos? 
Once I made my way through the festival gates for Friday, I went straight to Chow Town to grab something to eat. Of all the local vendors, I chose Broken English because they have fried chicken tacos that are out of this world. It's one of my favorite places to get tacos in the city. I found a spot in the shade and enjoyed my food before making my way to Solana x Perry's again. Since that stage is located where there are two dusty baseball fields that were not wet down before the day, there was lots of dust getting under my glasses and in my eyes for a good chunk of my time spent at that stage.
I started the second day with drum pad queen Maddy O'Neal, who dropped a banging remix of Madeon and Porter Robinson's "Shelter." I was having too much fun to care about using Shazam to figure out whose remix it was. Following this set, I went to catch Wet Leg at the Discord stage. If you haven't heard of them, they are an indie rock band that happens to be on Barack Obama's summer playlist. If you're keen on indie and haven't heard them before, I recommend catching them if you have a chance.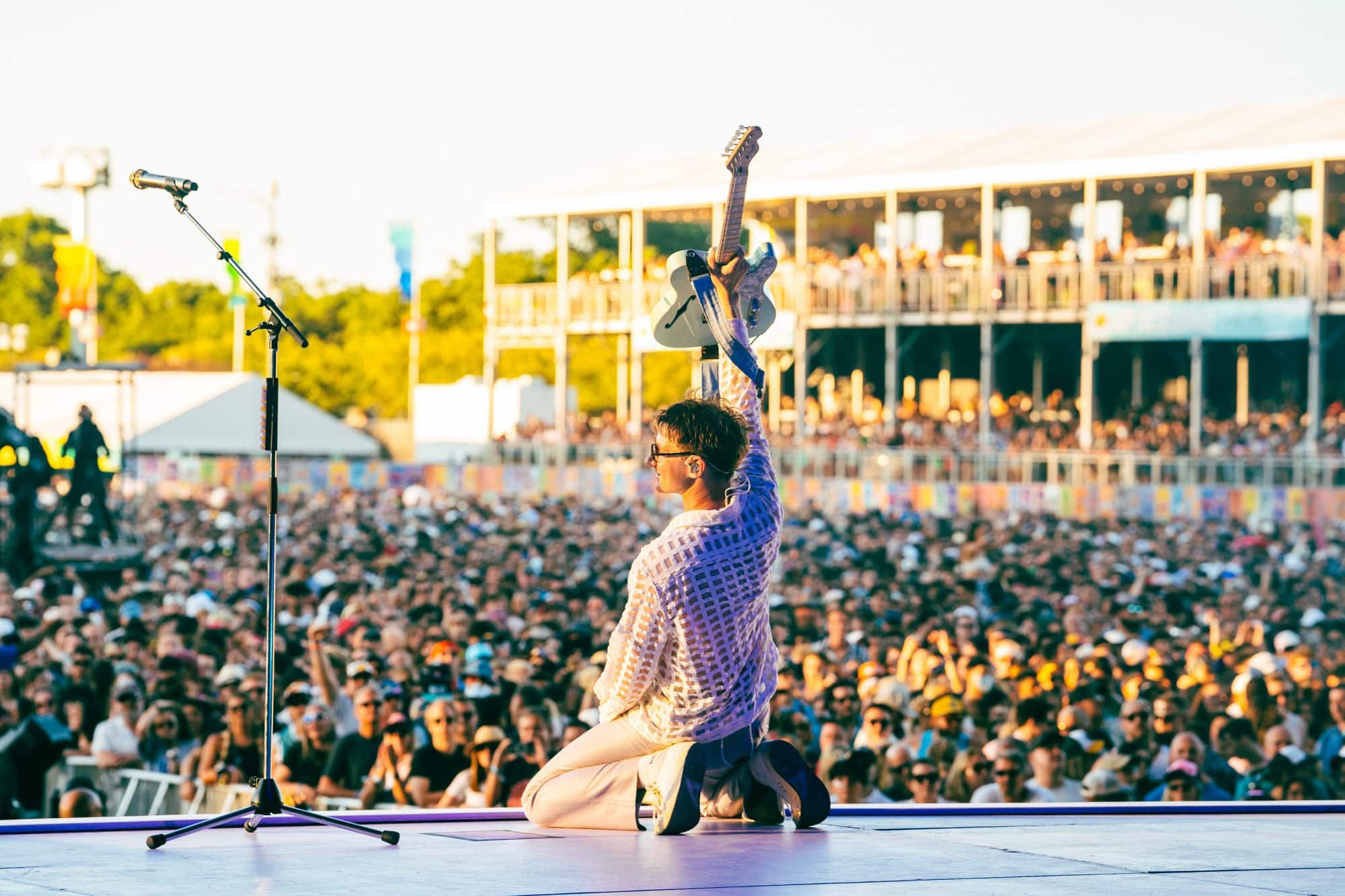 Going solo allowed me to cut through the crowd while heading from stage to stage. 
I wanted to catch LP Giobbi at Lollapalooza, and once I arrived back at the stage, she was playing one hell of a remix of Daft Punk's "One More Time" – I was over the moon with excitement. Soon after, it was time to catch one of my favorite acts, Glass Animals. They always put on a good show, so I knew I was in for a great time. When it was time for them to play "Heat Waves," the entire crowd was singing in unison with their lead singer. It's always a special moment when crowds of that size are unapologetically jamming out together.  
Rezz was Friday's headliner, and this was my first time seeing her play. I was expecting a wild set but not expecting it to be that wild. She pulled a huge crowd, and you could tell everyone at that set wanted to be there. It was also cute when she got on the mic near the end of her set and said, "I'm gonna play a Flume song just because I can." Beyond a shadow of a doubt, she ended Friday night on a high note.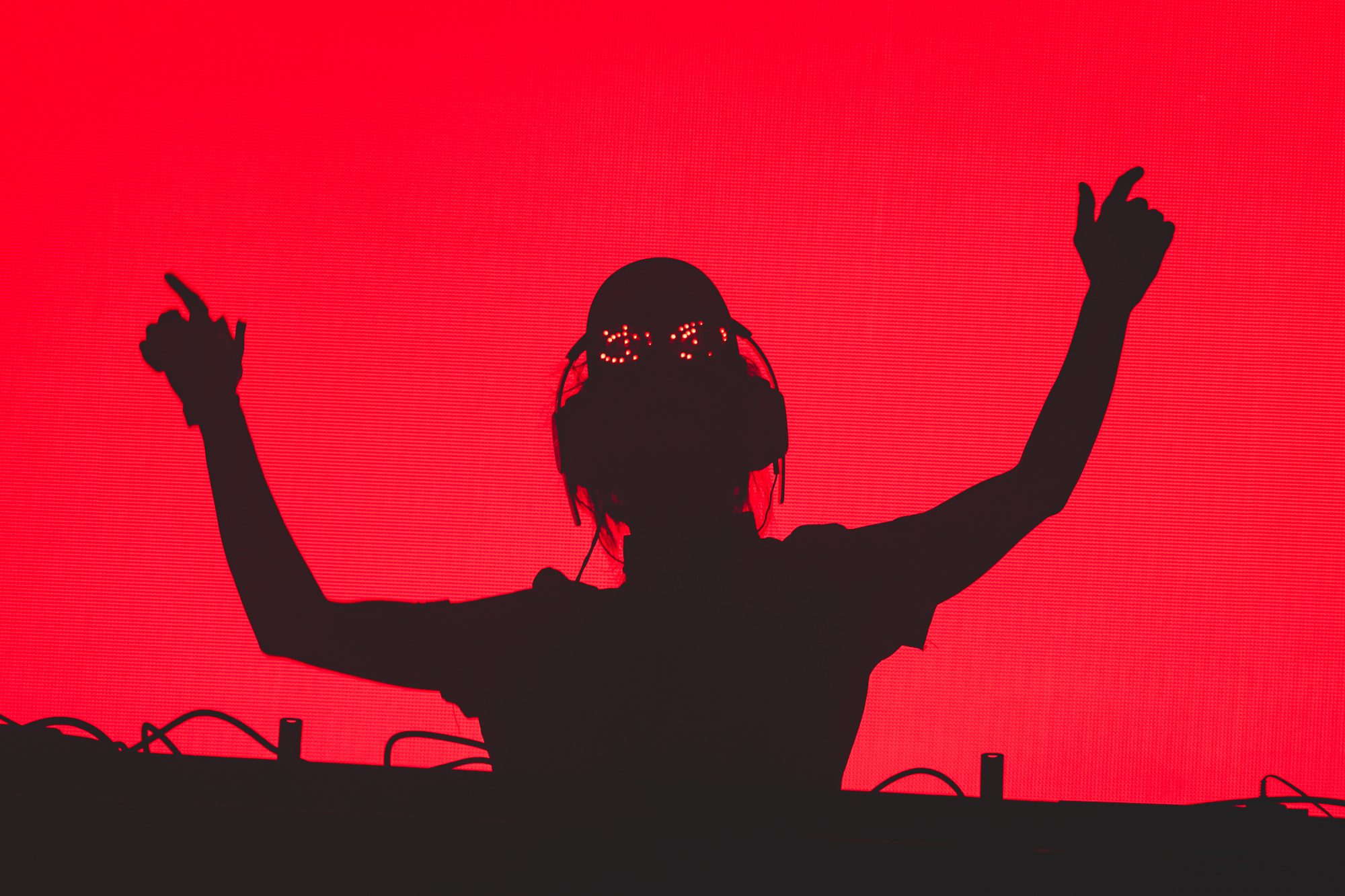 It was a scorcher on Saturday, but the sets were even hotter as artists played nothing but fire.
The weekend was hot each day, and Saturday felt like the hottest of them all, but having some shady areas kept everyone cool when you couldn't find shade, and staying hydrated was extra important. Luckily every chance I went for water, there wasn't too big of a line. They also were selling ice-cold waters from Liquid Death. Thanks to that, I saw the number of cans on the ground double in size, but there were attendees collecting recycling for the festival and staff picking up trash and changing trash cans with new bags constantly.
My Saturday was a bit different than the days before. The day started with some indie rock by seeing Fletcher, who put on a great cover of Billie Eilish's "Happier Than Ever." I also caught Dashboard Confessional, which made my teenage self happy, before seeing the end of Wallows. All of them had killer performances. These artists put their heart into their performances; all I could think of was the shots I could've gotten if I had my camera with me.
The night was young, and I had a long night ahead of me.
When it was closer to the sunset, I strolled back to Perry's to catch some of Duke Dumont. However, when I got there, it was insanely packed because it was Lollapalooza's first K-Pop band set to perform after this set. At about this time, my legs started to hurt again, so I found a spot on the curb near the food vendors and listened to the sound bleed from the stages around me. 
Sitting was the move because I had to keep my energy up as this was one of the nights I had tickets for an after-show. The show was for SIDEPIECE, and I was excited to return to Concord Music Hall this year. Being a top venue of mine, I had high expectations for the energy and the sound. Having missed their set earlier in the day, I couldn't wait to see them. The crowd went wild for them while the speakers were blasting out their beats. Overall, it was a very successful evening.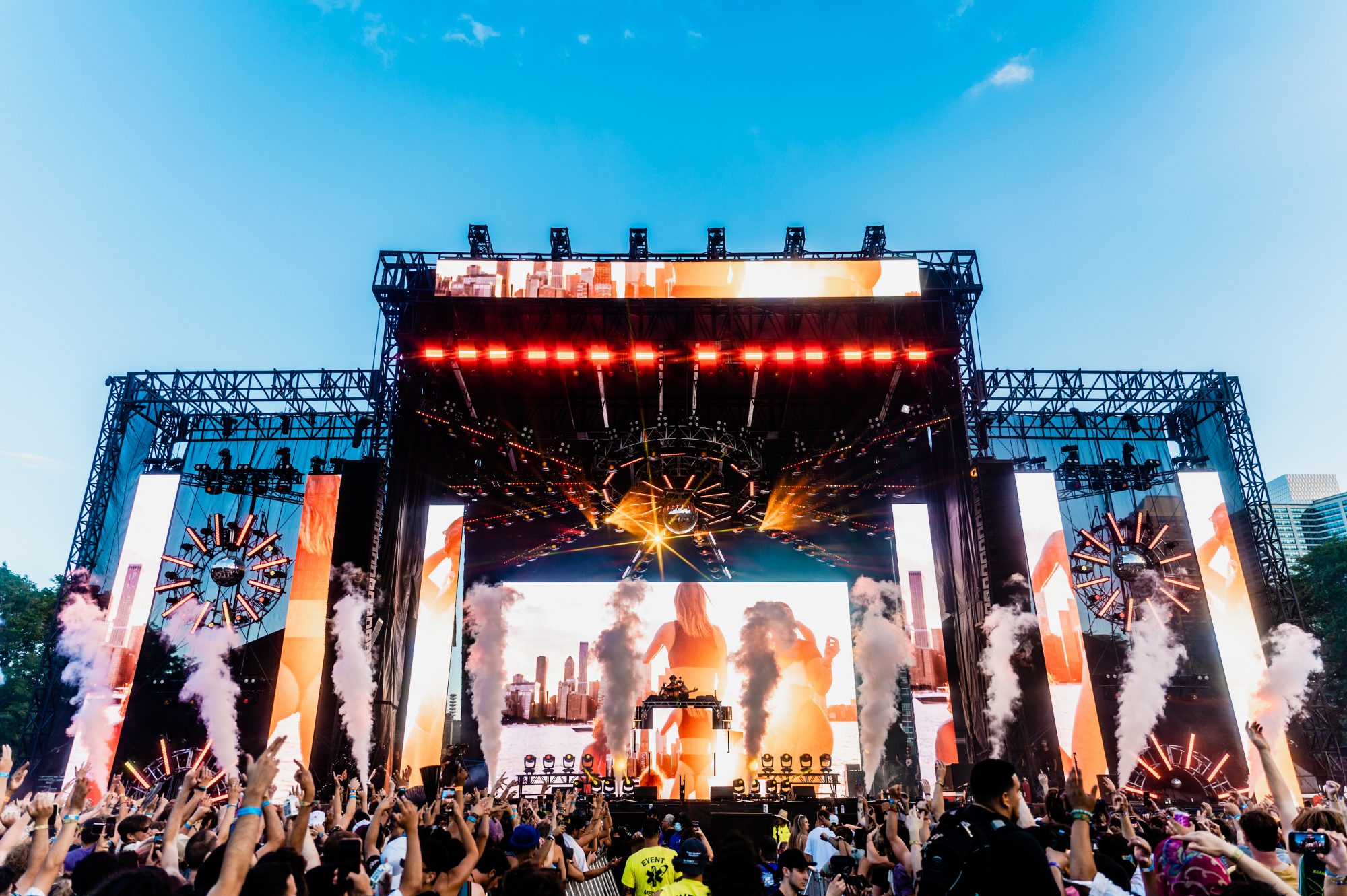 Sunday was a Funday but not for ADA.
On the final day of the festival and fans were ready as ever to get down to their favorite artists. The first performance I saw was Hannah Wants. It was a pretty lit crowd for it being 1pm, especially since sometimes fans typically shuffle in around 2 or 3pm. This is nice if you have an artist you're trying to see early in the day.
I went with some friends and their families on this day and got a different look at Lollapalooza. My friend's little sister was attending the festival for her very first time, and she was really excited to see J.Hope. She uses a wheelchair and requires access to the ADA platforms, so she and her mom made their way to where he was performing, the Bud Light Seltzer stage.
Unfortunately, there was only one ADA platform for the two stages at that end of the park – Tito's and Bud Light were required to share. The staff members had let too many people on the platform at that point, yet it was only three in the afternoon. Instead, she was told that she was allowed up, but her companion (her mom) would not be allowed on the platform. The staff member also said she could wait there all day – but who wants to wait in the sun all day by themself and risk getting burnt or sun poisoning? Lollapalooza was not prepared for platform space, especially for a headliner that size. It was just unsafe and uncoordinated.
On a brighter note, the highlight of my Sunday might have been CHARLI XCX or John Summit, and both brought a crazy amount of fans who knew every song. The crowd for each set also had so much enthusiasm. It was interesting to look around and see the variety of fans when it came to the age range. Charli got fans going by singing her hits and dancing to her choreographed moves. At the same time, John had the crowd raving by opening the set with "In Chicago," naturally. I ended my weekend just right with Green Day, who satiated the desires of my teenage self. By the end of Sunday, my legs were Jell-O.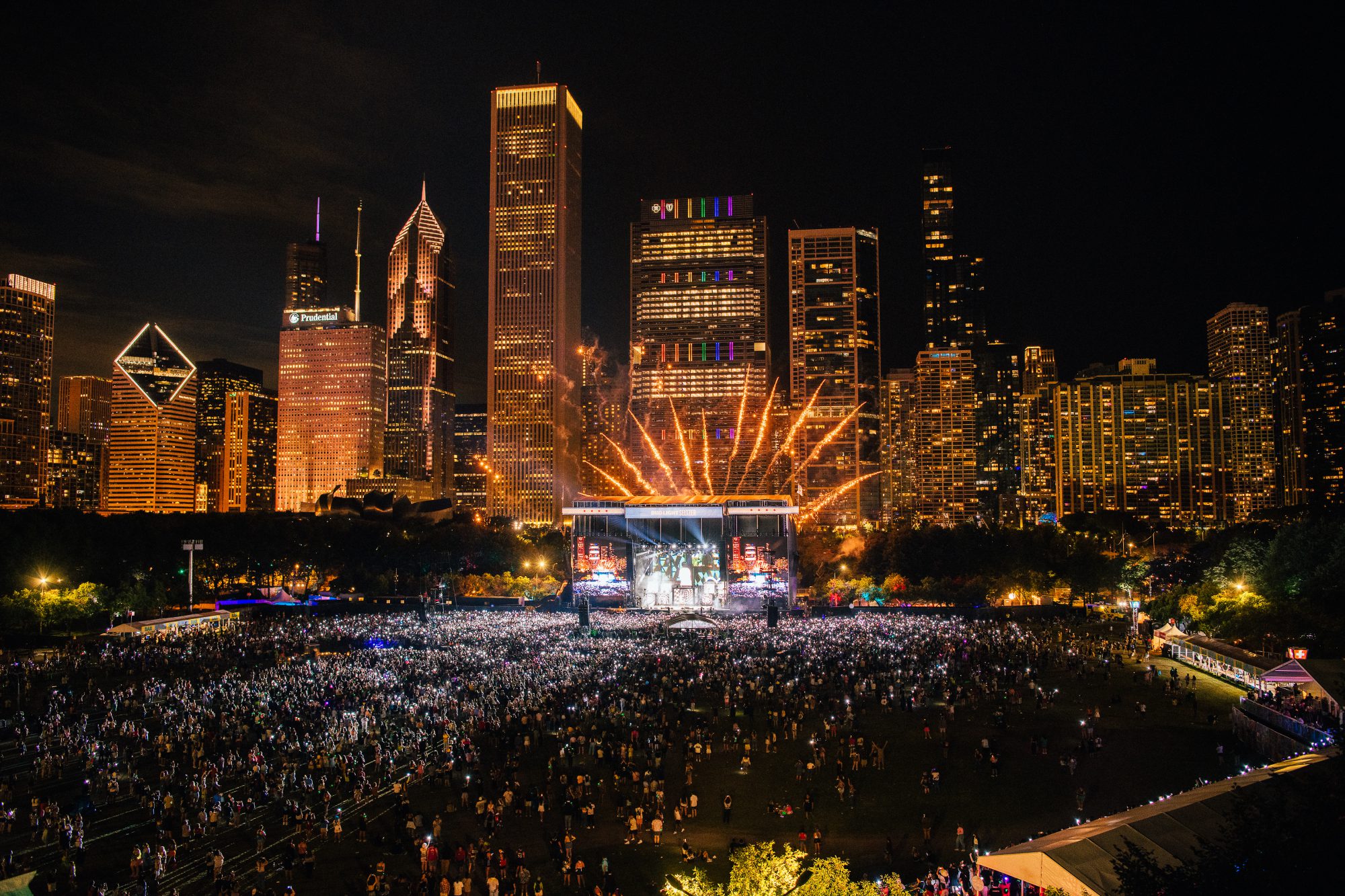 This year's edition of Lollapalooza was a good time, and I will always recommend it to anyone in Chicago, especially if you haven't been to a music festival before.
Each set was such a unique experience, crowd-wise and music-wise, and Lollapalooza had a few ups and downs. Seeing people get sick in the street or seeing a medical cart with its sirens blaring for you to get out of the way was a bit of a bummer. But some things are great, like finding a new favorite artist or seeing someone famous in the crowd.
Loads of positive experiences will outweigh negative ones if you let them. You're meant to enjoy the festival, so don't worry about what's happening outside for the weekend. Treat yourself and buy yourself that ticket for next year. 
---
Follow Lollapalooza on Social Media: