Shambhala Music Festival is finally here, but are you ready? Get prepped with these essentials including the set times, map, and more!
---
After three years of waiting and pandemic delays, the time has finally come for festival-goers to gather in Salmo River Ranch once again! Shambhala Music Festival happening July 22-25 is guaranteed to be a blast, with attendees already arriving as early as today to start setting up themed campsites. So, get those outfits together and pack those cars because it's almost time to return home!
Related: See who we chose for our top five must-see artists at Shambhala this year!
Though Shambhala Music Festival 2019 was still an incredible time dancing in the mud and rain, this year's forecast shows sunny skies and 90-degree highs, perfect for floaties in the Salmo River and grooving at the Fractal Forest Stage. If you're interested in what else Shambhala offers, here are six things to elevate your festival experience.
To ensure you have all the information you need before you leave, we've compiled all the essentials and basics for Shambhala. Read on for the ticket info, set times, festival map, and more to get your party going!
---
Shambhala Music Festival 2022 – Essential Info:
Dates: July 22-25
Hours: 12PM – 7AM
Venue Address: Salmo River Ranch 7790 Highway 3, Salmo, BC, Canada V0G1Z0
Tickets: Purchase HERE
Facebook Event Page: RSVP HERE
Acceptable Forms of Identification for Entry
Government-issued photo ID
US or foreign government-issued passport containing a photograph and date of birth
Vaccine passports are not a requirement for entry to events in BC
---
Shambhala Music Festival 2022 – Set Times: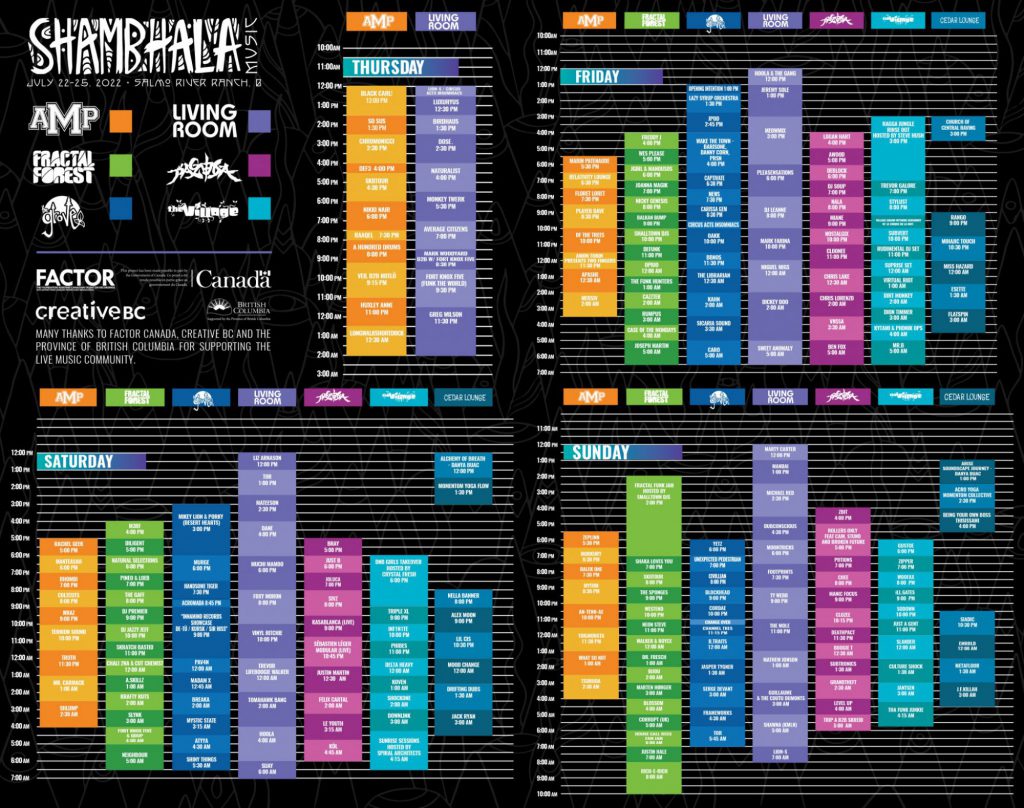 ---
Shambhala Music Festival 2022 – Festival and Camping Map: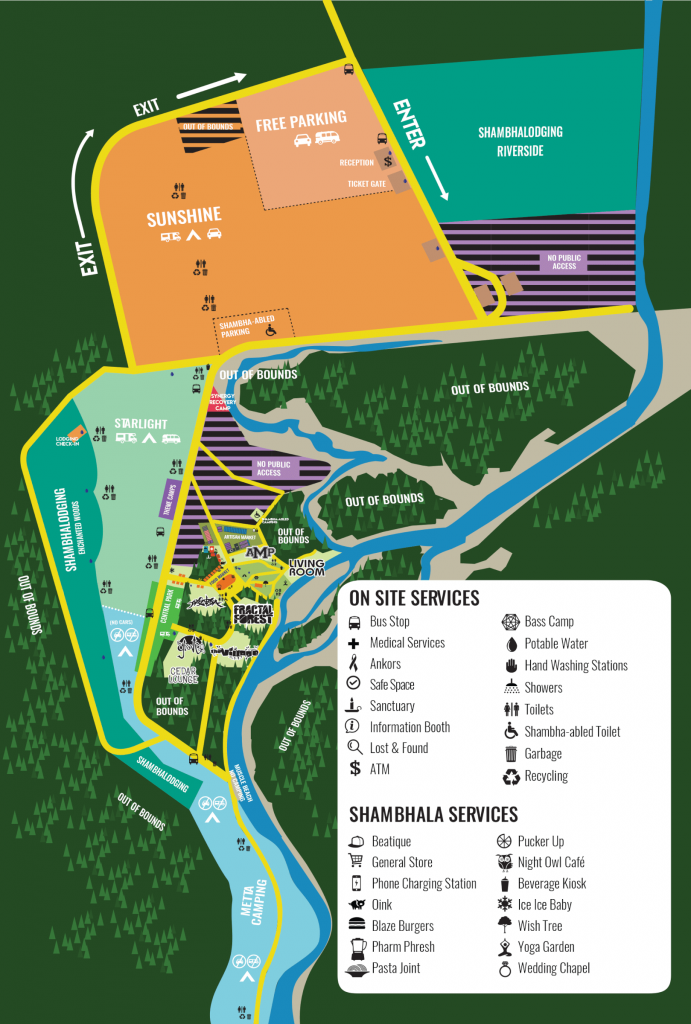 ---
Reminder To Mind Your Belongings:
Unfortunately, many people have reported pickpockets, bag slashings, and theft of wallets, smartphones, purses and other valuables during this festival season. While this small number of bad apples in the bunch doesn't define an entire crowd, there are opportunistic people who come to these events to take advantage of unsuspecting partygoers and it's important to be mindful of your valuables while at Shambhala Music Festival.
Looking for tips to keep your belongings safe? Check our post highlighting some ideas!
---
Shambhala Music Festival 2022 – Do's & Don'ts:
Prohibited Items
Alcohol
Fire – includes candles, fireworks, fire poi/hoops/other toys, tiki torches
Fuel – white gas, kerosene, gasoline in jerry cans, combustible liquid fuel
Generators – including RV generators
Glass – large mirrors, drink containers, decorative glassware, etc. (Small jars of food are OK)
Lasers
Illegal Substances
Motorized Vehicles – including drones and quadcopters
Pets
Weapons
Hate Speech
Permitted Items
Camping Gear – Tent, chairs, sleeping bag, tarp, shade structure etc.
Cooking devices – Jet boil, propane/butane camp stoves
Bandana – For dust
Sunglasses
Water containers – For camp, and while you are out dancing. Free water is available with your own vessel
Jacket – It gets very cold here at night
Backpack – Cut down on trips to camp by bringing items with you
Food – Our vendors have all sorts of delicious food to offer once you get into the festival, however, you might need food while waiting to get into the festival. There is very limited food available prior to the front gates
Biodegradable shampoos and sunscreens
Flashlight – Outside of the Downtown Area there is limited lighting
Comfortable footwear – The ground is uneven and rugged. You may be covering long distances by foot, so be sure to have a good pair of walking shoes with you
Fire extinguisher 
Bicycles – Yes, we encourage guests to bring pedal-powered transportation! We strongly recommended a bike lock if you bring a bike. There are bike racks available Downtown. No rentals are available onsite.
NO INDIGENOUS HEADDRESSES, SYNTHETIC FEATHERS/BOAS, AND OFFENSIVE TOTEMS (PROFANITY, EXPLICIT IMAGERY, MESSAGES OF DISCRIMINATION)
---
Follow Shambhala Music Festival on Social Media:
Website | Facebook | Twitter | Instagram | SoundCloud | YouTube