Mersiv, Hybrid Minds, IMANU, Blanke, Kumarion, and more are set to join Zeds Dead at the upcoming edition of Deadrocks!
---
Dedicated followers of Zeds Dead and Deadbeats have patiently awaited the lineup for their annual soiree at Red Rocks since its return on July 2-3 was announced months ago. The hype continued to build with the list of artists set to play Deadbeats Jamboree on July 4 at Civic Center Park in Denver and the Deadrocks Hangover at Mission Ballroom was revealed for that same night. Now, with just a few short weeks to go, Zeds Dead has unveiled the full lineup for Deadrocks VIII.
Joining Zeds Dead on the first night (July 2) are Mersiv and DNMO, along with drum and bass maestros Hybrid Minds and two fast-rising stars in the scene, A Hundred Drums and HEYZ. Then, the second night (July 3) will see another flurry of talented artists join Zeds Dead. This includes Blanke, who will bring his ÆON:Mode show along with him, along with IMANU, Kumarion, SuperAve., and Brux.
Of course, the party doesn't stop there as the Deadbeats Jamboree is set to kick off on July 4 with special sets like Mersiv b2b Smoakland, So Tuff So Cute, and Dr. Fresch, among others. And that night, Ternion Sound will join Zeds Dead for the Deadbeats Hangover for an evening that is sure to be filled with deep wubs and plenty of vibes.
Tickets for Deadrocks VIII are sold out with a limited number available for resale via AXS. Deadbeats Jamboree and Deadrocks Hangover tickets are still on sale. Head over to their website for more details and to make your purchase.
---
Deadrocks VIII – Weekend Lineup: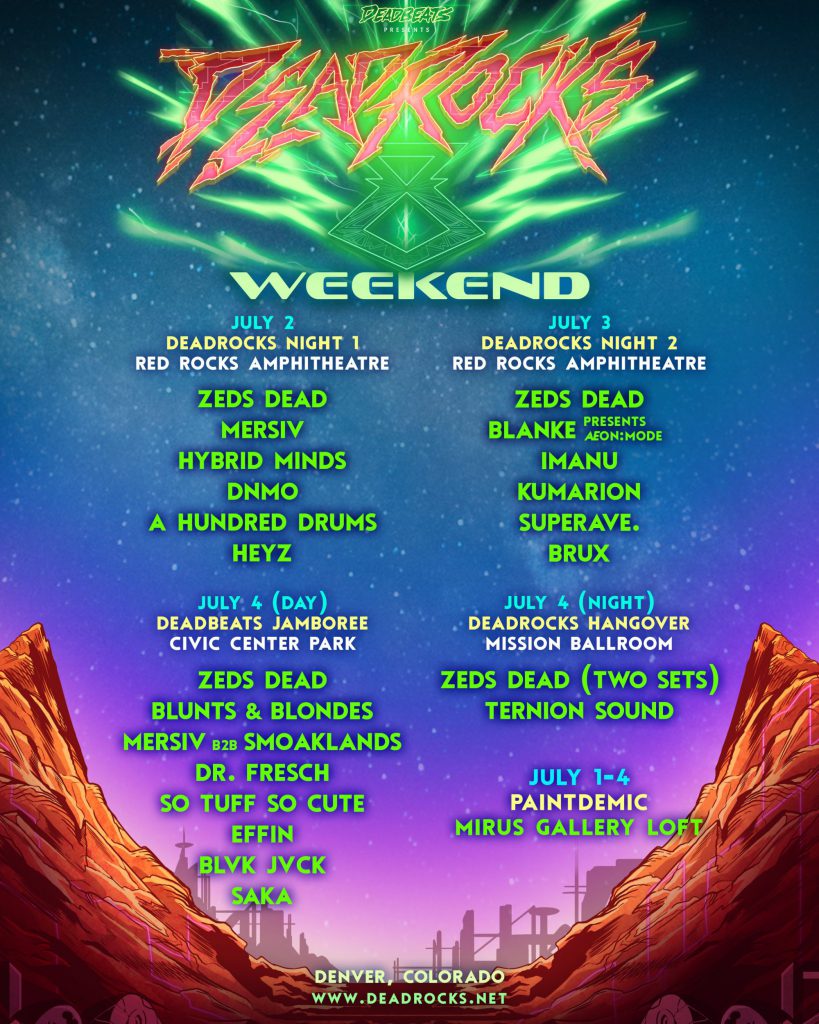 ---
Deadrocks VIII – Weekend Lineup By Artist:
July 2
Zeds Dead
Mersiv
Hybrid Minds
DNMO
A Hundred Drums
HEYZ
July 3
Zeds Dead
Blanke Presents Aeon:Mode
IMANU
Kumarion
SuperAve.
Brux
July 4 (Day) – Deadbeats Jamboree at Civic Center Park
Zeds Dead
Blunts & Blondes
Mersiv b2b Smoakland
Dr. Fresch
So Tuff So Cute
Effin
BLVK JVCK
Saka
July 4 (Night) – Deadrocks Hangover at Mission Ballroom
---
Follow Zeds Dead on Social Media:
Facebook | Twitter | Instagram | SoundCloud | YouTube | Twitch
Follow Deadbeats on Social Media:
Website | Facebook | Twitter | Instagram | SoundCloud | YouTube | Twitch