SubDocta impresses on his debut album, Strictly Business, which features a bevy of solo tunes and collaborations with Sully, TVBOO, and more!
---
SubDocta has slammed out bangers ever since he exploded onto the scene with his own flavor of music known as "West Coast Wobble." Paying tribute to the West Coast, he creates music like a broken compass as there's no set destination to where his music can travel to. He has gone on to release on labels such as on 19K and SubCarbon, while also making a home on WAKAAN as well. Further, he's taken the stage at festivals like EDC Las Vegas, Electric Forest, Dancefestopia, Lost Lands, and Freaky Deaky.
Now, SubDocta returns to WAKAAN with his debut album, Strictly Business, which he stated has "a little bit of everything bass music." This release is a mix of the futuristic wonks, a sprinkle of drum and bass, and of course, neck-breaking drops and wobbly tempos across its 12 tracks, further proving the dynamic ability he brings to his productions.
Strictly Business starts off with "Iced Up," which gives you the original feel of SubDocta with rap vocals that draw you right into his signature wobbly hypnosis. Next on the tracklist is "Blind," a powerful drum and bass track that will take you out of this realm with your eyes open or closed, keeping you grounded with its energetic beat.
The album has other great solo tracks such as "Power of Sound," a slower and wobblier ride with an interlude that showcases you the power behind SubDocta's production prowess. He also flexes his genre range yet again with the melodic, soft track, "Winterlude (The Passing Over)." Wrapping up the solo creations of the album is previously released single "Scepter," which throws everyone right back into his wobbly synths and rhythms that we know and love.
SubDocta brought in some support to make this album really mean business. He enlisted the help of TVBOO for the track "Dope Slanga," which is another upbeat, hip-hop tempo tune that will really hype up a crowd. SubDocta also looked to another WAKAAN artist, Sully, for "Party Crasher." Both tracks really showcase the sound and energy that this label radiates, making this album a real banger for a first full-length album – and it doesn't end there.
The feature from Grace Hayes in "Letdown" gives listeners chill, yet hype vibes with her addictive vocals you can't get enough of. Then, it turns into "Open Season" with Oxossi and vandull, where the artists offer up that deep, grimey wobble and a sick vocal that grabs your attention. Lastly, p0gman makes an appearance on "The Groove," really encompassing the whole album with its wonky beat, all while keeping your body bobbin' no matter where you're listening. Finally, to wrap up the album, SubDocta delivers "NFR (No F Cking Requests) – NO VOX," sharing one last twist on reality with wobble heads.
SubDocta's LP Strictly Business is out now, so get down to its sounds on Spotify or your preferred streaming platform. Don't forget to catch him on tour when he heads to a city near you.
Stream SubDocta – Strictly Business on Spotify:
---
SubDocta – Strictly Business – Tracklist:
Iced Up
Blind
Party Crasher ft. Sully
Power Of Sound
Dope Slanga ft. TVBOO
NFR (No F Cking Requests)
Winterlude (The Passing Over)
Letdown ft. Grace Hayes
Open Season X Oxossi ft. vandull
The Groove X p0gman
Scepter
NFR (No F Cking Requests) – NO VOX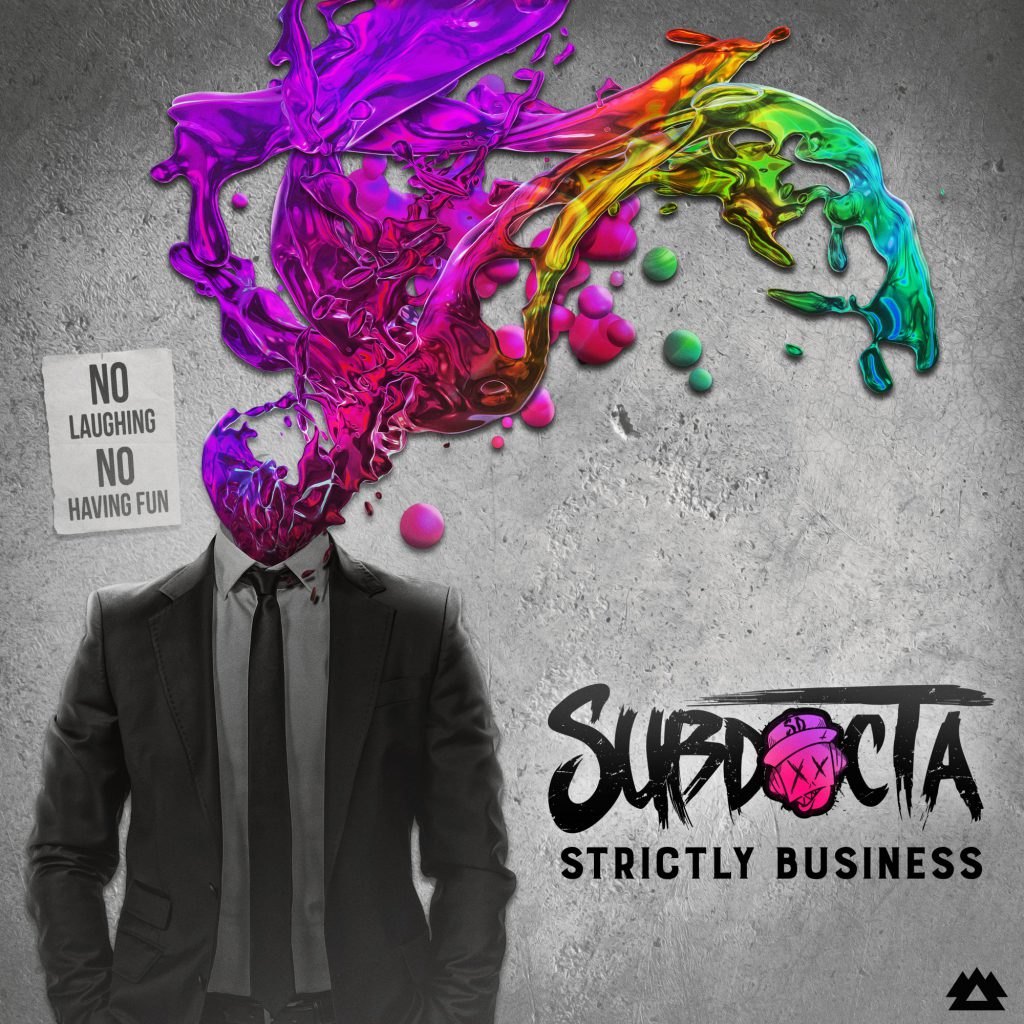 ---
Connect with SubDocta on Social Media:
Website | Facebook | Twitter | Instagram | SoundCloud | YouTube | Twitch