Jason Ross, John Summit, Kill The Noise, YehMe2, and more are set to join FISHER and Seven Lions at the upcoming edition of Get Lucky in SLC!
---
Update March 9: Unfortunately FISHER is no longer able to play Get Lucky this year, but V2 Presents also announced that Kaskade will be taking his place on the lineup.
---
Previously: It's been two long years since dance music lovers in Utah were able to get down and dirty on the dancefloor at St Patrick's Day-themed festival Get Lucky. Previous editions have featured some of the top artists in the dance music scene, and it was clear that would continue after V2 Presents announced its return with the word that FISHER and Seven Lions will headline the forthcoming edition.
Today, V2 Presents continued to build up the hype that was generated earlier this week by delivering the full list of artists who are set to take the stage on March 11-12 at The Great Saltair. Bass music dominates this year's lineup for Get Lucky with legendary artists like Kill The Noise, YehMe2, and Rusko set to take the stage along with Kompany, Ray Volpe, and ATLiens, among others. That isn't to say that house music is too far behind, though, as the quickly ascending John Summit will make an appearance along with others such as Valentino Khan, Lucati, and VNSSA throwing down some heaters as well.
Further, the Ophelia Family in Salt Lake City will be delighted to see that it isn't just Seven Lions landing in the area solo. Instead, a full-on label takeover will occur that sees artists like Jason Ross and Gem & Tauri join in on the fun. And if you're on the hunt for something fresh and exciting, look no further than Ghastly who is bringing his Ghengar experience along with him.
Tickets for Get Lucky 2022 go on sale Friday, January 21 at 10am MT. Head over to their website for more details and to make your purchase!
---
Get Lucky 2022 – Lineup: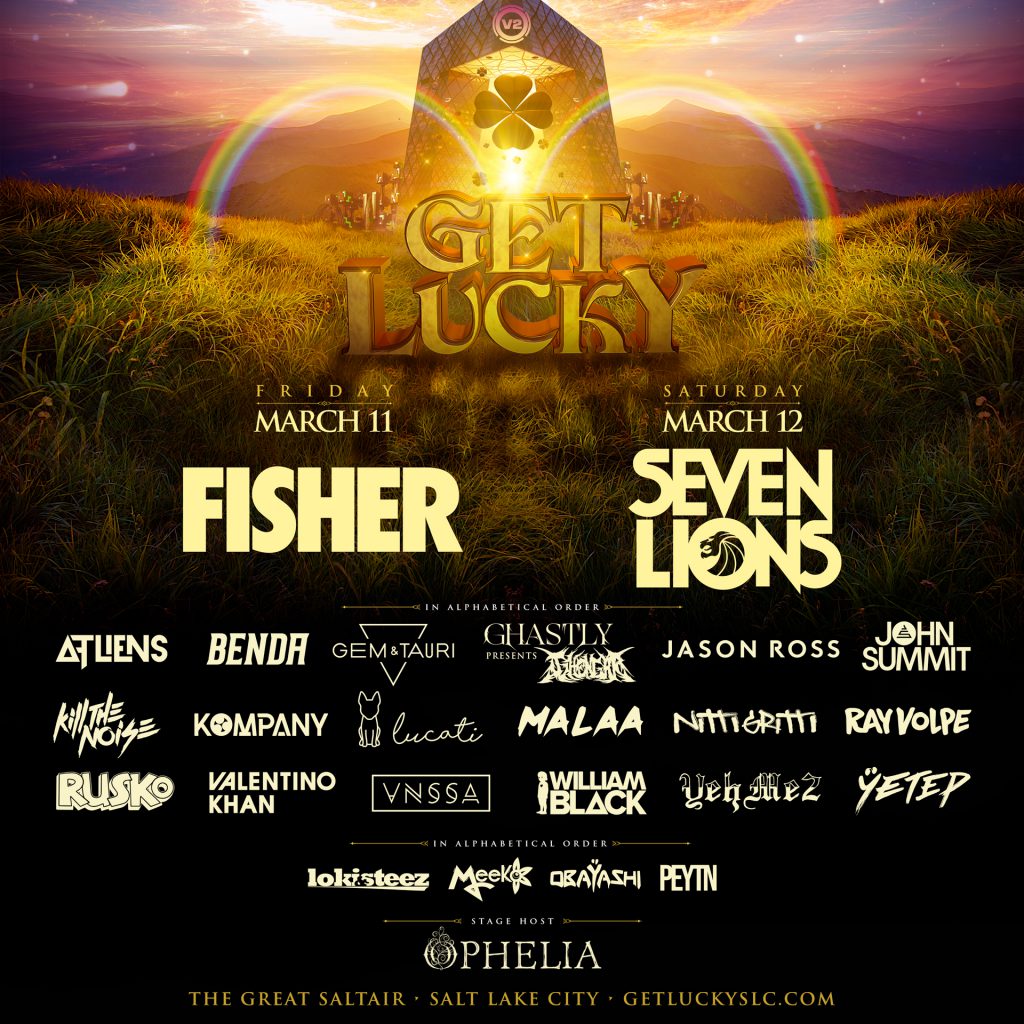 ---
Get Lucky 2022 – Lineup By Artist:
ATLiens
Benda
Fisher
Gem & Tauri
Ghastly Presents Ghengar
Jason Ross
John Summit
Kill The Noise
Kompany
Loki & Steez
Lucati
Malaa
Meeko
Nitti Gritti
Obayashi
Ophelia Records Stage Takeover
Peytn
Ray Volpe
Rusko
Seven Lions
Valentino Khan
VNSSA
William Black
YehMe2
Yetep
---
Follow Get Lucky on Social Media: