Time Warp USA featured performances from Âme, Nina Kraviz, Adriatique, and more across two days at the Brooklyn Navy Yard.
---
After first arriving in Mannheim, Germany in 1995, Time Warp has become a staple techno event in its 27-year history, drawing in hordes of fans from deep corners of the globe. Nearly two decades later, the beloved brand found a home in New York with local impresario Teksupport as its chosen partner. Its 2019 return saw fans gathered from across the nation to celebrate 25 years of Time Warp, which also marked the first large-scale underground dance music event to happen in the Bronx. The results were massive, ushering in a new era for the global brand and a bright chapter for American house and techno enthusiasts.
Upon its brief two-year hiatus at the hands of COVID-19, Time Warp USA made its triumphant return to Brooklyn on November 19-20 for two nights of world-class talent and event production. Tucked away into winding streets and unmarked industrial lots of the Brooklyn Navy Yard, the newly scouted venue for this year's edition, was a showcase of world-renowned techno talent unlike any other. This included the likes of Richie Hawtin, Stephan Bodzin, Nina Kraviz, Ricardo Villalobos, Adriatique, and more – a ripe display of the who's who of techno from across the globe, and ones to watch in New York City itself.
Drawing thousands of eager techno fans to Brooklyn for the weekend, Time Warp USA opened on Friday to roaring fanfare and kept that energy until the sun rose again on Sunday morning.
From its 10 PM beginning to its 7 AM call time, day one of Time Warp saw carefully crafted performances and blissfully curated dance floors. A powerful, communal vibration of sound, the first day of the festival brought a much-needed techno injection into Brooklyn's riverside warehouse district. Friday's opening ceremony featured plenty of much-deserved fanfare as local talents mink b2b O.BEE and Avision, fast-rising staples in NYC's underground scene, took the stage.
In a rare USA appearance, Ricardo Villalobos shared a massive three-hour time slot with Craig Richards for a unique b2b for the ages. On the heavier side, techno titans Ben Klock and Marcel Dettmann brought in the early hours of Saturday morning with an industrial flare. It was a first day for the record books, and Time Warp's return to NYC had quickly become a dream evening for eager fans from New York City.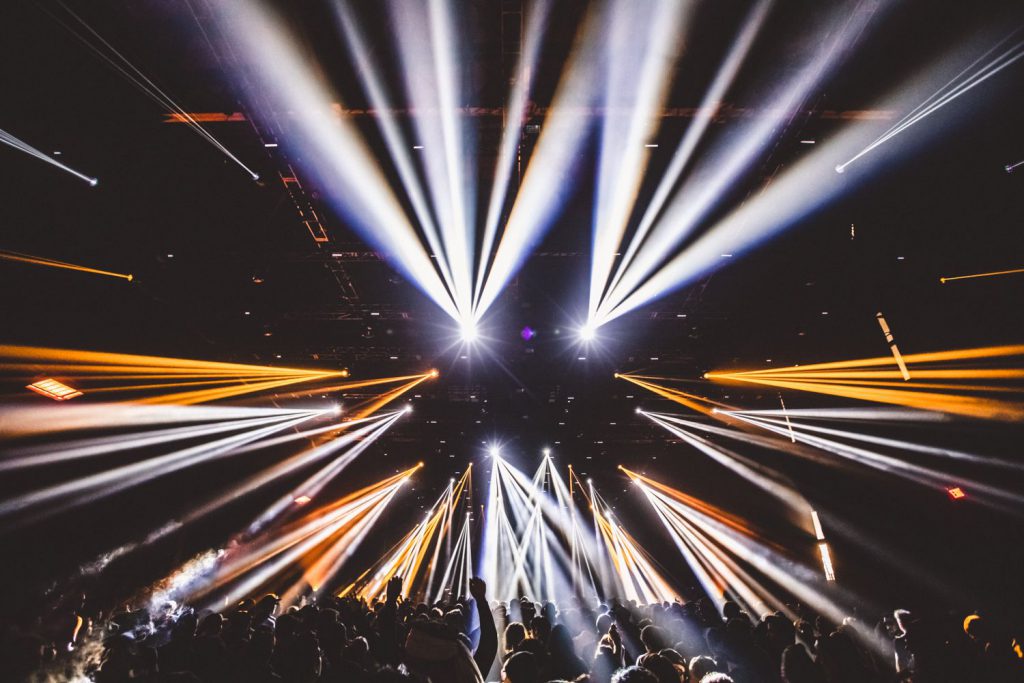 Saturday's masterfully curated lineup kept the adrenaline-packed momentum flowing from Friday.
Excellent opening performances from New York City's finest including DESNA and Shahar set the stage for an onslaught of world-renowned talent. Fast-rising industrial mainstay KiNK performed an intoxicating live set, combining his power-packed remixes with unforgiving dance floor grooves. One of three exciting artists playing live sets on Saturday, KiNK's high-octane live performance was joined by others from Reinier Zonneveld and Stephan Bodzin.
Switzerland's own Adriatique delivered a blissful two-hour performance of the best of their best, including a brand new unreleased remix of RÜFÜS DU SOL's "On My Knees." A standout performance from Âme celebrated the rising sun, and in the blink of an eye, Time Warp's 2021 edition concluded.
For 48 hours, techno reigned supreme in Brooklyn's Navy Yard.
The latest edition of Time Warp USA breathed life into a community that longed for the sound of the underground to return so they could dance their troubles away. Riding on the heels of the event's prodigal return to Mannheim at the end of October, this was a weekend for the ages that any techno lover could've enjoyed – and one that they certainly shouldn't miss out on when it returns in the future.
For its next installment, Time Warp heads South to São Paulo, Brazil, for two days of wonder on May 6-7, 2022. This edition of the festival is set to feature performances from Charlotte De Witte, Nina Kraviz, Palms Trax, ARTBAT, Folamour, Bob Moses, and more. Tickets are on sale via their website.
---
Follow Time Warp on Social Media: