The BPM Festival is heading to Brazil for the first time with Joris Voorn, Paco Osuna, Nicole Moudaber, wAFF, and more along for the ride.
---
Since its inception, The BPM Festival has become a renowned space showcasing the best and brightest from the realm of house and techno. Recent years have seen the festival dot the globe with editions in Portugal, Costa Rica, and Israel, all of which brought sensational sets and label takeovers along the way. Now, they've announced more details surrounding the next destination for lovers of the underground to flock to, Brazil.
Set to take place on February 25-27 in Camboriú, Santa Catarina, the debut of The BPM Festival: Brazil will arrive on the heels of their upcoming return to Costa Rica. Hosted during Brazil's Carnival festivities, it's sure to be a party for the ages as house and techno lovers flock to the Southern Hemisphere to attend. Further building on the immensity of its debut is the word that they will also be celebrating the opening of a new immersive venue, Surreal, that's led by South American dance music innovator Renato Ratier. The founder of D-Edge in São Paulo has put his all into this artistic complex that will serve as the perfect venue for the festival to take place.
While a buzz surrounding this new destination began to grow after its initial announcement earlier this month, it's grown even larger after the beloved festival revealed the first artists and showcases to grace the lineup. This includes renowned artists such as Joris Voorn, Paco Osuna, Nicole Moudaber, wAFF, Henrik Schwarz, and Carl Craig, but that's just a taste of what's in store.
Additional artists announced on the phase one lineup include the likes of André Salata, Popof, Renan Mendes, Wilian Kraupp, Koko, Hector, and Ziembik, to name a few. And on the showcase front, initial announcements include everyone from Boogeyman and Kaluki to Rituals and MOOD vs. Mindshake that will surely get everyone grooving away to the beat.
International guests planning to attend the debut edition of The BPM Festival: Brazil should begin their hunt for flights into Navegantes Airport (NVG) or Florianopolis (FLN) to make their way to the festival. Weekend passes are available now via their website, so make sure to begin your booking process now if you're thinking about attending in 2022!
---
Watch the trailer for The BPM Festival: Brazil 2022 on YouTube:
---
The BPM Festival: Brazil 2022 – Phase 1 Lineup: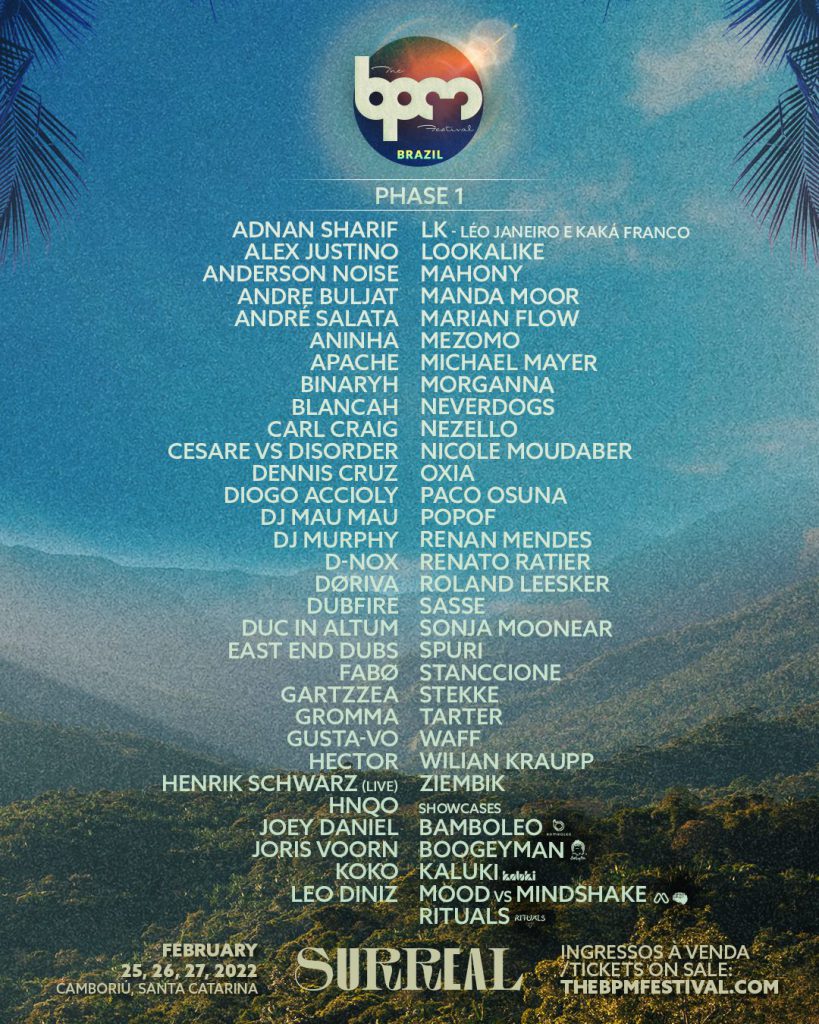 ---
The BPM Festival: Brazil 2022 – Phase 1 Lineup By Artist:
Adnan Sharif
Alex Justino
Anderson Noise
Andre Buljat
André Salata
Aninha
Apache
Binaryh
Blancah
Carl Craig
Cesare Vs. Disorder
Dennis Cruz
Diogo Accioly
DJ Mau Mau
DJ Murphy
D-nox
Døriva
Dubfire
Duc In Altum
East End Dubs
Fabø
Gartzzea
Gromma
Gusta-vo
Hector
Henrik Schwarz (Live)
Joey Daniel
Joris Voorn
Koko
Leo Diniz
Lk – Léo Janeiro E Kaká Franco
Lookalike
Mahony
Manda Moor
Marian Flow
Mezomo
Michael Mayer
Morganna
Neverdogs
Nezello
Nicole Moudaber
Oxia
Paco Osuna
POPOF
Renan Mendes
Renato Ratier
Roland Leesker
Sasse
Sonja Moonear
Spuri
Stanccione
Stekke
Tarter
wAFF
Wilian Kraupp
Ziembik
Phase 1 Showcase Lineup
Bamboleo
Boogeyman
Kaluki
MOOD vs. Mindshake
Mindshake
Rituals
---
Connect with The BPM Festival on Social Media:
Website | Facebook | Twitter | Instagram | SoundCloud