Rising bass phenom Papa Khan gets personal about his debut single on Monstercat, the origin of his name, and his plans for the future.
---
Many rising artists dream of signing their first release to a major label for years while spending countless hours in the studio, pushing boundaries of their sound, and playing every chance they get. But believing in yourself and the process is something else that's crucial for artists to do in the early days of their career, and that's something Papa Khan has practiced.
Hailing from Indonesia, Papa Khan has stirred up attention from many bass music lovers over the past few years with his innovative sound design. He quickly began to turn heads with a flurry of releases including Anti-Normal, the Demon EP, "Ancestors," "Holdin," and more. This led to brands like Bassrush taking notice of his sound in 2020, as well as Marshmello who signed his track "Rain" to Joytime Collective that further catapulted his career to its next phase.
This year has only seen Papa Khan continue on his path towards greatness in the scene. He dropped "Wounds" earlier this year and more recently caught the attention of Monstercat who released his latest single "The Tide." His debut track on the imprint delivers his signature color bass sound that tickles the ears while simultaneously showcasing his forward-thinking approach to production.
While still just beginning his music career, it's clear that Papa Khan is a name that will stick around for years to come. After the release of "The Tide," we had the chance to catch up with this budding talent to pick his brain about the tune, his beginnings, and more. So make sure to download or stream the tune on your preferred platform and read on for the conversation!
Stream EDMID Guest Mix 299 || Papa Khan on SoundCloud:
---
Hi Akhmad! Thank you for taking the time to chat with us. Let's start off with a quick dive into your roots. Who were some of your earliest influences musically and what led to you becoming Papa Khan?
Skrillex and Kygo are my earliest influences in making music. I took the name Papa Khan because it's one of my favourite characters from Fallout: New Vegas and I think the name is so catchy!
Over the past few years, you've gone from self-releasing to signing your first release with Monstercat and being represented by United Talent Agency. What has this explosive growth in your career felt like?
It feels like a dream. I spent my entire life making music with big dreams. I feel grateful for all the things I've achieved today!
Your newest single signed with Monstercat, "The Tide", has quite the composition and emotion built into it. What was on your mind when creating it and how did you approach the production process?
"The Tide" actually came across my mind one day, it's something stompy yet melodic. Whenever I listen to "The Tide", I see a huge wave in the ocean, and I just named it to represent the meaning behind it. The production process was always some stabby lead with an offbeat groove into it. Classic Papa Khan sauce! [Laughs]
You've also openly talked about your late father and how much he inspired you and you dedicated "The Tide" to him. What has it been like having this experience without him? How do you think he would feel about it?
It's hard because I lost one of the people I really look up to. I wanted to show him all these cool things happening in my life but he's not here with me anymore. So, it's just very sad and a very hard thing to do. But I do hope he's okay up there and I hope he smiles watching his son killing it with his music.
Speaking of your music production, your style ranges from melodic dubstep to color bass, and more. While there aren't many major artists playing color bass right now, it's been on the rise in the underground scene. What influenced you to pursue this style of bass music?
I always love to create something new and show it to people! So I will keep pushing this style and keep making new sounds with Papa Khan project.
On that note, who are some artists you think fans should be listening to in this realm of music that you've been digging lately?
Kiwie Dubs, Sharks, Skybreak, NUU$HI, and Trinergy. They deserve more attention on their music. They've been killing it!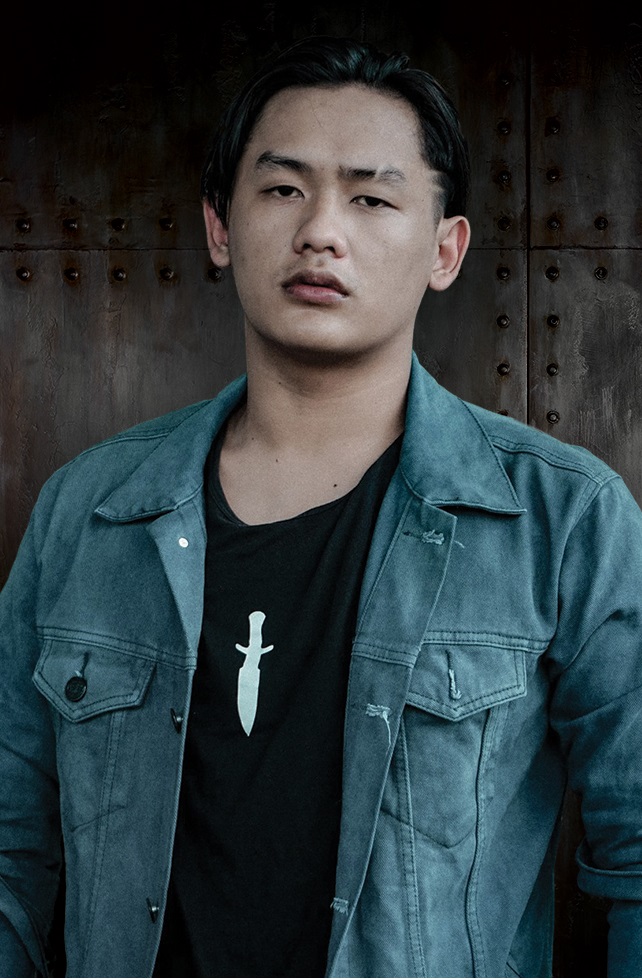 As an Indonesian native, what is it like for you to hear that your songs are being played out in the United States and see the Papa Khan name gaining traction? What is the scene there like?
There is no EDM scene in my city, sadly. But I feel really grateful to have a lot of people supporting me and playing out my music there! I just wanna say thank you to those who have supported me with my project. I do hope there will be a scene in Palangka Raya one day.
You often talk about growing up in Indonesia and hoping to make it with your music and help your family out. Now that things may be taking off for you, what are your plans for the future? Have you considered moving to the United States for your music career?
My future plans? I want to open a bakery and a cafe, probably a restaurant or even a clothing brand too! I want to own businesses on the side, it's been my dream since I was little.
I would never think about moving to the States. I would miss my home too much, even though sometimes I venture outside of the city for days at a time. [Laughs] It's gonna be hard for me when I start touring but I'm also excited at the same time!
Finally, just for fun, what are some out-of-studio hobbies that you enjoy?
I like to go to the cafe, hang out with my friends, sometimes I do Taekwondo or punch my boxing bags in front of my house. It's a small exercise but it keeps my head fresh!
---
Follow Papa Khan on Social Media:
Website | Facebook | Twitter | Instagram | SoundCloud