Kaskade, Cristoph, Franky Wah, ARTBAT, and more are set to play in San Diego on New Year's Day at FNGRS CRSSD presents Opening Day!
---
If there's one promoter in North America that has put their foot on the gas with the return of live shows, it's FNGRS CRSSD. This San Diego-based brand has come roaring back since their re-emergence in the summer with a heavy helping of shows and events for house and techno lovers to flock to. This has included everything from parties right on the beach and the return of CRSSD Festival to the debut of DAY MVS XL and FRGHT MVS as well. Now, FNGRS CRSSD has dropped their latest event, Opening Day, to help everyone get into a groove on New Year's Day.
Related: Want to get down and dirty ahead of the New Year with FNGRS CRSSD? Check out the lineup for DAY MVS in the Park this December!
Set to take place on January 1 from 2pm – 11pm at Petco Park, Opening Day is shaping up to be one of the best places for house and techno lovers to kick off 2022 in style. Headlining the event is Kaskade, who will be playing a Redux set. Other artists joining him included the likes of Cristoph, Franky Wah, Eli & Fur, and ARTBAT who have had phenomenal releases this year. Rounding out the lineup are Lauren Mia and Rivka M, so make sure to arrive early for this show!
Tickets for Opening Day 2022 go on sale Tuesday, November 23 at 11am PT. Make sure to RSVP on Facebook and head to their website to grab them and get more information.
---
FNGRS CRSSD Presents Opening Day 2022 – Lineup: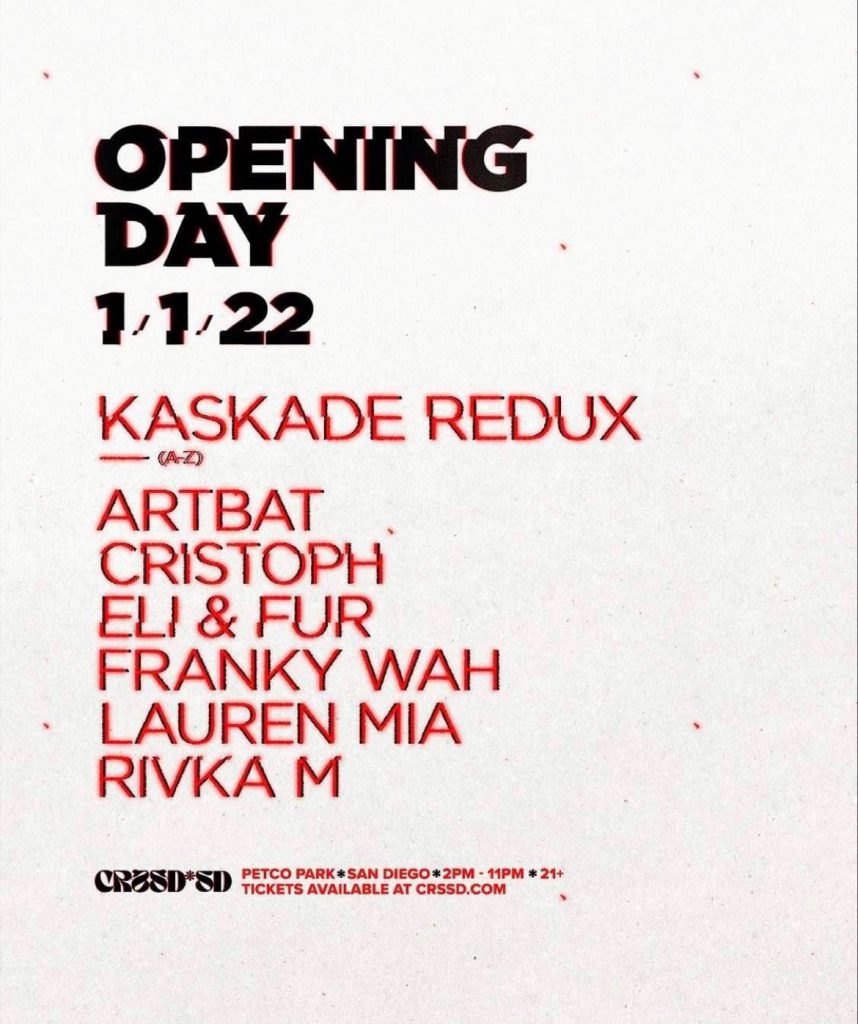 ---
FNGRS CRSSD Presents Opening Day 2022 – Lineup By Artist:
Kaskade Redux
ARTBAT
Cristoph
Eli & Fur
Franky Wah
Lauren Mia
Rivka M
---
Follow FNGRS CRSSD on Social Media:
Website | Facebook | Twitter | Instagram | SoundCloud | YouTube