FreeFall is an artist you need on your radar and we sat down with him to chat about his influences, recent releases, and more.
---
There has been some serious heat coming out of the house music scene over the past few years from established artists and rising stars alike – and one of the artists who continues to pop up with some absolute stunners is FreeFall. This Los Angeles-based artist didn't begin his journey in the music scene in the realm of dance music, but after years of playing in bands he taught himself how to produce and the rest was history.
Since his emergence in the dance music scene, FreeFall has honed his skills both in the studio and behind the decks. This has led to his appearance on labels including Insomniac's IN / ROTATION, Dim Mak, Armada Music, and Audiophile XXL, with an upcoming release on 40oz Cult on the horizon. During this time he's also taken the stage at festivals including EDC Las Vegas, Beyond Wonderland, and Escape, while also receiving support from beloved brands like Space Yacht.
After catching our ear with his collaboration with Purple Velvet Curtains, "Jungle," back in 2019, and seeing him continue his rise, we knew we needed to sit down with FreeFall to pick his brain and learn more about him. So check out his exclusive guest mix that's filled to the brim with some fresh IDs below and read on for the full conversation.
Stream EDMID Guest Mix 298 || FreeFall on SoundCloud:
---
Hi James, thanks so much for chatting with us today. Let's kick things off by getting to know your history a bit better. Who were some of your earliest musical influences and favorite dance music artists?
Of course, thanks for having me. Starting at a young age, I played music in a number of bands from grade school through high school. At one point, I was playing in a band with Gregg Allman's daughter, Layla, while we had one of Neil Young's managers working with us and ended up winning a VMA for Bay Area Breakout Artist, which was my first real breach into the music industry. I decided to teach myself how to produce.
In that journey, I discovered electronic music and truly felt its grip on my soul. I ended up going to EDC 2010 by myself as a 16-year-old kid and immediately fell in love with artists like Savoy, Congorock, 12th Planet, Kaskade, deadmau5, Armin van Buuren, and many other INSANE artists. A couple of years later I did extensive traveling throughout Europe, where I really honed in on a sound I love. Garage, Grime, Dubstep, DnB, and genres that still influence my music today. Artists like Artful Dodger, Sticky, Wiley, Skepta, Skream, Disclosure, Chase & Status, and numerous others.
What pushed you to pursue a career as a DJ and producer? Was there a specific moment when you realized this is what you wanted to do?
I think EDC 2010 was really the "a-ha" moment for me. Without it in my life, I honestly don't think I would have gone in the same way I have.
This year has seen festivals and events return, and you graced the Boombox Art Car during the Cats and Boots Takeover at EDC Las Vegas this year! What was your experience like playing at one of the world's largest festivals?
EDC was absolutely surreal. The folks at Cats & Boots are an amazing group of hardworking producers and DJ's and it was an honor to be back with them again this year. I wanted to do something different this year and surprise people who went so I brought some friends up with me for a giant b2b. Blake Webber, Maheez, Swave, and Hitta all joined me and made it a truly special moment.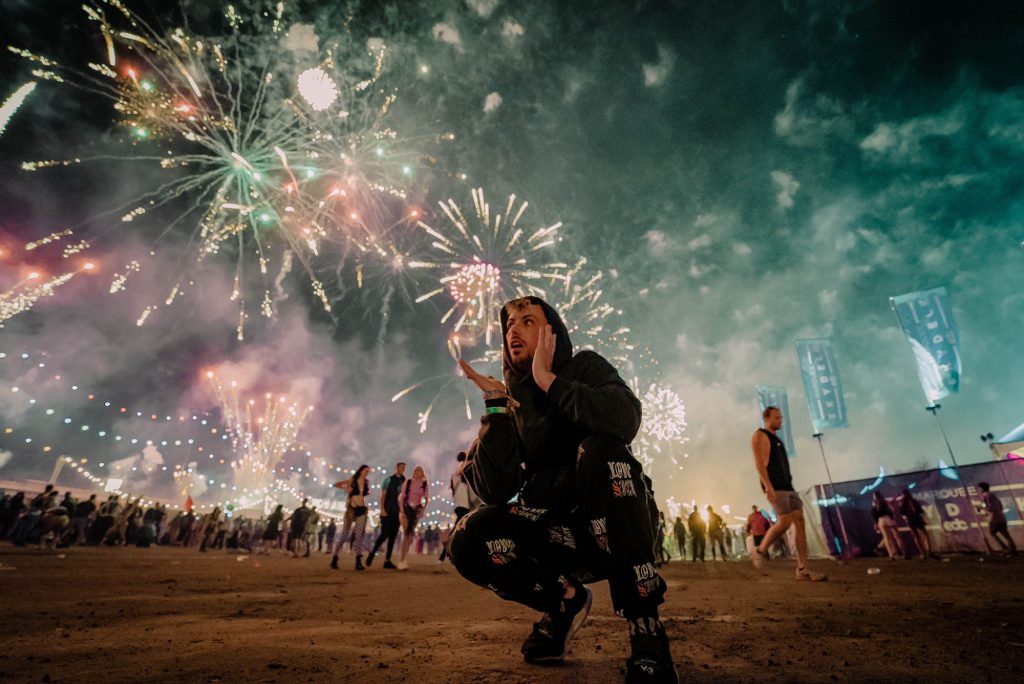 Moving on to your tunes. You've dropped a number of heaters over the years including the Ms. Behave EP and "Jungle," both of which landed on Insomniac's IN / ROTATION imprint. As a rising artist, what has it been like working with this label and receiving their support early on?
In/Rotation is a fantastic label. Since the beginning, I've always had my eyes on wanting to work with them. Their team is incredibly talented at what they do and it's an honor that they have released some of my songs. Working with In/Rotation opens doors within the Insomniac community of parties, club shows, and festivals that I have been forever grateful for.
Many of your singles feature vocalists, and you've worked with artists like Dack Janiels and CAZZTEK on releases as well. How have these tunes come to life compared to your solo releases? Does your production flow differ much when collaborating?
As a former vocalist, I really enjoy working with other lyricists and vocalists, especially in the studio. I think every song I've ever made has a vocalist or vocal sample of some sort in it to give it a sort of human feel you can just get in a groove in your rhythm. Working with Dack Janiels was awesome because we worked in person at their 40oz studio. We were able to revive an old project of mine and really flip it on its head. Tanner and I truly blended our polar opposite styles to create SMD. The song with Cazztek also came along from one of my old project files. I had the vocals from Lex, who was an old roommate of mine, and I sent it to Cazztek and he immediately fell in love with the idea and sent me back a version that was completely bonkers.
Another tune of yours that stood out this year was a remix of Ekonovah's "Medicine." What spoke to you about this tune and led to you creating such a fantastic cut of it?
At first, the vocals definitely caught my attention and I knew I could really do something unique. Ekonovah really made it quite easy tbh, that tune has so many cool sounds and great vocals that I was able to take and rework. I even sang some background harmony vocals over the original to really blend my style into their vocals without changing it too much.
There's also a fresh tune on the horizon for fans to feast on as you head to 40oz Cult to join the debut of their Death By House Music compilation series. What can you tell fans about this new tune?
The tune is a little heavier than I've been making lately, which really excites me. Went back for a club bass house banger and I'm SO stoked my good friends over at 40oz Cult were down to release it!
As the year begins to wind down and 2022 arrives on the horizon, what plans do you have for the final few months, and are there any goals you have for the future you can share?
I've been refocusing and honing in my sound and the music I've been making the last year is a true reflection of that. This song with 40oz Cult and another one coming early December via UFO Network are the first glimpses at this sound and songs are going to be trickling out pretty regularly! Excited for a comeback.
---
Follow FreeFall on Social Media:
Facebook | Twitter | Instagram | SoundCloud | Spotify