We sat down to chat with D3VINITY about what drew her to the scene, her production process on recent projects and much more!
---
If you haven't heard of D3VINITY yet, now is the perfect time to change that! She's a passionate, talented, and driven artist ready to make huge waves with her sounds. From her mixes to her releases, you can feel the energy that she pours into everything she creates. This year, her passion even landed her releases on renowned labels Disciple Round Table and The Riddim Network.
More recently, D3VINITY remixed Modestep and Virtual Riot's "This Could Be Us" with Berrix, adding her vocals amongst FRANK ZUMMO's original ones. The remix highlights the many talents D3VINITY possesses, such as her powerhouse voice and her even more powerful production skills, and you can quickly feel the energy she brings to everything she works on in the studio.
If you were looking for a new artist to check out, D3VINITY should be on your radar, especially if you're a fan of that bone-crunching dubstep. She has a bright future ahead of her and massive sounds to go along with it. So check out this exclusive mix she curated for us and read on for an in-depth conversation to learn more about her!
Stream EDMID Guest Mix 296 || D3VINITY on SoundCloud:
---
Hey D3VINITY! Thanks so much for taking the time to chat with us today. We're super excited to draw on your experience and learn more about you! To start things off, what was the inspiration behind the name D3VINITY? Is there anything or anyone in particular that helped you to imprint that artist name?
The concept behind this name is to be more connected with the DIVINE— a higher consciousness of a higher Self, transcendental reality, or God. The understanding of the Self is the most important insight that any individual can have in life. The 3 in my name represents the third eye.
Divine Self is the Self that exists at an even higher level than the soul; it is in every person ever born. It's the essence of the Universe that dwells in your being, the source of all light and life within you, and your true motivation for living. Your Divine Self is what powers you and makes you wonder. It's ever-aware and has been thinking since you began existing in this lifetime and since your birth in other lifetimes. The body and the physical realm, where we dwell, are thought to be but a vehicle for the higher self.
Spirituality is a huge part of me, so the name came to me thinking of words that mean a lot to me that ties with my spirituality. My first choice was amethyst which is my birthstone, but divinity stuck a lot more. I fell in love with it and never looked back. Plus, when you type amethyst or divinity, you will see so many other things unrelated to me on the internet. When you type D3vinity, it's easy to find me because no one has the name, and I love the significance behind the 3. (Side note, if you write D3vinity in cursive, it looks like it spells unity.)
For anyone just getting into your sound, what are some things you would like fans and future fans to know about the D3VINITY project?
I have been working on music for about two years, and I completely deleted all my music on my SoundCloud because I am rebranding and only releasing the most fire tracks I have, so get ready for that! I just finished seven tunes that are madness, and I have my first debut collab EP with my husband Berrix, also a collaboration with Shroud, Sythyst, Blaqout, Scafetta, and more!
I want to spread love and light into the dubstep scene and show the duality of life – Light/darkness, which can't live without the other. You will see I reflect that in my tracks by giving you melodic elements, then mix it with dark heavy drops just like the balance of life! (Yin/Yang)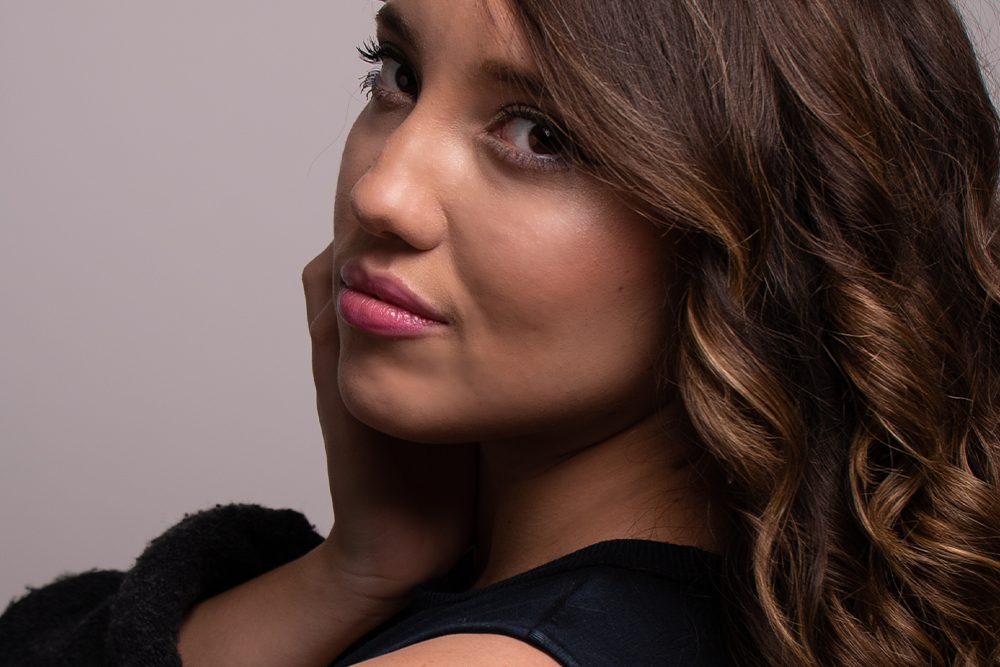 You're heavily involved in the riddim/dubstep scene, and your passion and talent have landed you releases on Riddim Network and Disciple Round Table. What initially drew you to the scene, and what was the moment that captured your heart and made you want to create it yourself?   

My best friend back when I was in high school was a promoter, so I knew about all these underground EDM events and attended with my friends. It was funny because it was not cool to go back then, so the ones attending were the most passionate of all the crowds because everyone was gathered just for the music alone.
What captured my heart the most to the scene was when I was young and found Skrillex and thought he was next level. I had never heard anything like dubstep before, so I was mesmerized. All those sounds captivated me, so I went on YouTube, found UKF, and the rest was history. What captured my heart the most was going to my first festival and seeing all this amazing music live, not just listening but feeling the music. After that, I just knew this was where I could see myself forever. 
What made me want to create myself was my sister. She always sang when I was little, and she inspired me to sing and work in the entertainment world since I was young. Finally, when I moved to LA, I was in a studio recording some demos, but the only problem was the song was written and produced for me – all I had to do was sing. It was great, but I had no creative input at all. I told the producer that instead of R&B, I would love to make more electronic music for my brand, and I showed him some songs. He then said electronic music is dying and that it will never be something big.
After that day, I decided not to be a product and never have someone tell me what to make ever again. I decided to go to school in LA for music production and learn the ins and outs of production and marketing, so I can never have anyone tell me what to do with my music, and I have full freedom to do and be what I want! Now everything I release is a reflection of my brand and me. 
2021 has been a big year for you. You've had two releases on Disciple with "Dream Quest" and "Next To You," as well as landing a release on Riddim Network with "Inborn Nature." Was there any story behind the sounds of these tracks? How does your production process differ when collaborating versus solo projects?
Vincent (Berrix) and I work very well together. We're married, so it's amazing to have just as passionate of a partner like you. Separately we are already super talented, so together, we are an unstoppable force.
The story behind "Dream Quest" was something I wrote about finding that purpose that drives you and that overwhelming emotion of "not being there yet." Working one step at a time and constantly daydreaming of a future while dealing with any hate or people that bring you down – but most importantly, how the only person stopping me is yourself. So I wrote, "I'll do it my own way, they'll still talk anyway, I'll keep them begging, wanting more." Meaning no matter what, I'm in control, and of course, there will always be people who always have something to say. But instead of giving them the power, I used that as fuel to motivate myself and use that as motivation like I'm doing something right, they'll still be watching my every move, which inspired the lyrics, "I'll keep them begging wanting more."
The story behind "Next To You" was inspired by two different things. The first is the facade you see on social media because no one really knows what you're going through. Most people only see the best parts, and it can feel like no one truly cares, but in this case, what grounds me is looking at the real relationships I have in my life. I close my eyes and imagine my life with my husband, and reflect on how far we've come. It fills my heart with joy, which is where the lyrics "and these demons don't come close… when I'm next to you" come from. He is my rock and reminds me how special I am when I'm down. He's always there to pick me up and remind me how far I've come and the amazing things I have and will accomplish. We're always there for each other, and I realize how much love we have for each other, so I can easily snap out of those negative moods.

The second inspiration was being in love with someone and daydreaming about what you two can be because they might not see it yet. I sometimes make stories in my head to inspire the lyrics and write poetry, but I like to leave art up for interpretation to find your own meaning to my tunes or lyrics.
As for "Inborn Nature," I was making the heaviest track I ever could, which Marauda and Svdden Death heavily inspired. I always try to tell a story throughout my tracks which is why you'll always hear an intro that sets the track's theme. The vocals are sampled from a dragon character in Skyrim named Paarthurmnax. He held infinite wisdom, which I admired, and was one of my favorite dragons in the game. He talks about feeling the power inside and the inborn nature that we all are born with. He speaks of overcoming the darkness by not viewing it as something to get rid of but to embrace your shadows.

One of my favorite lyrics is, "I have overcome my nature only through meditation and long study of the way of the voice, power is in our blood you feel it in yourself, do you not?" I am still really proud of this song, and it's technically my debut after rebranding to show everyone what I am capable of.
You've been featured as a guest on SHIVERZ' BUTCHERS CHOICE mix series, an incredible accomplishment! What was it like recording a mix for SHIVERZ, and what was your process like curating the tracks for it? Were there any particular places you drew inspiration from?
I met Jermaine (Shiverz) in Belgium at a famous show, including other legends, but I was stoked to meet him because I have been following him for years, and he was one of my favorite DJs. When we spoke, I told him that I was working hard in DJing and production, and he invited me to record a mix and send it for his Butchers Choice series! After that, I spent weeks recording the mix on CDJS until it was perfect. I re-recorded it over and over because I wanted to impress him and give it all I got. I drew inspiration from Shiverz and all his DJ streams or seeing him live.
Aside from Riddim Network and Disciple, what are some other dream labels you'd like to work with in the future?
Disciple will always have my heart, but I would love to get on Never Say Die, I don't know any women that have been released on there (that I heard of or ever seen), so it would be amazing to be the first woman on NSD. I'm also open to other labels like DPMO, Subsidia, Buygore, Malignant, Cyclops Recordings, Bassweight, Interval, and many more! 
What can listeners expect from D3VINITY for the rest of 2021 and as we make our way into 2022? Will we be catching you at any festivals next year?
I have so much new music, so if you come to see me live I will play it all and who knows maybe you might see me sing live! I just finished that EP with Berrix, and I am super proud of it. You'll hear a couple of tunes in the mix I spun for you! We just finished the remix for the Disciple Remix Competition. We chose Virtual Riot x Modestep – This Could Be Us (Berrix x D3vinity Remix), which is now charting on SoundCloud in the top 50! I'm stoked to remix such a fantastic song from legends like Virtual Riot and Modestep. We even added my voice in there.
I just got signed to PRYSM Agency, so hopefully, you'll be seeing me at more festivals, so stay tuned. Also, I was nominated for Lost Lands this year but didn't get to play. I am manifesting that for next year. 
Finally, if you could give one piece of advice to your younger self, what would you say and why?
I would say START PRODUCING! [Laughs] Sometimes I wish I started when I was a kid or teen, I can't imagine the kind of tunes I would be making now! It's insane to see how much I improved in only two and a half years of hard work and producing! Keep following me on my journey, I have so much more coming, and I can't wait to show you all what I've been creating.

Thanks again for taking the time to chat with us and for recording a mix! Hope to see you soon.
I love you all for taking the time to get to know me and shout out EDM Identity for this interview and mix!
---
Follow D3VINITY on Social Media:
Facebook | Twitter | Instagram | SoundCloud