Arizona-based techno artist Lupa swung by to chat about how she developed a love for the genre and her forthcoming EP on mau5trap.
---
Techno might be one of the oldest genres in the vast landscape of the dance music scene, but that doesn't mean artists in that realm are confined to the sounds of the past. Instead, it's constantly evolving as artists, both new and old alike, explore its reaches or develop a passion for everything from its hard, driving beats to more melodic soundscapes – and one of those fresh faces looking to change the game is Lupa.
Lupa is a DJ and producer you need to have on your radar if you're on the hunt for the next wave of techno artists who are set to make a splash. Originally from the Bay Area but now residing in Arizona, her passion for the underground style developed while she was studying abroad in one of the main hubs for electronic music: London. While immersing herself in the club culture there, a spark to begin producing entered her mind and she set off on a mission to create an all-encompassing experience that goes beyond just DJing and producing.
Since making that decision, Lupa further developed her abilities in the studio while simultaneously beginning to build her lifelong brand. In 2020 she unveiled her biggest single yet, "werehouse," which went on to receive remix treatments from artists like Yewz and TRIPLESICKZ, but as the dust of the pandemic continues to settle she's emerged in full force. This year has seen her begin to roar even greater with two releases on mau5trap, "For The Ride" and "Darkness," which are both filled with plenty of techno energy and act as precursors to her debut EP, Insatiable.
Due out on October 1, this five-track EP is primed to take Lupa to the next level as she explores her creativity even further. Ahead of its release, we were graced with the opportunity to chat with this rising techno talent and explore her mind. So make sure to pre-save Insatiable and read on for the full conversation to find out more about her!
Stream EDMID Guest Mix 290 || Lupa on SoundCloud:
---
Hi Lupa, thanks so much for taking the time to chat with us today. Let's kick things off by turning back the clock a bit. Who were some of your earliest electronic music influences and what drew you to producing techno?
While at the time I didn't know it, my parents listened to a lot of electronic music when I was younger. The new wave genre itself inspired a lot of what the Lupa project is today and I can thank my parents for that. When I started making music, I made a lot of trance and techno and it became my favorite genre to create. I was largely inspired by artists like Armin Van Buuren and Eric Prydz. 
How did your time in the UK being surrounded by the underground techno scene give rise to the Lupa project?
I spent a summer in the UK studying abroad through my college, but in those few months, my life really changed. During this time, I wanted to be a music historian and journalist, however, there was something missing in my life that I couldn't explain. Going to the shows in the UK made me realize that I didn't want to just listen to the music, I wanted to be a part of it too. 
Can you share a little bit about what this project means to you and your artistic vision for where you'd like to take it in the coming years?
Above all, the Lupa project has taught me the power of self-expression. For so long, I just held these emotions inside of me and never really knew how to communicate them. My goal for the future is to continue sharing these indescribable feelings through music and art.
Last year saw you release "Werehouse," which also received a plethora of remixes as well from artists like Yewz and TRIPLESICKZ. What was it like seeing such a warm reception for your debut single?
"Werehouse" was my first single released on the project and to celebrate the success I actually held a remix competition. I had more entries than I thought and was so thankful for all the artists who submitted. I kept it open-genre and the result is a diverse collection of some of my favorite up-and-coming artists. I still listen to the remixes daily. 
This year has seen you drop "For The Ride," as well as your recent single "Darkness," on mau5trap. How did your relationship with this renowned label first develop?
I found mau5trap when I first found deadmau5, around 10 years ago. When I started teaching myself how to produce music it became my personal goal to release on the label. I never really showed people my music until I played a few unreleased songs for a close friend who inspired me to send some demos to mau5trap. 
You're also gearing up to release your debut EP, Insatiable, on mau5trap on October 1. While "Darkness" has given us all a taste of what's in store, can you shine a light on the other tracks that will find a home on this EP?
One of the tracks on the EP was made originally as an intro to a show I played. I never expected to release the song, but the crowd's reaction told me otherwise. It's a shorter song than usual, but the vocals make up for it. 
Can you share some of the thematic inspirations you drew on for Insatiable that fans can listen for?
Insatiable is about the relentless pursuit of an impossible goal. The theme was largely inspired by one of my favorite TV shows, Wolf's Rain, and also a parallel to my own life.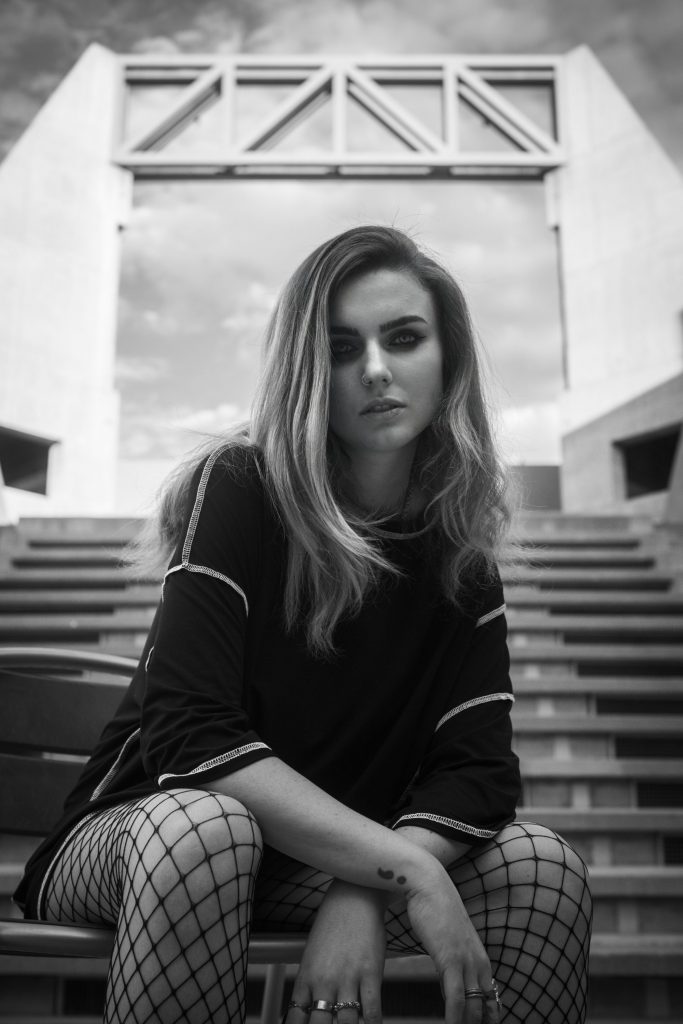 What's your advice for burgeoning producers, especially female artists who are just starting off on their journey?
Just keep making music. 
Where's a dream festival or venue that you hope to take the stage at in the future?
There are a lot of venues and festivals I want to play at, but my biggest dream is to play at the Fox Theatre in Oakland, California. It's a bit of a random choice, but it's actually the venue where I saw my first concert.
What's one thing you're obsessed with right now?
Not sure why, but I've been listening to an excessive amount of Russian Hardbass. 
Finally, what goals do you have for the rest of the year and beyond?
I do some video editing in my spare time and would love to work with an animator on custom visuals for live shows. I think it really adds to the show's experience and already have hundreds of ideas. 
---
Follow Lupa on Social Media:
Website | Facebook | Twitter | Instagram | SoundCloud