Reznor enters a new phase of his career with his "My Enemy" remix and swung by to talk about music production, mental health, and more.
---
Bangladesh-born Rahat Rashid (aka Reznor) currently resides in San Francisco but considers NYC home. Both of those cities, and his background, have played a notable role in his music production and success. In addition to having the influence of two cities, he's been most influenced by two labels: Anjunabeats and Scorchin' Records.
As a self-taught producer, Reznor was grounded in the music of many Anjuna artists, then later found himself working closely with Super8 & Tab and their Scorchin' Records label. Now, with his remix of Super8 & Tab's "My Enemy" he has seemingly come full circle with his first Anjunabeats release.
Reznor is no stranger to the Anjunafamily – in 2019 Above & Beyond selected his single "Glencoe" to play on their Group Therapy radio show. The next week they played it a second time and, just when he thought that run was complete, that tune made it into the show for an impressive third week in a row as the fan-selected Push The Button track. Impressive stuff!
With his debut on Anjunabeats, Reznor brings a darker tone to "My Enemy." Where the original edit is light and ethereal, this remix goes dark and deep while retaining the light and airy Julie Thompson vocals. In fact, the opening vocal gives listeners a short tease before the darkness rolls in. But have no fear, this is not a remix that takes you somewhere completely dark, it only hints that darkness is lingering in the background. The core of the remix is beautifully dancey and fully honors the original while giving it a unique flavor.
Give a listen to Reznor's guest mix below and you can buy/stream Empire 10 Part 1 including the "My Enemy" remix now. Be sure to read on for the full interview!
Stream EDMID Guest Mix 289 || Reznor on SoundCloud:
---
Hi Reznor, thanks for talking with us today! Before we dive into the meatier stuff, can you tell us about the origin of your name? I think it's fascinating that you mashed up two real names to create it.
Haha! I think it's quite obvious that Trent Reznor of Nine Inch Nails was a huge inspiration of mine when I was introduced to his music in high school. Back then, I thought that name was so cool, I used "R. Reznor" as my pen name for poems I used to write. I love Trent's music and he just continues to innovate so much with everything he puts out.
When we first met, you were living in NYC and you are currently based in San Francisco, yet you seem practically bi-coastal lately. What have these cities contributed to who you are as a person and a musician? Are you enjoying spending time on both coasts these days?
I grew up in NYC, lived there all my life, and San Francisco is the first time I've ever been away from the place I call home. Something about making that move felt right and I thought it was the best way to continue growing myself. While the pandemic slowed things down, I've enjoyed what I've experienced and what San Francisco has to offer – the music scene has been fun, the nature is undeniably amazing, and it's been exciting to explore something new and meet other like-minded people. I do look forward to seeing this as a second home.
I've always said that life begins outside of your comfort zone and being away from my hometown has given me an opportunity to reflect and explore more of myself and what I want to create as a music producer. It's offered me a chance to focus on finding more of my authentic self, and it's been exciting to embrace the energy that San Francisco brings. 
With that said, I still like coming back to NYC to see my friends and family – that's what makes the city so special to me and why I make no excuse to fly back. I'm grateful for all the support the city has given me as a person and as an artist.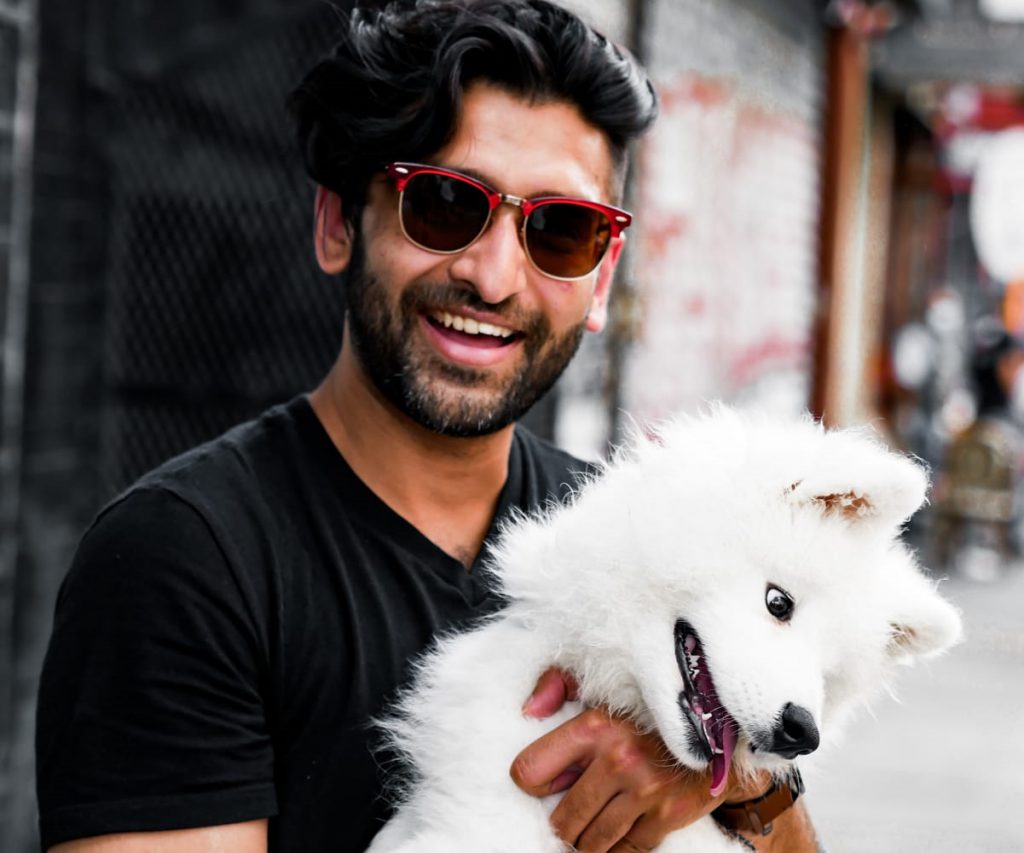 There's been a movement lately to be public about mental health struggles in the music business and you are playing your part. What challenges have you faced and how are you striking the delicate balance needed to succeed in both music and life?
I struggled with long-term depression in the past and that experience made me realized how important it is to prioritize my mental health above everything else. We often get so caught up in personal narratives, expectations, and our personal goals, that we sometimes forget to just listen within. If I can't take care of myself first, how am I supposed to even take care of others and the things I want to do?
Balance, routine, and mindfulness have honestly been key for me. It's not easy to always find harmony, but when I realize that one end of the scale is starting to tip over, I try to be self-aware and take action. When I realize I've over-extended myself (and that can still happen), I try to take a step back to reflect and see what I need the most and how I can fulfill it in a healthy manner. Meditation and journaling have been part of my routine every day to help me feel balanced.
You've mentioned that this remix came at a time that was really helpful for your mental health and it also brings together some of your biggest influences: Anjuna, Scorchin', and Super8 & Tab. Can you tell us a little more about both the mental health component and these influences?
I started brainstorming how I wanted to approach my remix of Super8 and Tab's "My Enemy" near the end of last year during the pandemic, when they first offered me a chance to be part of their 10 Year Empire Compilation. I didn't realize how much the pandemic impacted me and I felt like I'd lost a huge chunk of my personal self. With anxiety, hints of depression, and just a total lack of self-care, I felt imbalanced.  Being in this place before, I knew I had to do something about it. Music has always been there for me so the remix felt like an amazing opportunity to explore more of myself and other sides of my musical palette.
I'm absolutely grateful that Super8 and Tab gave me a chance to take one of my favorite tracks from Empire and remix it; I really wanted to make sure I took a unique approach to the track that represented me. Having Scorchin' Records as my home base really has allowed me to flourish and discover more aspects of my sound and I'm grateful for how encouraging the label has been to allow my music to evolve. The remix gave me a chance to find ways to harmoniously blend elements of techno, progressive, and trance all in one massive mix. It has played a major influence on my future releases, most recently "Feeling My Soul," which is out now on Scorchin' Records. I've got plenty more to share soon!
Anjunabeats is the journey that started it all for me and really carried me through my mental health struggles. I can't state how many times I've had "Peace of Mind" by Above & Beyond on repeat. I'm really grateful to have a chance to give back to the label that has influenced and helped me so much personally and musically. I always appreciate how the label is constantly trying to push the sound forward and spotlighting new up-and-coming artists and their Anjunabeats Rising series.
With the release of your My Enemy remix, you commented on social media about simplicity and how "less is more" in fulfilling your goals. How are you integrating simplicity into a business that seems to thrive on the frenetic pace of producing, performing, and touring at breakneck speed?
You will hear producers say this a lot and it took me a while to really understand what that meant until I really started to apply it to my music. Somehow it perfectly fits into building a healthier mindset too.
I think we often get caught up constantly chasing our desires in order to fulfill ourselves. That insatiable lust of needing to add more to our lives seems to make us often forget about what we already have. A lack of abundance limits yourself so much and holds you from manifesting more into your life. It's why I try to appreciate the simple gestures and moments that life brings, while also ensuring I try to express constant gratitude on my journey.
I'm not suggesting we lose sight of our goals and not work towards it. However, I think it's important to not allow it to consume us and appreciate what you already have.
New producers often struggle to get their music supported, and they often have a specific label in mind, but Tab has made it clear that different tracks may find different homes, and that's OK! What's your approach when sending out demos? Any advice for other up-and-comers as well?
It's totally OK, and you should focus less on the label and more on what music you really want to make! Good music will eventually find its way to the ears of the right people as long as you put your effort in. Focus on being you.
I think when it comes to demos, it's really great to work backward and ask yourself, "Which artists do I want to support my music?" Then look at the labels those artists showcase in their weekly radio shows. Finding the right home for a label takes time and effort, but if you have a good idea of where your music fits, there are quite a few places you can try pitching it to.
As for any other advice, really spend time meeting people in the scene and appreciate what they do! There's so much work happening outside of just producers to make our music scene such an amazing space to allow others to thrive and enjoy what we do.
Before we leave you, I am going to put you on the spot – NYC or SF? And why?
Without skipping a heartbeat, NYC will always be considered the greatest place on Earth for me. However, San Francisco carries its own unique flare and there are just some things The Big Apple can't emulate. Both have their own energy but also feel very familiar – kind of like they are siblings that have their own individual strengths and weaknesses. 
That said, SF needs to get its shit together with good pizza, and NYC could really learn a thing or two on how to make a good burrito (I absolutely hated Mexican food until I moved to California).
---
Follow Reznor on Social Media:
Facebook | Twitter | Instagram | SoundCloud | Twitch