If you want to attend Beyond Wonderland SoCal this year you'll need to provide proof of vaccination or a negative COVID test result.
---
Earlier this week, Insomniac dropped the details that those planning to attend Crush SF would require proof of vaccination or show a negative COVID test to gain entry to the event. Now, that same policy will be put in place for the upcoming edition of Beyond Wonderland SoCal that is set to take place on August 27-28 at the NOS Events Center in San Bernardino.
In their statement that was posted just moments ago to the Beyond SoCal social media channels, Insomniac said: "The health and safety of our headliners is always of the utmost importance to Insomniac, as well as creating environments where headliners can feel comfortable coming together & celebrating with us." They then dove into the details, stating that all attendees will be required to bring proof of full COVID-19 vaccination or a negative test result that occurred within 72 hours of the festival.
Physical or digital vaccine cards and negative test results will be accepted as proof, or a photo of said documentation will also be accepted. For those curious, both Antigen and PCR tests will be accepted – and those looking for a potential last-minute option can try to find a local clinic in San Bernardino. Additionally, there will not be a requirement for those attending to wear masks, but Insomniac encourages that everyone wears one at the festival per the guidance of state and local officials in California.
Please note that refunds will not be given to those who fail to provide either document. More details can be found via the Beyond Wonderland SoCal website.
Stay tuned for more coverage during festival season as the COVID-19 pandemic continues.
Read the full statement from Insomniac Events: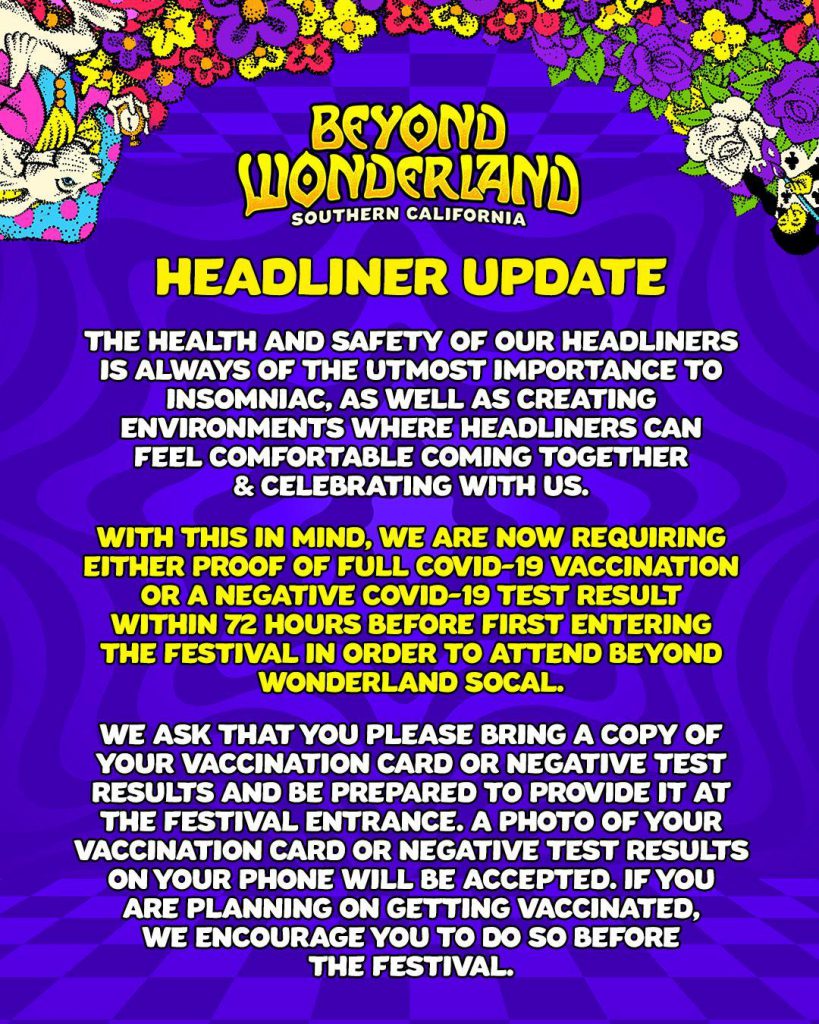 ---
Connect with Insomniac Events on Social Media: