After taking the stage at the Brooklyn Mirage, rising star Lamorn spoke with us about his title as deadmau5's protégé and plenty more.
---
Seth Person, otherwise known as Lamorn, is having a terrific year. After having a track selected on the mau5trap Monday Stream, the 18-year old has been signed to the label, picked up by Seven20, named as the official protégé of deadmau5, and is now touring in support of the mau5 himself. While things could hardly be going better, this is all a lot of pressure and really shapes Lamorn's future in ways that may be out of his control. Yet when we sat down with him, we found him to be incredibly grounded, truly respectful of the attention being showered on him, and ready to take on the challenges that come with fame and growth.
We caught up with Lamorn after his energetic set at Brooklyn Mirage along with Morgin Madison and NERO in support of deadmau5. It was an incredibly high-energy show with Morgin Madison setting the stage nicely for Lamorn who absolutely blew the crowd away. His set included two separate decks along with live guitar while he ran around the stage teasing the audience to match his energy. The crowd absolutely loved him and his unique alt-rock meets electronic style. It was just the style of sound they didn't know they were looking for, leaving everyone in a dancey and euphoric state before handing over the decks to NERO.
Lamorn's debut single "Physical Layer" is out now on mau5trap. Check out the video below and read on to learn more about this rising star in the scene.
Stream Lamorn – Physical Layer on YouTube:
---
Thanks for taking the time to chat with us! We know the last month has been really exciting for you, but before we get into that, how and when did you get into DJing and music production?
I've been interested in music since I was a young kid, around seven years old. I fell in love with Daft Punk, deadmau5, and Justice. Then when I was old enough to grasp more complicated production concepts, I really got into that part of the scene. I started with GarageBand. then quickly grew out of that into Logic Pro. and just kept progressing from there.
On the side, I wanted to learn guitar. I thought it would help my production skills and songwriting in general which ended up being a whole other thing. I got into alt-rock bands, and now it's all coming together for me. It's becoming this rock-electronic hybrid that really feels personally fulfilling to me. 
You mentioned learning guitar to support your electronic production. Did you play other instruments at that time or learn those later?
I started with guitar and that led to learning bass guitar. Then I began to explore my interest in drums, too. I'm not that great or anything, but I learned all the simple drum techniques, and it helps a lot with production. I got into learning instruments because of electronic music and production. I definitely just wanted to be a songwriter/producer but I didn't really know how or where to find information on how to do that at the time. So I just kind of jumped in. 
You mentioned your electronic influences, but what about the rock side? Did you always know you wanted to bring those two things together?
As a kid, I found myself listening to the same things and I wasn't branching out too much. Then in middle school and in high school, I had my branching out phase. I love Tame Impala and that's probably one of my biggest influences. I also love Foster The People, Twenty One Pilots, and Royal Bloods. I'm really happy it's all coming together now.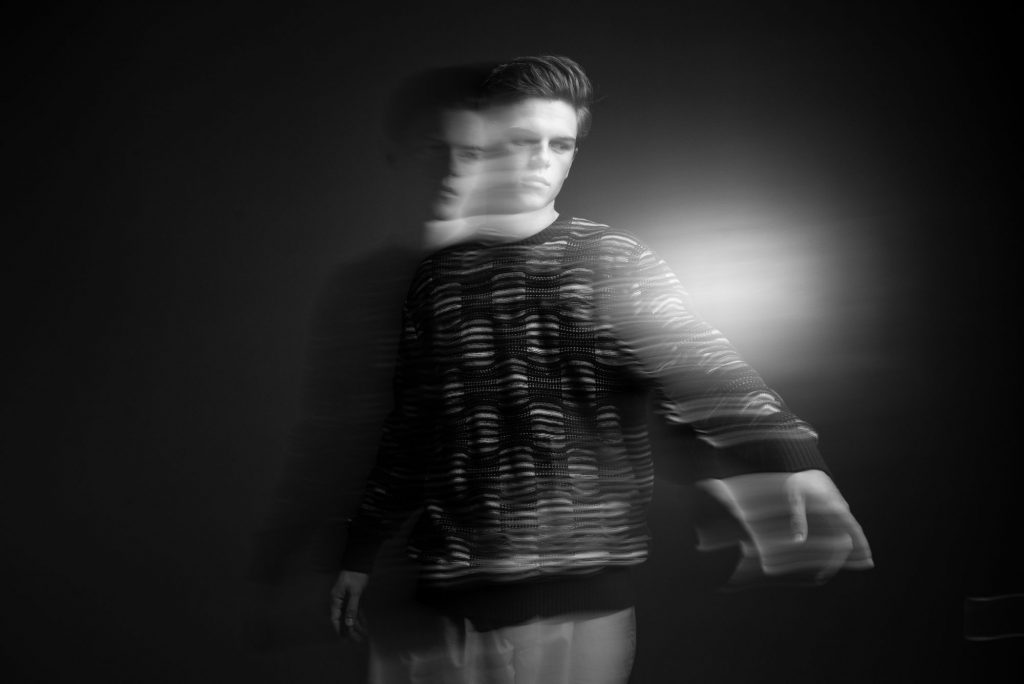 You submitted for the mau5trap Monday Stream and not only got selected, but immediately found yourself talking with deadmau5, getting signed to his label, and getting represented by his management company. Did you ever imagine this would happen?
I had submitted several times before and been rejected. Then I had this song that was kind of different from what I had already sent in, so I knew I wanted to submit that one. It felt really "me" but I didn't know if it would fit with the show. To my surprise, Joel really loved it! Everything that has happened from there has exceeded any goal that I had set. So I'm super thankful and just trying to enjoy the ride as much as I can.
On top of all that, Joel and the team have felt it important to label you "the official protégé of deadmau5." This is sure to attract a lot of added attention. What does this mean to you and are you prepared for all the attention?
Oh, it's a lot of pressure for sure! Throughout the last year, I've definitely learned a lot about myself. I go through peaks of confidence where I feel great about my songs and then suddenly feel awful about my songs. But I think this is something that anyone doing creative work experiences.
I do think it's amazing to have this attention. It's also totally surreal, especially being such a big deadmau5 fan for, you know, pretty much my whole life!
In the last month, you've released your first single "Physical Layer" on mau5trap, played your first live show opening for deadmau5, and now you are touring in support of deadmau5. How has this last month been and what do you expect from the rest of the tour?
Releasing "Physical Layer" was great and now it feels like some of the pressure is off, personally. For me, it was such a buildup wondering if anyone was gonna like the track. I was wondering if it would go this way or that way. I'm starting to learn to just let go of those thoughts a little bit and really try to focus on making music. That really resonates with me and it fulfills some part of me that is only filled when I'm writing music. When I focus on that I can suppress some of the pressure or nerves that I feel.
You only just played your first live show as Lamorn a month ago. For your third show, you're at the renowned Brooklyn Mirage. How was it tonight to get on that stage? You looked very relaxed!
Thanks! I had a lot of nerves going in. Before getting on any stage, my stomach feels a little tight and I'm sitting in the green room trying to calm down. With every show that I have played so far, it's definitely gotten a little better. Then when I hit the stage and all the stuff is working and I hit play on that first song – then I'm just ready to go! A wave of calmness comes over me and I just start to feel the music and try to communicate that to the crowd in the best way that I can. 
You were up there tonight, bouncing around between two separate decks, and when you threw the guitar over your shoulder, the crowd was like, "Wait, what?" I'm personally at Brooklyn Mirage all the time and I rarely see this kind of crowd energy before sundown. Do you see that from the stage or are you just too focused on what you have to do at that moment? 
It's kind of weird and sometimes I have a hard time seeing it. I do get really focused on what I'm doing but then after the first couple songs I can move into autopilot mode. I start doing things that I've practiced so many times and that I'm comfortable with doing. Then I can start looking at the crowd and I start hearing people yelling things at me and I can respond and settle in.
It's really, really cool to see so many people respond to my music like this. I've been listening to it over and over in my room and I just can't quite translate that to this kind of setting. Then when I finally hear it in a big venue – it's amazing!
With all that has happened recently, have you had time to get back to the studio? And how will your production process change with deadmau5 and mau5trap support?
I've actually had a lot of time over the past year and I probably have between 20 and 30 songs ready to release. The whole set tonight was my unreleased material.
I've tried to not let anything really change my vision and style. Even though some of my songs can be different from what you've heard on mau5trap before. I'm super thankful that I've gotten so much support from all of the mau5trap team. They always come back really positive and it's been awesome.
It seems like 2021 is pretty well programmed for you now, so as you look ahead, what are your hopes for 2022 and beyond?
I always have my eye on the future, maybe a little too far ahead. My brain just likes planning things. I am definitely very invested in my live show and I want to make that as good as I possibly can. My music has started catering to that as well.
I'm definitely looking forward to releasing as much as I can. I'd love to do a well-thought-out album with meaningful lyrics and a cohesive theme. Something that sums up my whole sound and all my feelings
Speaking of cohesive themes, tell us about the visuals tonight. They seem like part of your grand plan to have a very thought-out live show.
I'm very involved in the visuals and I've been working with Joel's team on building this world to visualize my music. That'll translate from stage to album covers and the marketing as well. We've been keeping them all tied together trying to make a cohesive world. It's been really great working with everyone and the results are just amazing!
---
Follow Lamorn on Social Media:
Website | Facebook | Twitter | Instagram | SoundCloud | YouTube