EchoStorms swung by to discuss their debut release "Tidal Wave," working with Chapter & Verse, and what's to come from the duo in the future.
---
After meeting online back in 2019 through mutual friends, Ben Locke and Katya Fadeeva found that they shared similar passions for dance music and decided to come together to make some magic happen. Meeting in the middle between their home countries of the UK and Russia, the result of that encounter led to the creation of EchoStorms – and from that point on they began their journey with their exquisite musical backgrounds in tow. 
While they host a monthly radio show on Electric Radio in the UK, EchoStorms has also been working together in the studio to develop their signature sound. This culminated in 2021 with the release of their debut single, "Tidal Wave," which landed on Sony Music and acts as a perfect starting point for those who are ready to immerse themselves in the emotion-fueled soundscapes that they've created. Adding even more of an impact to the release of their debut is a remix from Chapter & Verse that spins the tune in a new direction to make it a club-ready banger.
Now, as EchoStorms looks to the future, we caught up with the duo to chat about "Tidal Wave," their dream equipment to make music on, how they began working with Chapter & Verse, and what their growing fanbase should expect from them in the coming months. Listen to "Tidal Wave" on Spotify or your preferred platform, and keep reading for our in-depth interview with EchoStorms!
Stream EchoStorms – Tidal Wave on Spotify:
---
Hi Ben and Katya, thanks for taking the time to chat with us today. Before we dig into your recent releases let's take a trip back in time to your earliest days. How did you two meet? Being two professionals from very different countries from England, and Russia, what are the influences that helped your creativity wash ashore for the both of you in the music realm?
We met through a mutual friend online in 2019 and decided to meet each other halfway (Ben was in the UK and Katya in Russia) in Munich, Germany. As soon as we saw each other at the airport it was like being reunited with a long-lost best friend and the chemistry was instant. We ended up traveling to Paris together in a van and it was during that journey that EchoStorms was born. After that we went to St Petersburg and lived there for a month working on new material and absorbing the local culture before flying to the UK and spending six months there, continuing developing our sound and building our
repertoire.
Ben: We have so many funny stories from along the way but one of the funniest has to be when we had just arrived in the UK when we were invited to a "music industry networking event" and as the UK is one of the leaders in the global music industry Katya was very keen to go. It ended up being a really surreal and bizarre experience involving a PRS exec, a case of mistaken identity which almost ended up in disaster, an actor who played a notorious EastEnders bad boy, an 80s pop icon, a London bus, and a roll of toilet paper!
Your debut single, "Tidal Wave," is an absolutely electrifying track that deserves to be heard in every warehouse this summer for its exhilarating beats. Could you tell us a little about where you produced the track in your mobile studio? How is your process like to work cohesively together?
Thank you, we are really happy you like the track and the response it's had has been really overwhelming. We record everything in our mobile studio which we take everywhere on the road with us – we work in Logic and heavily use all the UAD plug-ins on our Apollo.
For recording vocals, we use a Telefunken TF39 which is a wonderful tube microphone with a rich and crisp tone. We track through a Neve 1073 preamp and TubeTech CL1B compressor. Synth wise we use a Sequential Prophet 6 which is a wonderful combination of classic analogue sound with modern versatility. We also use the brilliant and extensive Arturia V collection which is a fantastic reproduction of all the classic synths and always one of our go-to's, and of course, we also use Serum. For snares, claps and build-ups the Pioneer RMX 1000 is absolutely crucial for us to have (as you can probably hear in our records).
We love working together and, although we have written and produced successfully separately in our own right, it's when we come together and produce and write something collaboratively that extra magic happens. The wonderful thing is that for over a year and a half we have been together 24/7 so that extra magic has been pretty frequent!
The lyrics are driven by emotional experiences, and especially after this past year, we can all agree that life sometimes can come down like a "Tidal Wave" with the fear of an unknown future or circumstances. What do you hope listeners will feel when hearing the song for the first time?
We hope they feel an uncontrollable desire to stream it over and over again! All of our songs are about personal experiences. We are not afraid to tackle difficult subjects or experiences which might be a bit close to home in our music. We believe that the best songs are always written about things which you are passionate about or have affected your life. We hope that our listeners can find something that they identify with in our lyrics and they in some way, big or small, positively influence their lives.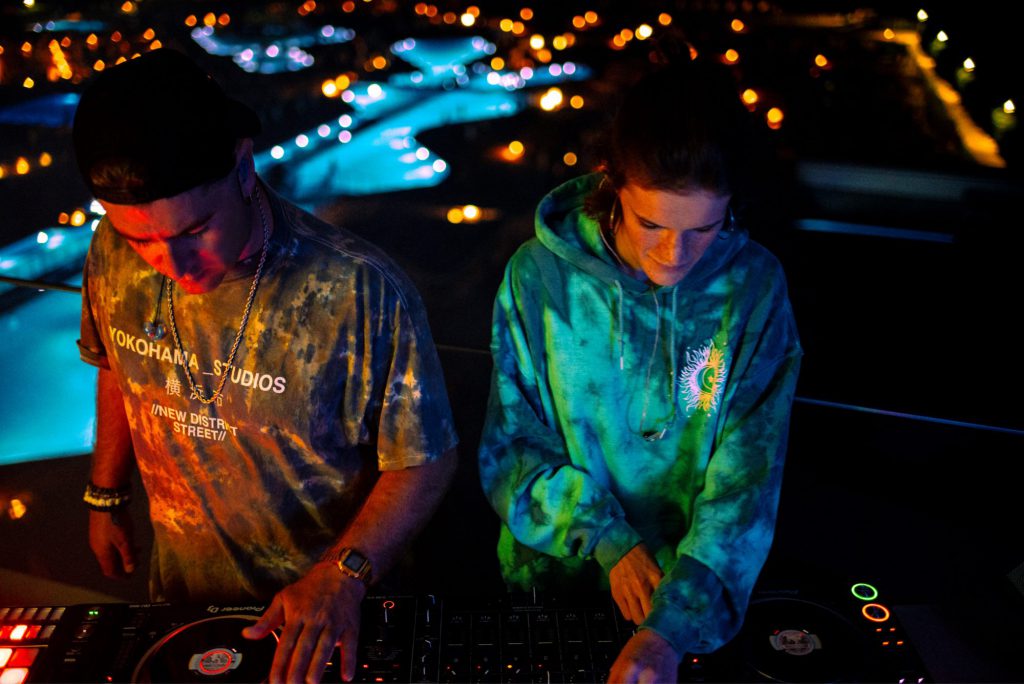 The tune is also paired with a remix from the sensational Chapter & Verse as well. What led to him remixing the tune, and do you have plans to work with him in the future as well?
That's a funny story actually! Back at the start of this year, we were both doing some crate digging separately on headphones and suddenly we both stopped, as we do when we find something that we really love and want to show to each other. It turned out we had both discovered Chapter & Verse at the same time – Katya had discovered Ashes and Ben had discovered the remix of Bed! We reached out to him on Instagram and the rest is history! We love working with Chapter & Verse and are very excited about our collaboration with him which comes out on The 24th of September on Atlantic.
Is there any equipment that you would like to try out that you could experiment with to expand your sound? If so, what is on your list? Synths, drum machines, etc.?
It would definitely be two synths from Sequencial. The Prophet XL looks like an absolute beast and the OB6 is something we have been after since the Arturia plug-in of the original Oberheim came out – we use that in almost every track so to have the hardware synth would be super dope! The new year has brought forth opportunities for artists to take the stage once again.
Besides your show in Bulgaria at CACAO BEACH, where would be another bucket list destination you two would like to perform at in the future?
We'd love to do a couple of guest spots in Ibiza (Ushuaia would be amazing) this year before we head over to the US! Other bucket list venues would have to be Ultra, Red Rocks, Tomorrowland, and of course Glastonbury!
Now that half of the year has passed by and we're diving into the rest of 2021, what goals do you hope to achieve before 2022? Are there more releases lined up in the
near future?
Yes absolutely, we have the release on Atlantic with C&V which we've already told you about and we are super excited about and many more singles which we are so excited about. We would love to tell you all the details but at the moment we just can't! Follow us on our socials to see our journey as it unfolds!
Finally, since we've reached the heat of summer, what are both of your favorite summer activities to participate in?
We love watersports – swimming, jet skiing, parasailing and a bit of beach volleyball! We are actually on a beach right now as we write this interview and as soon as we have finished we are going to jump straight into the sea to cool down haha!
Thank you so much for taking the time to share your uplifting new waves of tunes,
we can't wait to dive deeper with you both for your future tracks to come!
Thank you so much for having us and we look forward to talking with you guys again very soon!
---
Follow EchoStorms on Social Media:
Website | Facebook | Twitter | Instagram | SoundCloud | YouTube