Colleges will battle it out for their chance to win a performance from Loud Luxury in the fall during the Monster Energy Up & Up Festival Series.
---
The largest national college festival, Monster Energy Up & Up announced DJ and producer duo Loud Luxury as the Fall 2021 headliners. Student ambassadors from over 40 U.S. campuses will go head-to-head in a friendly marketing and influencer campaigning competition to rally their peers to win a festival in their schools. This event is like none other because it is powered by a community of student ambassadors looking to grow their careers in the live events industry through hands-on learning experiences and mentorship programs.
Monster Energy Up & Up Festival is built around basketball's final four competition concept, where the Up & Up ambassadors mobilize their student bodies to an ardent 48-hour campaign to sell the most pre-sale tickets to a festival they will co-produce. The campuses that sell the most tickets will come up on top and work with the Up & Up Festival producers to bring premium national headliners to their schools at no cost to them.
Event producers also use an advanced ticketing system that only processes credit card charges for ticket purchases from the winning schools. The competition starts on September 14 at 4 PM EST, and the winning schools will have a show of a lifetime come October and November.
If that is not enough, the festival will also keep the collegiate programming going through its' virtual event, Club 100, the remaining summer and fall. The online event draws thousands of students from over 200 universities, features surprise performances, industry guest speakers, educational opportunities, games, and giveaways. Another plan that is in the works is the launch of a revamped Remix Challenge where aspiring student DJs compete by remixing a track from notable artists for a chance to win an official Spotify remix.
Tracks featured in previous Remix Challenges included Subtronics, San Holo, Ghastly, and Two Friends. Closing out the collegiate programming is the Greek Challenge where the greek organizations will have an opportunity to raise money for their philanthropies by hosting a party.
To learn more about the Monster Energy Up & Up Fall 2021 tour, Club 100, and the other competitions, visit their website.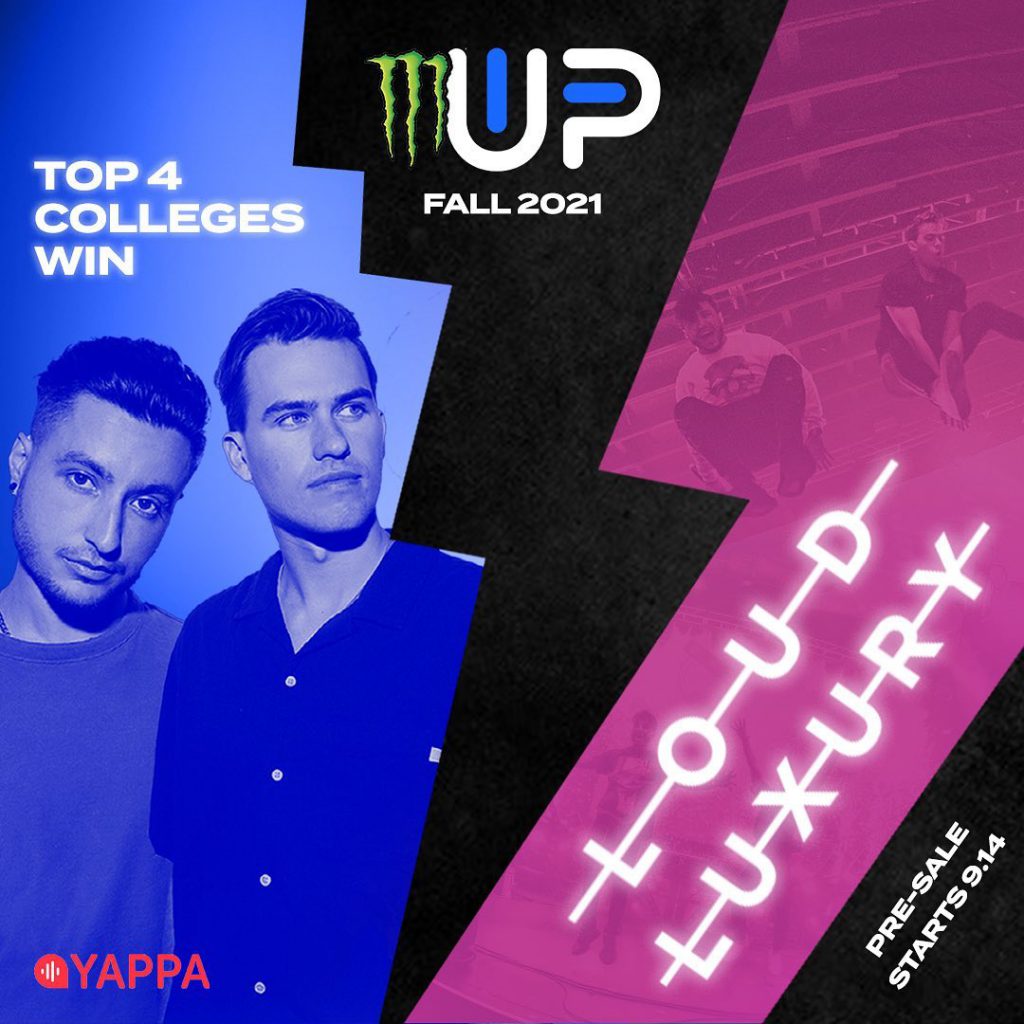 ---
Follow Monster Energy Up & Up Festival on Social Media: