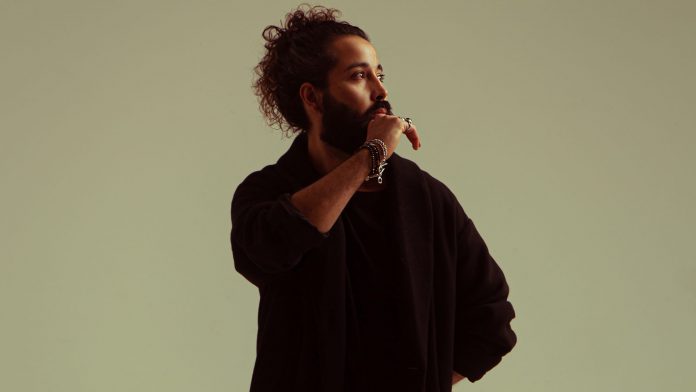 After the release of his latest tune "Lloro Yo," Belgian artist HVMZA swung by to chat about his Turkish and Arabic roots and plenty more!
---
If there's one thing that holds true about dance music, it's that artists can come from all walks of life with their influences in tow to create some sensational music – and that's exactly what HVMZA has done. This rising Belgian artist continues to craft up some stunning releases for house music lovers to consume that incorporate a range of styles from afro, tech, and deep house to hip-hop and traditional African music. Pair that with his Turkish and Arabic roots and the combination is one hefty helping of beats that you'll quickly fall in love with.
Originally centered in the hip-hop realm, 2019 saw HVMZA set his sights on house music and he hasn't looked back since. His 2019 single "Na Bosana" was well-received by tastemakers and his growing fanbase alike as he embarked on this new era. This success led to a flurry of tunes being released in 2020 that included "Rosa," "Dame," and "La Critica," while he also landed "In West," "HULA," and "Lloro Yo" in 2021 as well. And to top it all off, these singles have all been self-released by HVMZA as he opted to put his energy into creativity instead of pitching to labels.
Looking for a deeper level of insight on his production style, his formative years in music, and his plans for the future, we caught up with HVMZA for a chat. Check out his exclusive guest mix on SoundCloud, download or stream "Lloro Yo" on your favorite platform, and read on for the conversation!
Stream EDMID Guest Mix 276 || HVMZA on SoundCloud:
---
Hi HVMZA, thanks so much for chatting with us today! You've been involved in the music scene for years now, but more recently transitioned from hip-hop to house music to explore that genre more. Can you tell us a little about your journey so far and how you found a love for house music specifically?
Hi EDM Identity, thanks for having me! The love for house music is not really new, to be honest, it was always there but the love for hip hop was just bigger. So far I'm really happy I made the transition, everything is going according to plan and I'm growing every day. I feel creatively so free, I can do whatever I want and the beautiful thing is people actually like it, I mean what more could an artist want.
The range of styles within the house realm that you've produced has been vast, touching on everything from tech house to afro house, and tech house as well. Did your Turkish and Arabic roots influence the development of your dynamic style? Who were some of your earliest inspirations?
Absolutely, every time I'm producing I'm always looking for elements that represent my roots and it's not just a choice, I really feel drawn to it, it's in my DNA. When I was young and I was with my family it was Turkish and Arabic music, at school with my friends it was 90's and early 2000's hip hop/r&b, one of the most beautiful music on planet earth my opinion and artists like Tupac, Snoop, Dr. Dre, etc. had really big influences on me. And then of course house music, in the early days and actually today also Ninetoes was a big inspiration for me, I always loved his music and the tribal vibes on his tracks.
Your recent single, "Lloro Yo," features tribal drums and a solid groove, which are also similarly featured in your edit of Burna Boy's "Wetin Man Go Do." When you sit down, open your DAW, and begin producing, is there a specific mindset you have going into your projects? What's your production flow like?
I never sat down and started producing with nothing on my mind, to be honest. Most of the time I hear a sample or a vocal or a drum loop I really like and feel and then I start building around that element. My mindset is always produce something you really like, just have fun and enjoy what you are doing, don't think about what others will say.
Most of the tracks you've produced, especially your biggest hits, have also been self-released. Was this approach one that you wanted to have from the beginning? What's your experience been like pitching to labels?
Yes, in 2019 when I was planning to release my debut single 'Na Bosana' I realized that we live in a much different era now, we have all the tools we need to release and promote our own music and make money with it. So I had this plan and strategy in my mind and so far it's working fantastic. To be honest I literally never pitched a song to any label, I guess I just don't like pitching, I rather put my energy into the creative process, I always thought when I'm big and good enough the labels will eventually come to me and I'm definitely open for that.
Something else that's stood out are the remarkable mixes you've thrown down as well, including the one you spun for us today. What's your approach to your sets? Do you typically go with the flow or is there some preparation involved for the ride you want to take listeners on?
Thank you so much! I'm a perfectionist and there is always a lot of preparation and calculation involved with anything I do, so definitely also in my mixes. I wanna take the listeners on a journey, I wanna make them feel like they are in a movie, so the tracks are carefully selected, placed, and cued, most of the time this process takes a day and then the next day I start mixing it.
As an artist who is currently on the rise in the dance music community, what has been the biggest struggle, aside from the pandemic, that you've faced so far?
The pandemic was definitely the biggest, other than that I would say the biggest struggle for me was and still is promoting myself as an independent artist, it takes a lot of time, energy, effort, and of course money.
Since the year is nearly halfway over, what are some goals that you hope to achieve in the rest of 2021?
I really hope I can still get some dope gigs and release a few bangers before the year is over, that would be really nice.
Finally, just for fun, since the summer months have begun, what are some of your favorite things to do to kick back and relax with some friends?
I love to go out and have dinner or grab some drinks with my friends, recently the restaurants and bars reopened again in Belgium, also EURO 2020 just started, I'm a big football fan and a player myself so grab some drinks and watch the matches on a sunny day somewhere outside would definitely be my favorite thing to do this summer. Thank you so much for having me EDM Identity, much love, peace, and harmony!
---
Follow HVMZA on Social Media:
Website | Facebook | Instagram | SoundCloud | YouTube