After dropping his remix of "Sere," African artist Spinall stopped by to chat about Afrobeats, the electronic music scene in Nigeria, and more!
---
If you were to ask about some of Africa's most prolific DJs, one would be remiss to not mention Oluseye Desmond Sodamola, better known around the world as Spinall. As a DJ and producer, his infectious, upbeat touch is infused into the effortless cool Afrobeat style to prove time and time again he's one of the best. Also affectionally regarded as Top Boy, he began his path in 2003, rose to prominence around 2004, and has made history numerous times since as the first Nigerian DJ to be featured at numerous events including Glastonbury and the BET Awards.
Since breaking onto the scene, Spinall has gone on to collaborate and share the stage with the likes of WizKid, Burna Boy, Davido, Yemi Alade, Skepta, and many more. And if that wasn't enough, he's simultaneously run his imprint, TheCAPMusic, where he curates some of the hottest talents in the business.
In 2020, Spinall dropped his wildly successful fifth studio album, Grace, and also signed with Apple's Platoon – a subsidiary of Apple that focuses on artist growth in Africa. This year, his first release came in the form of a remix of "Sere," a collaboration between him and Fireboy DML that was originally featured on the aforementioned album. After its release, we had a chance to chat with Spinall to talk about Afrobeats, the electronic music scene in Nigeria, and social justice. So listen to the remix of "Sere" on YouTube or your preferred platform, and read on for the full conversation!
Stream Spinall – Sere Remix ft. 6lack & Fireboy DML on YouTube:
---
Hi Spinall, thank you so much for chatting with us! Can you tell us a bit about how you got started? You initially set out to study engineering but pivoting to DJing and producing music. What inspired your career move?
Passion inspired my career move. Passion for the music got me this far. I have my engineering degrees. I love music as you can tell and I'm blessed, and grateful, for the talent and many successes.
You've had a lot of firsts in your career. For example, you're the first Nigerian DJ to perform at Glastonbury and first Nigerian DJ to tour five cities in the United States, among others. What does it mean to you to be paving the way and being a pioneer for African DJs?
I'm humbled. At the time we did those things we didn't know we were the first, I have been sharing the gospel of Afrobeats for a minute. My biggest accomplishment would be that because of me someone is not giving up their dreams.
We love how every country infuses its culture into their music scenes and makes it its own. How would you describe the electronic music scene in Nigeria? How do you think the sound might be different from other places?
EDM has a big audience in Nigeria. I can tell you this for a fact. The golden 2010 – 2015 EDM era did a lot of the rude awakening in Nigeria. Our sound itself is unbelievably broad. Looking forward to Ultra Nigeria one day.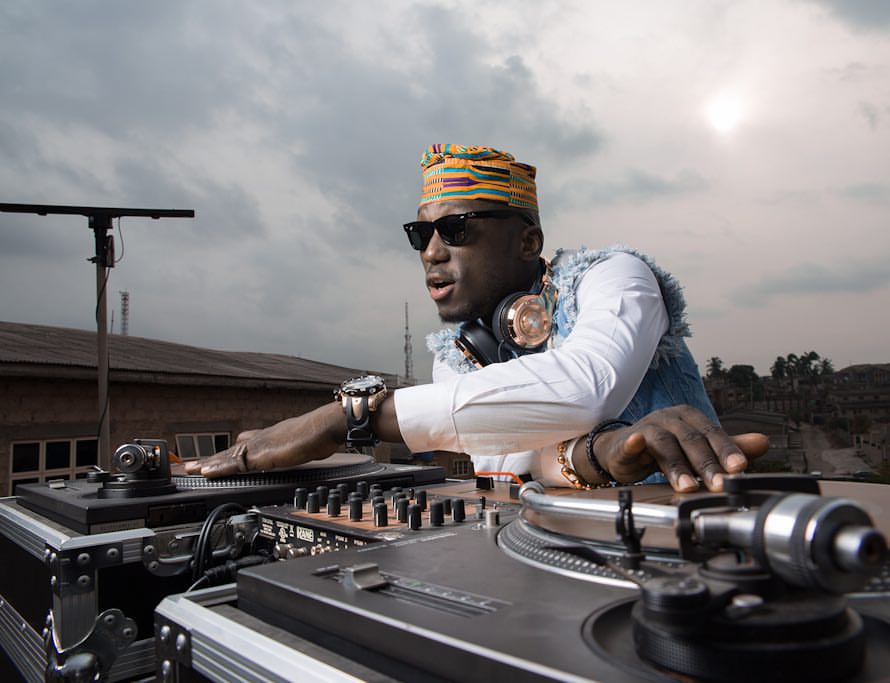 Providing a platform for artists you believe in and collaborating with these artists is a common theme in your work. Why do you think it's important to be uplifting and discovering other talented artists?
That's the only way we can grow and expand our music. I'm of the notion that it's a journey and not a race & one athlete cannot run a marathon. That's my ideology.
That being said, who are some artists on the label that we should keep an ear out for? Or some artists that you are listening to?
[Laughs] I shouldn't break the protocol, TheCAPMusic will be announcing our new signees soon. The listen is endless: Fireboy DML, Oxlade, Star Boy Terri, Minz, Buju, Bella Shmurda, Tobi Adey, and many others. Naya Akanji is also another lady I just discovered her music last week. I love finding music. I'm always listening. 
This past year you've experienced the Black Lives Matter protests and the #EndSARS movement along with COVID-19. How did these events affect you personally as well as what was the effect in your artistry?
I'm not sure I can explain this if I am being honest. It's been hectic back to back of different emotions so it's hard to conclude just yet; I'm taking it one day at a time in this new world. Consciously being patient with others a lot more myself. On the side of the government, You would agree with me that all those occurrences both home and abroad just further buttress the point that the leaders don't give a damn about their citizens. 
Recently Spotify expanded to include more African countries including Nigeria. How do you feel this expansion will affect the landscape, market, and reach of Nigerian music and Afrobeats?
Spotify is a huge platform and I'm a huge fan myself. I know they have done their home work and I'm looking forward to the wonders Spotify would do in Nigeria.
Finally, with 2021 almost halfway through, what are some of your goals for the remainder of the year and what can fans expect from you?
To continually play my part in spreading and improving my genre's reach through these mind-blowing collaborations amongst other things.
---
Connect with Spinall on Social Media:
Facebook | Twitter | Instagram | SoundCloud | YouTube