Two Feet made an electric return to the stage in San Diego with a set full of tunes from new albums Max Maco Is Dead Right? and Pink.
---
In a triumphant return to live music, Two Feet did not skip a step. The heady guitarist and multi-instrumentalist brought his live show to the California Center of the Arts in Escondido where attendees of all ages were able to see him perform his new music accompanied by full production. Having heard so many positive things about the new adapted live experiences with drive-ins and pod concerts it was exciting to finally experience one for myself. So, after a year of patiently waiting for live music to return, it was time to go through the motions of getting ready for my first show back since the pandemic!
Something that was sorely missed since shows were put on pause last year was the anticipation of and getting ready for a concert. My group of friends arrived at the house to carpool, we made sure we had our IDs and masks and piled into the car to drive to the event. For the first time in a long time, I got that giddy feeling associated with attending a concert with friends. It was surreal and it didn't take long for us to get back into the swing of things.
We arrived early enough to find free parking and leisurely rolled up to the entrance. The line was short, moved quickly, and we were inside the venue within 10 minutes. Masks were required for entry but not required when in your pod. I was pleasantly surprised by how well managed and relaxed everything was. I guess that is one of the benefits of venues operating at a reduced capacity. Once we found our pod we did a quick lap to hit the restroom and get a lay of the land.
The venue itself was beautiful. The pods were spaced evenly over a grass courtyard, the trees provided a nice floral aesthetic, and the production looked promising.
I would certainly attend another show at the California Center of the Arts. The way they transformed the property to accommodate the layout of a pod concert made me even more excited for the show. After our restroom lap, we meandered back to our pod which was nicely aligned with the left speakers. Even when the opener was playing the sound was coming through nicely and continued to raise our level of excitement. The opener was a local San Diego artist named AbJo and although he makes his own music, he DJ'd a set full of a variety of tunes ranging from hip hop to electronic.
After AbJo's hour-long set, the crowd was warmed up and ready for Two Feet. The stage was set for him to perform live with a drummer and keyboardist and started promptly at 8:30 PM. The lights went dark and a slight bass hum initiated the start of the set. From the first hum of bass, I could tell they cranked the volume up and Two Feet's set was not going to suffer from any sound issues I heard other drive-ins and pod concerts faced. No FM transmitter shenanigans and no shortage of sound. This was a full stage with full production.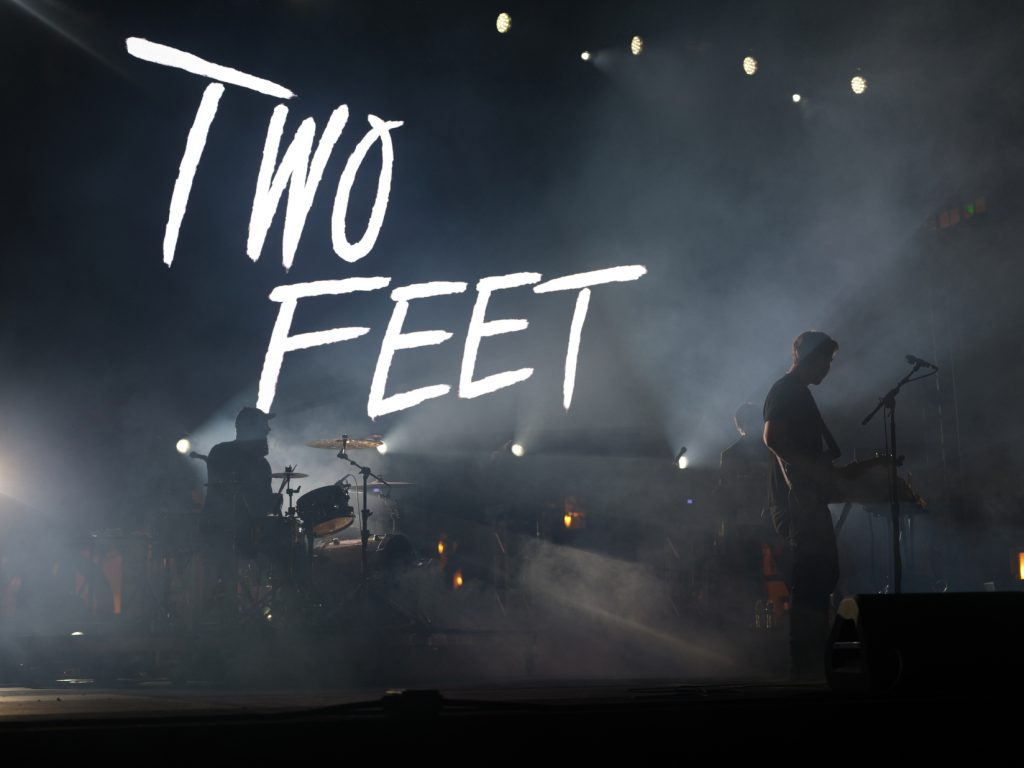 Two Feet wasted no time getting the show started and opened with a personal favorite from his 2020 album Pink, "BBY."
Bursting with sultry guitar riffs, hard-hitting bass, and crooning vocals Two Feet commanded the audience's attention with every track performed. With so much new music in his repertoire, I have to imagine he was excited (and even a little nervous) to see how the crowd would receive the new tunes. Well, I can tell you our pod was vibing from the start and everyone around us was having a visibly good time as well. It was different dancing in what felt like a caged area, but that did not stop us from having fun. We even made friends with the family in the pod next to us. Anytime we looked over, we would be on the same level gigging out to the incredible live music before us.
He played through a couple of tracks off Pink early in the set and even played some of his old tunes like "Feel Like I'm Drowning", but the highlight of the set was hearing all the new songs from Max Maco Is Dead Right? live for the first time. I was a fan of the album prior to attending the show, but I am even more of a fan after hearing Two Feet perform the tracks live. He played "Nightmares," "Think I'm Crazy," "Fire," "Never Enough," "Flatline," "Lies," and the more acoustic "Are You Hanging Off My Balcony."
Since that night, I haven't been able to stop listening to the album, especially "Nightmares" and "Never Enough."
It reminded me of what I missed most about live music – that it just hits different and translates differently in a live format. Feeling the bass and hearing all the flare and improvisations of guitar made me have a deeper appreciation for each track on the album. I had moderate expectations of a pod show, but between the VJ, sound crew, and exceptional performance from Two Feet I would not be mad if pod shows continue after the pandemic.
Of course, nothing replaces being in a crowd and enjoying the music with hundreds of other enthusiasts in tight quarters, but I do believe there is something unique and special about a pod show. He ended the set with the hard-hitting "Go Fuck Yourself" and walked off stage after one last strum of his guitar. The last note played out for a minute or two because of the sustain pedal and was an epic way to end the night of music.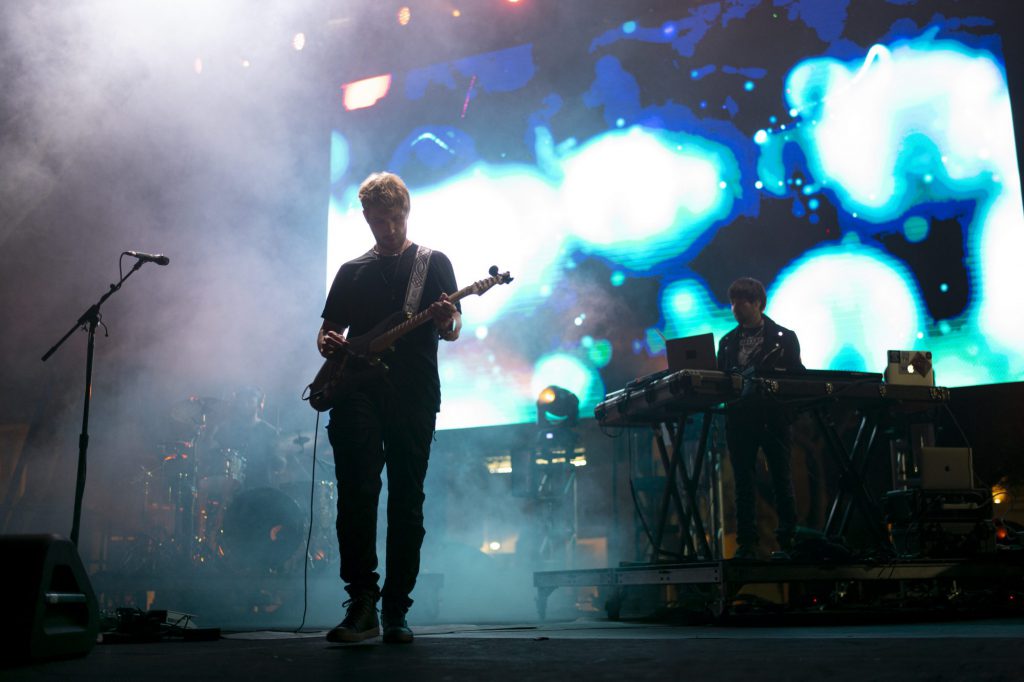 In all, Two Feet nailed his first live show back in San Diego and provided a much-needed night of music for all who attended.
As we were walking into the venue I noticed a lot of people brought blankets, chairs, and other items to make their experience more comfortable in the pod. I guess I didn't do my research, but we did not sit down the entire event anyway. It would have been fun to deck out our pod with tapestries and other comfortable items, but when it comes down to it we were all there to dance.
I cannot wait to vibe with Two Feet at a future live show when larger crowds are permitted. If you ever have the opportunity to see Two Feet in concert you should definitely do it. And, if you have been on the fence about attending a pod show give it a chance! It was incredibly therapeutic for me and brought a group of friends together that have been needing it.
---
Follow Two Feet on Social Media:
Website | Facebook | Twitter | Instagram | SoundCloud | YouTube