Insomniac finally hosted a Basscon Park N Rave featuring GEO, Darksiderz, Lady Faith, Rob Gee, and LIL TEXAS – and it was nothing short of epic!
---
This past year has been one that nobody truly expected. Like many fans, I had shows and festivals lined up for 2020 that unfortunately were taken away. I felt lost and it was really hard for me to carry on with my passion for music when there was no live setting to hear it in. But after six months of consistently putting on socially distanced drive-in shows, Insomniac finally gave its hard dance brand, Basscon, its own Park N Rave.
The Basscon Park N Rave was truly a treat to those fans that had been patiently waiting on the sidelines for almost an entire year and constantly asking Insomniac for a hard dance showcase. In fact, I still remember the feeling of defeat after Basscon initially replied to a comment on Instagram saying that they had no plans for a Park N Rave months ago. However, that defeat quickly turned into relief when an artist said on an Instagram live that there would be one, and that day had finally arrived.
When I heard the news I immediately dropped everything, went online, and bought a ticket – I couldn't have been more excited. I told my friends, who I knew had been quarantining safely along with me, that we were going to this show. To be quite honest, it was incredible feeling those butterflies in my stomach because I was finally going to a show again.
The entire week prior was filled with feelings of excitement and pure energy. I also felt something I hadn't felt in more than a year: the pre-show jitters. It felt like I was a teenager going to my first rave again. And before I knew it, I was at the NOS Events Center, only a quick five-hour drive away from my home.
Entry to the Park N Rave was a breeze and one of the best experiences I've had with security at an Insomniac-hosted show.
I spent a few days before the show researching and asking questions about the show itself to the more experienced members of the community. Following their advice, I arrived as early as possible and despite arriving after the first set had already begun we were in within 10 minutes. I appreciated that the security made sure to keep a distance as they searched my car and the free goodies they gave us were a plus.
We got to our space and I was ecstatic about having our own dedicated square to dance around in. Personally, my favorite aspect of this new format is that you will always have everything you need in your car right there with you. My group brought lawn chairs, blankets, snacks, and drinks to make our experience as comfortable as possible. Honestly, I will never get over the power I felt bringing in my own food and drink into a show.
The Ground Control team heavily enforced the mask rule when you weren't eating or drinking, making me feel safe about being in a massive group of people. An interesting point that my group expressed to me is that women could dance without having to worry about men trying to harass them at events. So thank you to Insomniac for creating a safer experience for women as well, even if that wasn't the exact intention.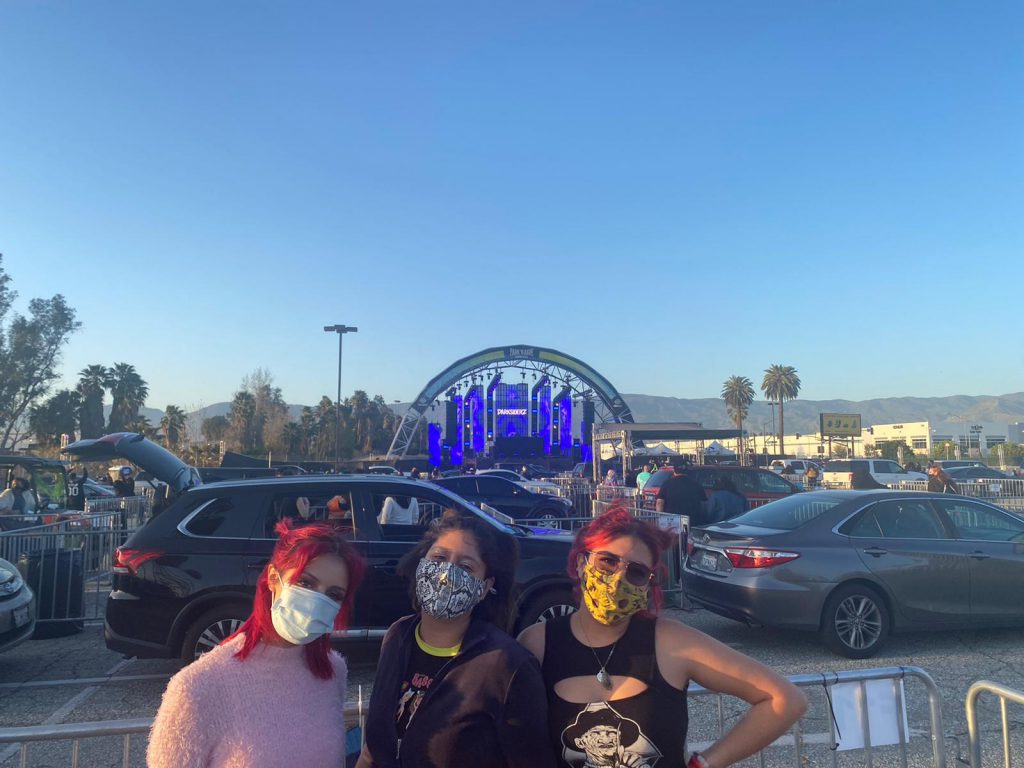 As for the performances, Lady Faith and Rob Gee absolutely stole the show.
The Basscon Park N Rave was incredible from start to finish. Darksiderz opened up with some sweet, sweet euphoric hardstyle. GEO then came on to throw down an energetic reverse bass set with lots of classic tunes and even a donk edit of Bad Bunny's world-renowned record "DAKITI". LIL TEXAS tore the place down closing with hard-hitting, face-punching hardcore music.
But it wasn't until Lady Faith took the stage that I became enamored with the lights and the music. It was at that moment it hit me that I was at a live hardstyle show again. She played the newest hardstyle records (most of which can be found on our Hard Dance Heaven playlist) with a mix of her classic tunes like "Bestie" and "PLUR." What truly felt like an epic moment was when she played "We The People." When the melody hit, I raised my arms to the sky calling on the hardstyle gods to give me the strength needed to carry on and finish the night strong. Thankfully, they heard my request.
After Lady Faith ended her set in style, Rob Gee followed up to deliver one of the best performances I've ever seen. Rob Gee is, arguably, the OG pioneer of American Hard Dance so it was extra special getting to see him live. He threw down a proper hardcore set filled with a lot of tunes that I hadn't heard before. I guess the saying is true that good DJs play what you want to hear and great DJs play what you didn't know you wanted to hear.
Another aspect I enjoyed about Rob Gee's set is that he took fans back in time. He hit us with a blast to the past by educating the new generation of ravers on what pure Gabber/Hardcore is. There hasn't been a time where I wanted a tracksuit and to know how to Hakken (well) more than when he was behind the decks.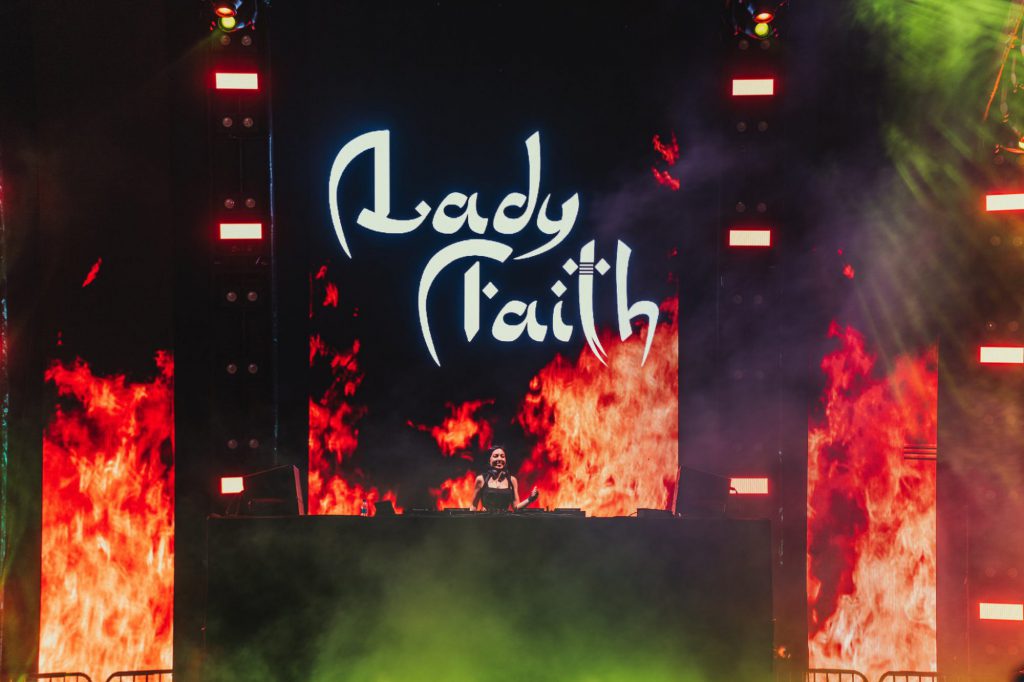 Looking back on the night, there were really only two complaints.
For an entire year, I just wanted to feel the ground-shaking kick drums and the bass in my chest from live hard dance music. I believe that others had a better experience, but I was located directly next to a speaker. So while I'm sure the row behind me felt the full experience of sound immersion, my space was lacking volume and bass at times since the speaker was pointed in the direction behind me, not at me. I understand the circumstances and the fact that it's not a normal show, so this isn't anything I would hold against Insomniac Events or Basscon, but the sound could've been better.
This show was an epic celebration of the harder styles and I'm happy that I got to experience the first Park N Rave dedicated to it. However, I believe that six months was far too long of a wait just for one hard dance show. Apart from that, we saw a lineup composed of the artists we've seen booked many, many times. I understand that there are travel limitations for European artists, but there are countless other producers in America that Basscon could have showcased, at least as openers.
But from these complaints comes an opportunity for Insomniac Events, because even though the event is over, they've left fans craving and aching for more hardstyle music. They now know the passion and dedication that hard dance fans possess. After all, this show sold out in only 72 hours. Insomniac is in a perfect position to satisfy fans and build Basscon up to be the monster brand it is meant to be. I truly believe this was the beginning of a new era of Basscon, and I'm excited to see where Insomniac takes us next.
As a fan, I would love for Insomniac to cater to the hard dance community a bit more but it's also a two-way street. From here on out, it's up to the hard dance scene as a collective unit to get another hard dance show. We've done it before with the Basscon Park N Rave, so it can happen again if we continue to support home-grown hard dance artists, our friends on the other side of the world, and most importantly, Basscon.
Overall, the Basscon Park N Rave was an experience that I'll never forget, and I would love to attend another in the future. If you miss live shows, I highly recommend attending a Park N Rave. Of course, always be diligent and be aware that you are going to an event with countless of other people there. And don't forget that if you feel sick or have any symptoms, please stay home.
---
Follow Basscon on Social Media:
Website | Facebook | Twitter | Instagram | SoundCloud | YouTube