The full lineup for Winter Music Conference (WMC)'s two-day virtual event has been unveiled with a bevy of keynote speakers and panels!
---
Last month, the Winter Music Conference (WMC) announced its' return for a virtual 2021 edition May 20-21. The event, which under normal circumstances happens in March during Miami Music Week, was forced to cancel last year due to the pandemic. Now with a promising online summit in a few weeks, WMCV dropped additional details including the full lineup.
To make this all possible, the WMCV event is being hosted on Hopsin, an online events platform specializing in connecting people globally through interactive virtual events. WMCV is also joining forces with the Magnetic Agency Group and VRJAM to curate a digital summit focused on rebuilding, rethinking, and innovation.
Keynote speakers confirmed for the upcoming two-day event: Pandora Cofounder, Tim Westergren, N.W.A's founding member, Arabian Prince, Twitch Cofounder, Kevin Lin, Droplabs CEO, Susan Paley, and Raised in Space's CEO, Zach Katz. Other notable names that stand out are DJs and producers Disco Donnie, Jazzy Jeff, Claude VonStroke, and Junior Sanchez.
To close out day one, the conference portion of the program, a networking happy hour, and an online after-party are slated to take place on 5th Dimension's Twitch, a virtual world created by VRJAM, one of the event's partners. The virtual affair also confirmed guests GATTUSO, Redfield, Marshall Jefferson, Anabel Englund, and a surprise secret invitee. Along with the party, there will be a screening of the documentary Larry's Garage, which tells the story of legendary dance music DJ Larry Levan and his iconic New York club, Paradise Garage. Day Two will celebrate electronic music on 5th Dimension and feature product demos and the official WMCV music showcase.
During the 5th Dimension electronic music celebration, Winter Music Conference will premiere a series of short-form video vignettes that documents the history of WMC. Speaking at the conference and the electronic music culture are music industry maestros Paul Oakenfold, Arthur Baker, Laidback Luke, Tommie Sunshine, Chocolate Puma, and many more. And offering their point of view on the past, present, and future of the 35 plus years running conference and dance music scene are Gladys Pizzaro of Strictly Rhythm and WMC founder Bill Kelly.
For all the juicy details, including information on the networking rooms, panels, and to snag your passes for the upcoming two-day event, visit the WMCV website. Make sure to check out the sample of topics to be featured in the virtual extravaganza below, and included are the list and times to the networking parties you can participate in. And following the lists is the entire lineup which shows participating presenters, keynote speakers, guest speakers, and partners.
---
Topics that will be discussed at Winter Music Conference: Virtual Edition 2020:
// Panel Discussion on Day One
The future of VR and virtual live events
Redefining the Collector-panel centered around vinyl.
Playlist discussion-covering all aspects
Viberate-Cover the tools and learn best practices of the leading music analytics platform
Mastering production techniques and produce a professional sounding tune
NFT-The Non-Fungible Token
Rebuilding of the live events industry post COVID.
Black Chain Technology
Spotify Masterclass-tips, insight, and advice on the streaming platform's artists tools and features
// Networking Rooms: 7-9 PST
The DJ and Producers Lounge- Presented by Pioneer DJ
The Blockchain Lounge- Presented by ROCKI
The VR/Livestream Lounge- Presented by VRJAM
The Data Lovers Lounge- Presented by Viberate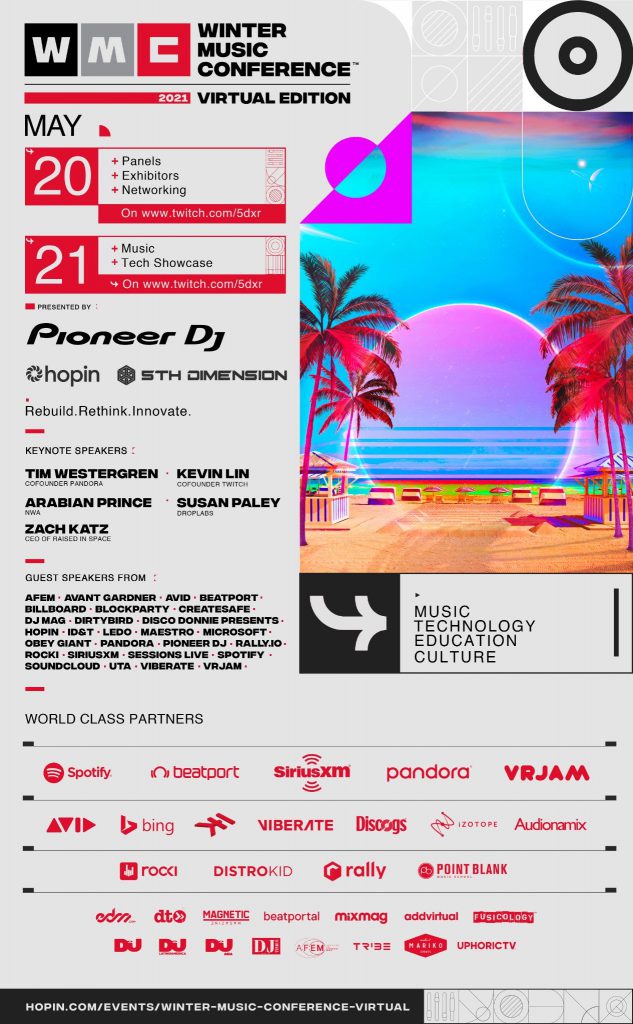 ---
Follow Winter Music Conference on Social Media: