Hard Trance Europe – aka HTE – announces a jampacked lineup for their 2021 weekender this coming November!
---
H.T.E., also known as Hard Trance Europe, is one of those brands in the scene that trance lovers should be paying attention to as it continues to expand its worldwide reach. The brand dedicates itself to the harder sounds of trance (go figure, it is in the name after all) and gives a home space to one of the artists we said to watch this year, S.H.O.K.K.! Now, after three compilations under their belt, the brand reaches out to fans of the banging style of trance and offers them a unique take on weekend revelries.
Set to take place on November 12-13, H.T.E Weekender combines over 40 artists across four venues in Exeter City in the United Kingdom for some trance action. Located on the River Exe in southwest England, the city heralds a history dating back to the Roman Empire. While that empire clearly no longer holds power over the city, the artists descending into it for H.T.E. Weekender will make the walls shake with energy.
Announced as headlining acts include the mighty DJ/producer Shugz, David Rust, S.H.O.K.K., and Lab4 debuting a new live concept. Supporting acts include Tommy Pulse, Fausto, Renegade System, and more. Venues include the Exeter Corn Exchange, Unit1 Nightclub, Move Nightclub, and one yet to be confirmed venue as of publishing, so stay tuned for more details. Tickets are on sale now if you want to attend – and UK provider Skiddle is the outlet of choice for the event to snag them.
Need a preview of the sound you can expect at the event? Check out the HTE Hard Trance Europe Volume 3 compilation on Spotify!
---
H.T.E. Weekender 2021 Lineup: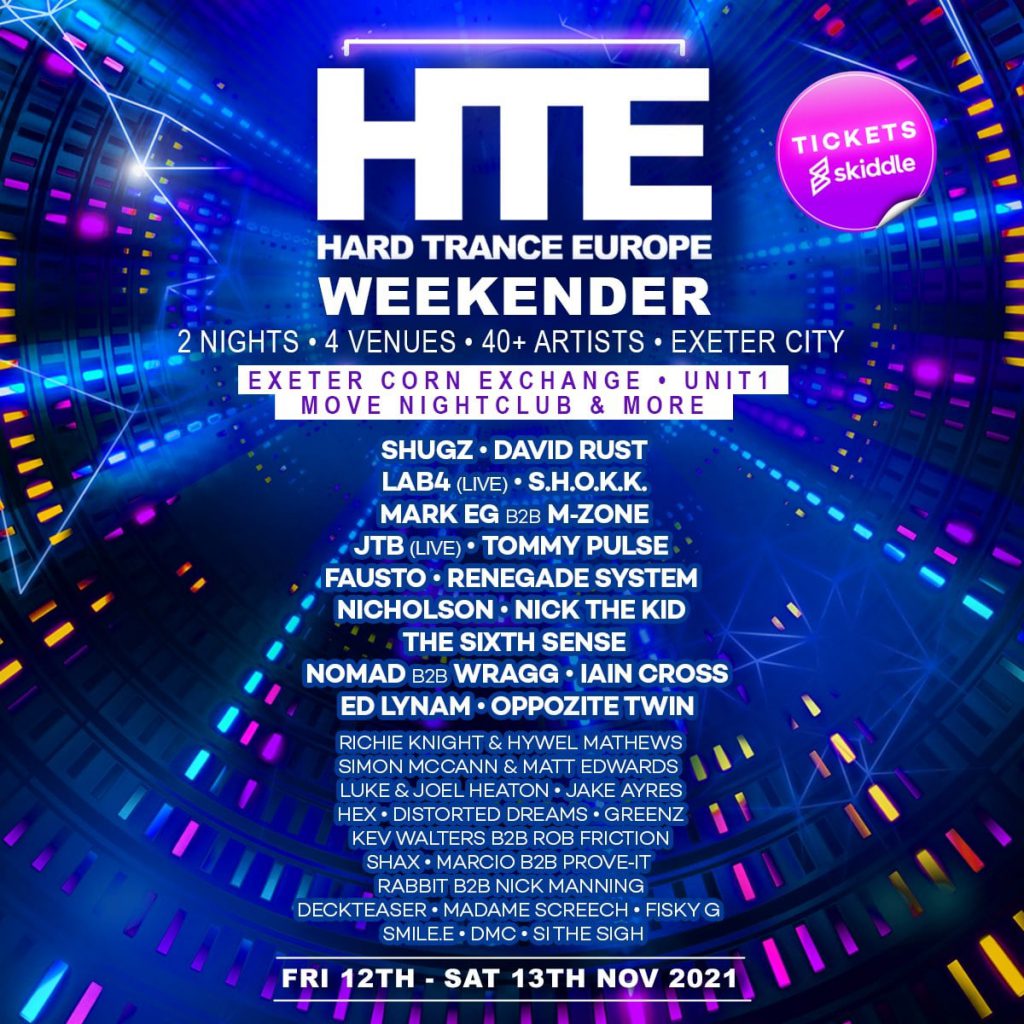 ---
H.T.E. Weekender 2021 – Lineup By Artist:
Shugz
Lab4 (Live)
Mark Eg b2b M-zone
Tommy Pulse
The Sixth Sense
Renegade System
Nomad b2b Wragg
Ed Lynam
Richie Knight & Hywel Mathews
Luke & Joel Heaton
Hex
Kevin Walters b2b Rob Friction
Simon Mccann & Matt Edwards
Sherrie Metcalfe
Madame Screech b2b Fisky G
Shax
Smile.e
DMC
David Rust
S.H.O.K.K
JTB (Live)
Fausto
Nicholson
Nick The Kid
Iain Cross
Oppozite Twin
Jake Ayres
Distorted Dreams
Greenz
Marcio B2b Prove-it
Rabbit B2b Nick Manning
Si The Sigh
---
Follow H.T.E. (Hard Trance Europe) on Social Media:
Website | Facebook | Twitter | Instagram | SoundCloud