Graydient Collective's Gallery Sessions series is set to host Ericksii, Tydrous, NoVinum, TNAN, and Collizma throughout the month of May.
---
After delivering some seriously epic sets last month, including a monumental one from their founder Julian Gray, the Graydient Collective is looking to light up May with even more performances. This month, the Gallery Sessions series will play host to a variety of talented artists who are rising through the ranks of the scene, including the likes of Tydrous, NoVinium, and Collizma.
Ericksii will be leading the charge in May with a guest DJ set on Sunday, May 2. This Arizona-based duo has delivered sensational releases including "Too Late" and "What's To Lean On" while also remixing Bedroom Logic's "Balcony" to perfection as well. Then, on May 9, Tydrous will take over the virtual stage with a special set for his birthday. If you haven't caught him spin during previous streams you definitely won't want to miss out on this one!
Related: Did you miss out on past editions of the Gallery Sessions series? Head over to Graydient Collective's YouTube channel to dive into the archived performances.
Mid-way through the month NoVinum is set to make his return to the Gallery Sessions series as well. This German producer really put his immense abilities behind the decks on display during his previous set back in December, so expect another dynamic performance to get you grooving on May 16. Another fresh face on the scene from Arizona, TNAN, will be spinning on May 23 to showcase his unique tech house style. And to put a bow on this month's run is Collizma who's track "Tempest" was a standout on Colors Vol. 1 back in 2019. He'll be throwing down some solid tracks on May 30 so make sure you're there to catch it all!
Make sure to follow Graydient Collective on Facebook and Twitch so you know the moment they go live, watch each episode below, and stay tuned for more from this fantastic group of artists in 2021!
Tune in to Graydient Collective's Gallery Sessions series on Twitch:
---
Graydient Sessions – May 2021 Schedule: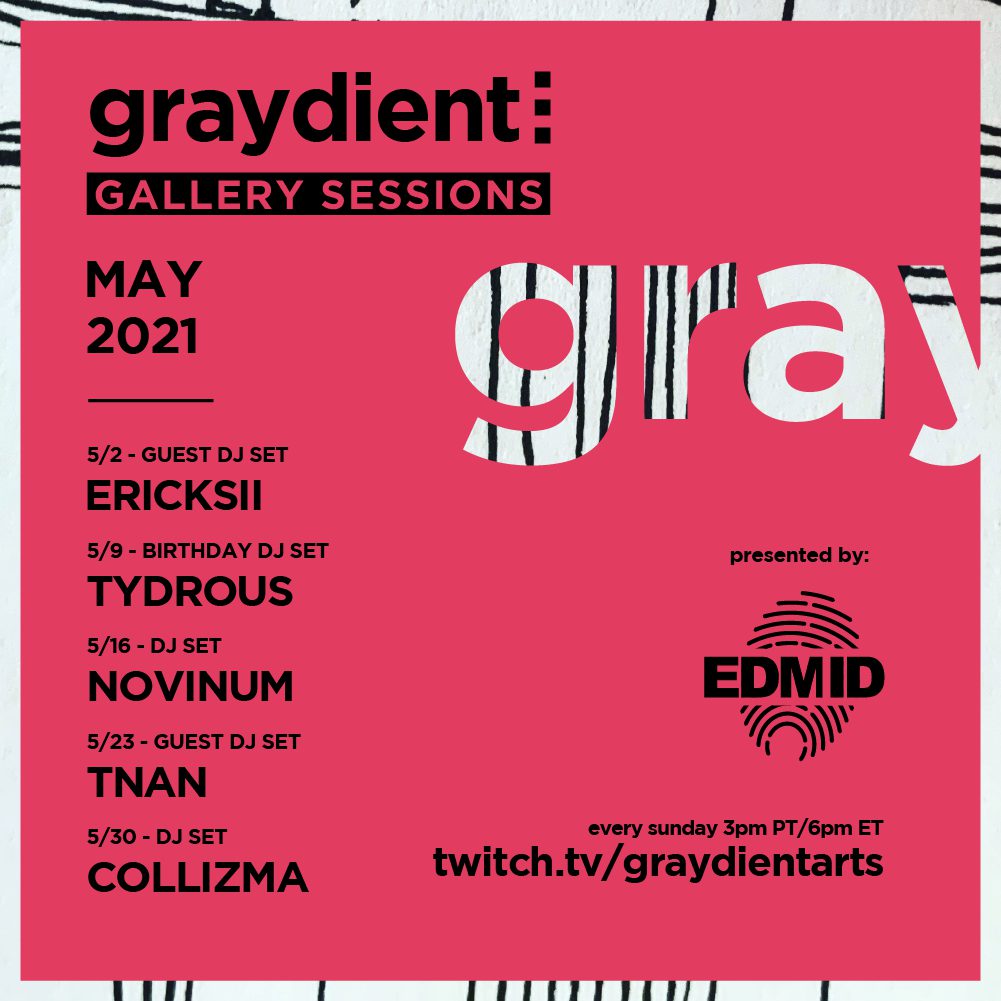 ---
Follow Graydient Collective on Social Media:
Website | Facebook | Twitter | Instagram | SoundCloud | YouTube | Twitch