At long last, Red Rocks Amphitheatre finally reopened its doors for a four-night run of shows with the one and only: Lotus.
---
Regardless of who's on stage, attending a show at Red Rocks is always a mind-blowing experience. The energy that radiates between the two monoliths, Ship Rock to the South and Creation Rock to the North, is something that should be on every music lover's bucket list to feel. So, when the opportunity arose to attend the first shows at Red Rocks since the pandemic began, it was difficult to not jump at the chance. And the band lucky enough to ring in this new chapter at one of the world's most prestigious venues and celebrate their 80th season of music would be none other than jamtronica mainstay and Colorado favorite: Lotus. 
The effervescent group of five talented musicians announced back in March that they would be ushering in this new age as we steadily march towards a return to live events. Initially slated for only two nights over April 23 and 24, the demand was so significant that the band was gracious enough to add two more nights to their calendar and round out an entire four-day weekend run.
On the day of the show, an overwhelming sense of, "Is this real life?" permeated the air during the three-hour drive from Aspen to Morrison. A feeling that has been noticeably missing since the pandemic began, and albeit an irreplaceable one, is the excitement of a show day. I hadn't attended an actual concert in over a year, and to be diving back into the scene I love most at the iconic Red Rocks was not an opportunity to pass up. 
Yet, this is now 2021, and things are different than the last time we gathered at the sacred venue.
First, Red Rocks' typical capacity of just over 9,500 people is now slashed to 2,500. It has also been divided into a quadrant, and only ticket holders for your specific section may enter that section of the venue. Numerous other safety measures were in place that put my mind at ease from the moment we arrived.
The most noticeable regulations were mandatory mask-wearing, cashless transactions at all points of concession, and social distancing amongst the rows, only filling every other row from bottom to top. Cleaning crews were out in full force, constantly wiping and cleaning all major touch points—Bravo to all staff involved. Red Rocks safety plan has been approved for Colorado's five-star program, allowing them to increase capacity throughout the summer should Covid conditions continue to improve. 
Our entry process was smooth and painless. The Uber we took dropped us off the lower south entrance, which placed us at the very bottom of the amphitheater with only 380 steps between us and the top (I hope you've been hitting the gym). In all reality, the reduced capacity wasn't all bad – with only a fraction of the typical crowd, it made for short lines, and it was even easier to move about the typically packed rows of fans. And in typical Red Rocks fashion, our neighbors on either side of our spot were warm and welcoming and made our crew feel right at home amongst the bubbling fans.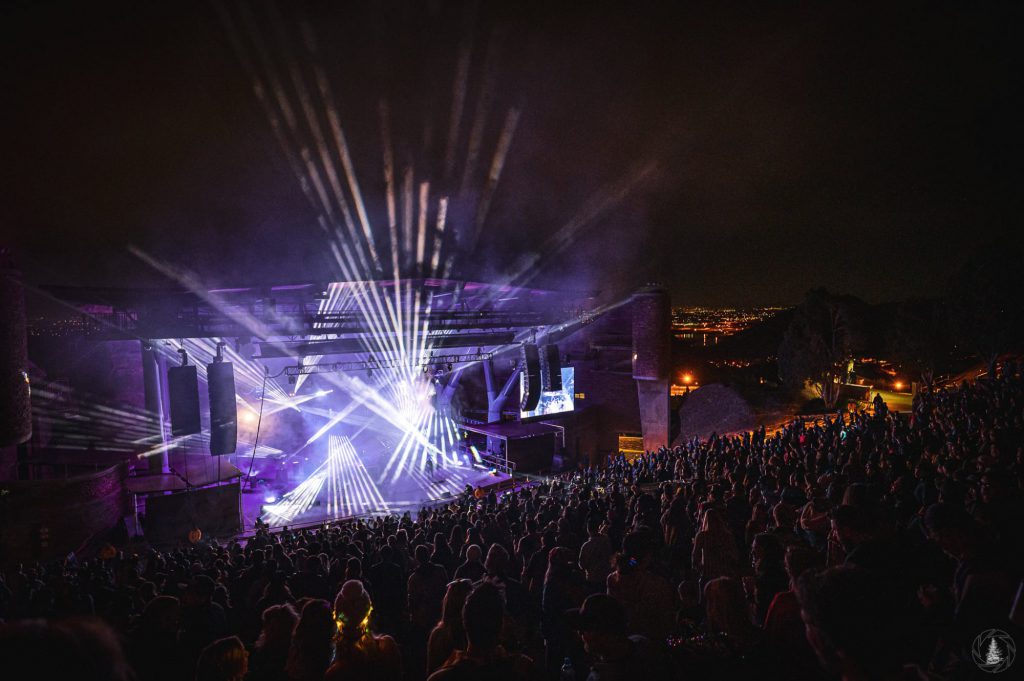 Lotus kicked the party into high gear right from the very first note as they opened with their classic hit from 2013, "Middle Road".
The easily danceable jam, sharp guitar plucks, and grooving bassline set the vibe perfectly, and we were off and running for our first show back in over a year. The warm sun continued to sink slowly behind the undulating rows of fans as Lotus steadily lifted the tempo and our spirits with each rolling jam.
The first set came packed with favorites like "Sift," "Debris," and the 2008 pick "Behind Midwest Storefronts," which places frontman Luke Miller, directly in the spotlight. His fiery guitar chords and insatiable energy began to swell as the positive vibes started to overflow up and out of the smiling amphitheater. However, set number one wasn't done yet; Lotus delivered an insane spin on the unmistakable Zelda theme and delivered a first play of "Citrus" that came out just this month on their latest album sharing the same name. 
After a short set break, it was time to dive into the utterly sensational second set. I wasn't sure how Lotus would top what they just threw down during their first set. Still, to my delight, the jams got heavier and longer, more electronic elements worked their way into the spotlight, and Lotus blessed us with another first play of "Year of the Jaguar." A psychedelic bop that hit right in the feels and had me levitating above the sacred amphitheater. Making their way into this instantly iconic second set were fan favorites, "Age of Inexperience," "It's All Clear To Me Now," and my personal favorite 'Umbilical Moonset," with an improved modular jam was absolutely mindblowing to catch live finally.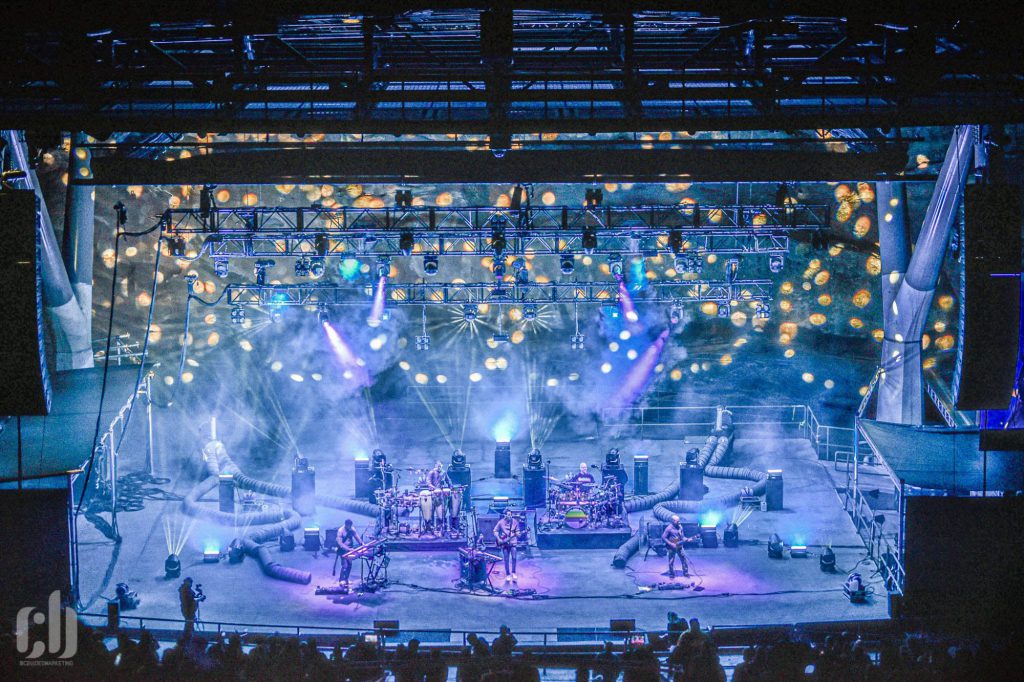 For over two and half hours, Lotus ushered in the return of live music to one of America's most important venues with style and prowess.
As the night drew to a close and "Greet The Mind" signaled their final song of the night, I knew they had to have more up their sleeves. As the reduced capacity crowd roared for more, Lotus once again took the stage to deliver a mind-blowing encore of the high-energy party starter "Sunrain." Making sure to leave the crowd blissed-out and happy, I can't think of a better track to end the night. The insatiable yearn for live music was fulfilled in every way. 
My return to live music and to Red Rocks was long-awaited and adequately celebrated. Lotus did an incredible job from start to finish, and this show was the perfect reintroduction to one of my favorite places on Earth. I am genuinely hopeful for the live events to return this summer and even more optimistic for full capacity events by the fall.
We, as music fans, have the power to make events happen if we all work together to do our part to keep each other safe. We are on our way out of the darkness, and live music will continue to be the light at the end of this long tunnel: Bravo Lotus, and welcome back, Red Rocks. I hope to see more of you out there as our beloved scene continues its triumphant return.
Red Rocks season is just getting off the ground, with plenty more amazing shows lined up this summer take a look at their calendar and find your chance to experience the magic of Red Rocks for yourself.
Follow Lotus on Social Media:
Website | Facebook | Twitter | Instagram | SoundCloud | YouTube