Allen Watts sat down with us to give us the scoop on his current life and future plans involving his new independent label High Voltage.
---
Since starting out in the early 2000s, Allen Watts has become a producer of legendary proportions in the trance scene. Over the years he's proven to be a behemoth both in the studio and on stage as he delivered hits such as "Step Back," "GDL," and "Arizona" while also playing festivals such as Dreamstate SoCal, ASOT 900 Utrecht, and Luminosity Beach Festival to name a few.
After taking some time off due to the pandemic, his attention has been fully directed at crafting his sound and developing a new platform to showcase new trance artists, High Voltage Records. This new trance label is set to give even more life into the ever-flourishing scene as its focus is on "high-octane, full-throttle trance." His plans to make the label as energetic as possible, and with the talent he's currently signed that includes Tom Exo and Jody 6, it's fair to say those plans are well on their way.
As the label begins to pick up more momentum, we simply knew we needed to pick his brain for some extra insight. So check out the latest episode of High Voltage Radio below, continue for our chat for details on his current plans for the new label, and stay tuned for more from Allen Watts in the coming months!
Stream Allen Watts Presents High Voltage Radio Episode 25 on SoundCloud:
---
Hi Allen. Thanks for taking the time to chat with us today! Congratulations on your new label High Voltage. How does it feel to finally have an imprint to call your own?
Hi guys! Thank you, it feels amazing to finally get some of the ideas I have had over the last few years into motion. When I launched my own brand High Voltage a couple of years ago with the Radio Show / Podcast it was always in the back of my mind to develop it further and create a record label, so to have finally got things off the ground this year has been amazing, and I've managed to do it as an independent. 
You've already added some great artists to the label such as Jody 6, Kenny Palmer, and Yoshi & Razner. What drew you to the music from these artists specifically, and can you tell us what you look for when sifting through demos? Is your plan to put out mainly energetic tracks on High Voltage?
The response for the record label has been amazing, as soon as I announced it was launching my email inbox was bursting full with entries. I had seen these new talents release a couple of great tracks prior on other labels, so I had to get these guys in early for releases, as these are Top future talents. High Voltage Recs will be exactly that, Tracks that I'm looking for will be high octane full-throttle trance it will be a mixture of melodic and hard-hitting with memorable chords.
You had the pleasure of performing at the ASOT 950 PreParty, which feels like forever ago. Looking forward, what do you see happening to the scale and experience of events, and does that impact the music you sign to the label at all?
I've been very fortunate to have been able to perform at ASOT 850, 900, and I was then booked for the massive Pre-event at 950 which was a huge event in itself. At 7,000 people when I turned up, I didn't really think the scale would be the size it was. It blew me away I wasn't expecting it. The music I sign for the label isn't really based on any type of event, but I will only sign tracks that I feel I would play myself at an event. I think this is a good motto to maintain the quality of music on the label. 
What are some things that you hope to accomplish with this label in the next few years? Are there any exciting plans on the horizon?
This year in itself has been very label-focused. I think due to COVID, this has given me some motivation to develop it and push forward this year with attention away from the gigs. Eventually, I'd love to build the brand High Voltage into some hosted stages at events or branded club shows. This way I can help support new talent on the label and give them a stage to perform at, but of course, we will have to see how things develop and if promoters are open to the ideas of taking on a High Voltage show.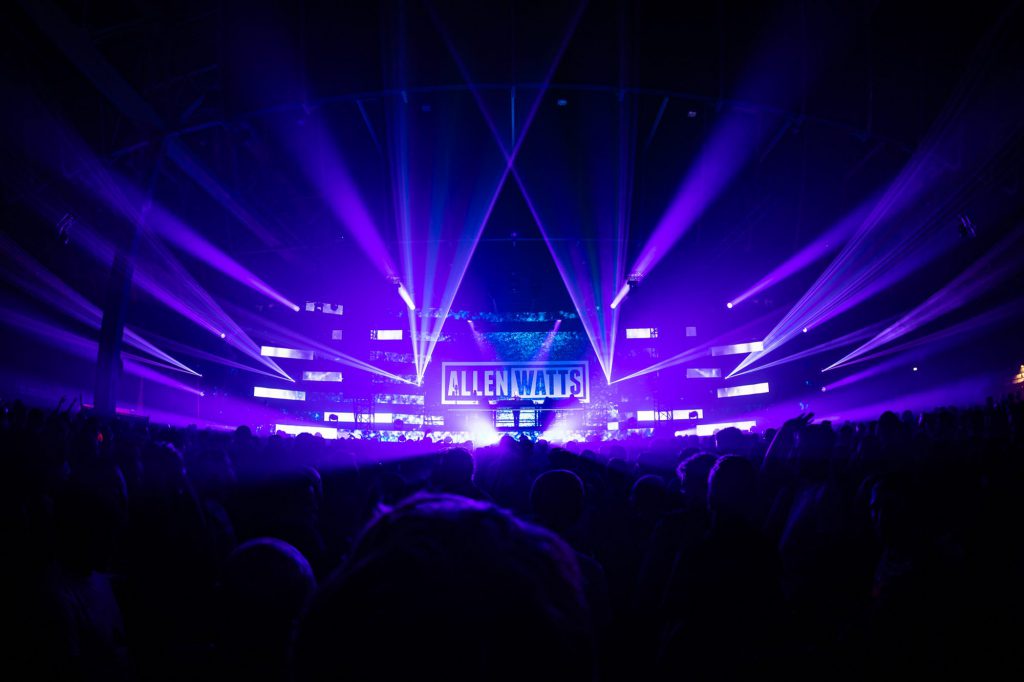 Your presence on Facebook and Twitter are very focused on the releases and promoting the label. How important of a role does social media play in your connecting with your fans? Has the upkeep been difficult?
Yes, I believe social media has a massive impact on the connection you have with the fans, during these difficult times we have all been having with the covid pandemic I've started streaming weekly on Twitch on Monday evenings, this has had a massive impact for me to interact with my fans like hosting a weekly radio show where listeners could speak to you and you can interact live. This has helped massively with the launch of the label and the fans supporting it from day one.
Last year was rough for everyone with the pandemic in full swing. How did it affect your plans with the label, as well as you personally as an artist? Did you find any positives with shows being cancelled?
Yes, last year was a major blow for everyone in the DJ world. Our whole world just got switched off instantly. At first, this got me down as I had so many great shows planned all over the world. I was really looking forward to another great year of touring, but that wasn't to be. I decided to focus my energy on writing as much new music as I could myself and really getting some tracks behind me ready to go when things kick off back to normal again. I launched the label and put as much time and effort in as I could this year knowing that it was the perfect time to focus on it with no gigs to travel or prepare for.
On a more personal note, as a 138 focused trance producer, are there any other subgenres of trance or other genres you plan on exploring?
As I've got older I have listened and tried my hand at producing some other styles, I'm a massive fan of the CamelPhat sort of sound, but I'm still not happy with any of the productions I have tried as yet. So wait and see, maybe or maybe not.
You also had not one, not two, but ten tracks find their way into the Top 1000 Countdown on ASOT 1000. What was it like receiving that sort of recognition for your music?
To think I have only been around producing for a short time compared to some of the people that charted in that list is mind-blowing. I was overjoyed at getting 10 tracks named in the Top 1000. I couldn't believe it. It really means so much to me that people like and really do support the music that I produce.
Finally, if you could give a piece of advice to artists who are currently looking to make their break in the scene, what would it be?
It's a really tough scene, and I'm nowhere near comfortable myself within it yet. Enjoy what you are doing and treat it as a hobby, work hard in your studies and always have a fall back plan if things don't work out in music. If you're really, really determined just do not give up!
---
Follow Allen Watts on Social Media:
Website | Facebook | Twitter | Instagram | SoundCloud | Twitch
Follow High Voltage Records on Social Media: