As they continue their rise through the ranks of the scene, LovelyBones swung by to chat about their past, present, and future.
---
The great state of Texas has fostered a seemingly endless supply of fantastic artists in the electronic music scene. Whether looking at the bass, house, techno, or trance communities there have been artists across the board who continue to churn out solid beats and LovelyBones is looking to carve out their space as well.
Based out of San Antonio, Lauryn and Craig Labanow, aka LovelyBones, have quite a deep history in the scene as a whole. They both were ravers and DJs prior to their first encounter, but once Lauryn booked Craig for a gig years ago they haven't looked back since. In fact, they didn't end up just coming together as artists but realized they were soulmates and tied the knot as well.
Over the years they've impressed with their performances all over Texas while driving forward on the production front with some hard-hitting tunes and joining the Baked Up family. Most recently they've delivered some serious stunners in "Crazy," "Sometimes," "Chemical," and "Listen to Techno" to further showcase their dynamic style that blurs the line between heavy bass and house. And they're juggling their careers with family life as well, making their rise even more impressive.
Looking to gain some added insight into this duo after the release of "Listen to Techno," we caught up with Lauryn from LovelyBones to dive into their history and learn more about their future plans. Listen to their exclusive guest mix and read on for the full conversation!
Stream EDMID Guest Mix 264 || LovelyBones on SoundCloud:
---
Hi Lauryn, thank you so much for taking the time to chat with us today. Before we get any further, let's turn back the clock and dive into both of your histories a bit. Which artists were your introduction to the dance music scene? Was there a moment when both of you realized you wanted to become DJs?
Thank you so much for having us! We both entered the scene at different times, I entered the scene around 2007 and was really into Rusko, Caspa, and Trolly Snatcha. My husband Craig, entered the scene in 2006 and listened to a lot of DJ Crackerhead and DJ Pixie. He also mentioned that Happy Hardcore was at its peak when he came into the scene. 
I was at a 512 event in Austin, TX  back in 2009 and went to their annual Mad Hatter's Tea Party when I first realized I wanted to become a DJ and play for people. I witnessed a local DJ just really pour their heart out on stage and the crowd was just loving every second of it. I knew from that point on that I would try everything in my power to be on stage myself. 
What's the story behind how you both met? When you look back did you ever think you'd meet the person you'd end up marrying through the scene?
We both were actually already DJs when we met. I went by Cupcake and he went by Grizzmo. I was also an event host and had my annual Fantasy Fest show and wanted to book new talent. My other talent on the show told me about a badass DJ named Grizzmo that I needed to book. So I ended up booking him and when he showed up at the show it was love at first sight! I instantly fell for him and the feelings were mutual for him. I honestly had no idea that I would be married at a young age nor did I think I would find my husband through music. I like to think of myself as super lucky to find this amazing man!
As a married couple who DJs and makes music together, can you share what the dynamic is like when you're in the studio or behind the decks? Is there extra synergy because of your relationship?
It can be a blessing and a curse at times because we both like different music and vibes. I am the darker side of LovelyBones, I love deathstep and dubstep mostly. He is more melodic and loves creating a journey so he's the main reason we also play house music in our sets. But overall I think that is the reason we are so great together because we bring not only bass music but melodic and house vibes as well. I think being able to stand on stage with your husband/ best friend is the best feeling in the world. 
Your recent tune "Listen To Techno" is an absolute scorcher with house vibes and just the right amount of bass to energize the soul. It also deviates from the dubstep releases you've dropped previously. What led to this tune's development? Do you have more plans on digging into bass house moving forward?
We actually made "Listen to Techno" for our manager Sydney Rogers, the full track title includes "Sydney's Anthem" which we made for her birthday last year. We honestly had no idea it would be such a big track and be released alongside Blaise and Scafetta on Bass X records. We love bass house since it's a darker genre of house music which goes well with everything else we play. We have produced bass house tracks before and will continue to do so in the future. Our other bass house tracks are "Begging" and "Boneyard Funk" which are available on all music platforms. 
Another track you dropped that's a standout is "Crazy" with Dylan Heckert. Can you share what the production process was like behind this tune? What brought you all together on the track? 
We are all about weird and experimental vibes so we knew we wanted to create something that was out of this world. The main reason we named that track "Crazy" was that 2020 was a horrible year with the worldwide pandemic and all the festivals being canceled were just absolutely "Crazy". I think the title is something we can all relate to since we had such an uncertain year. 
Aside from being artists in the scene, you're also working, learning, and on top of it all, parents as well. How do you manage your time between personal and professional life to find some semblance of balance? 
This is probably the hardest part of what we do. We try our best to find the perfect balance between being artists and parents. We both work demanding jobs also so that takes a toll on our personal and professional lifestyle. We have been blessed with finding a great support system that watches the kids when we have shows. Our work week is pretty scheduled around working and taking the kids to school/daycare. The weekends are when most of our productions and shows happen. But we do find time during the week to play shows if we get the opportunity.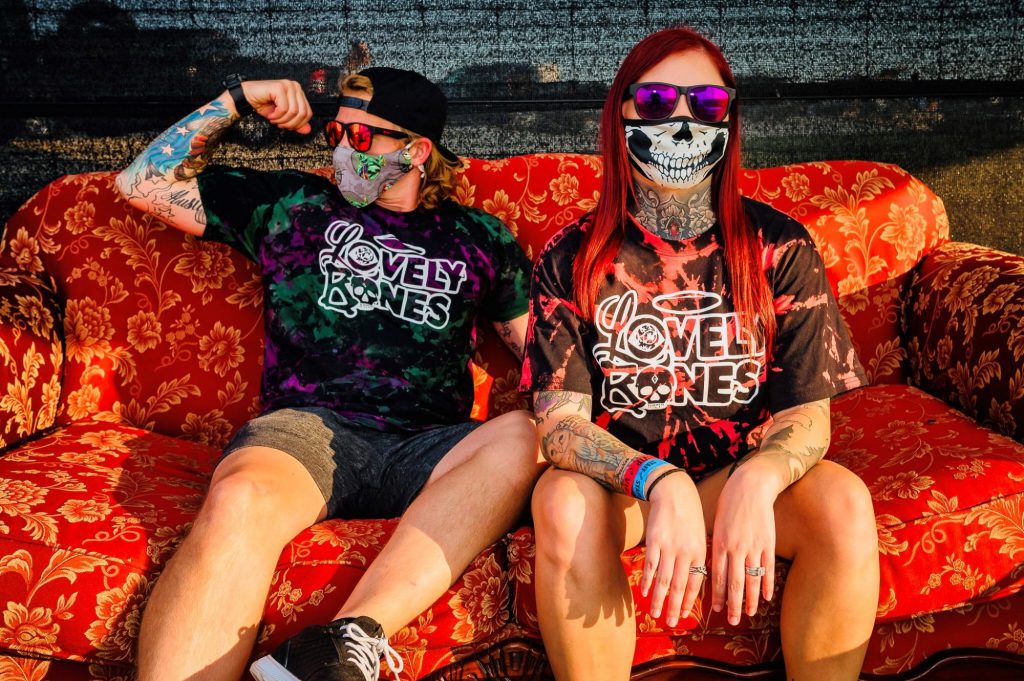 Nostalgia has been infecting everyone as we all look back on the days of raves gone by. Is there anything you feel that's missing from when you both joined the scene that you wish would make a return?
I miss the P.L.U.R. factor mostly, which involved the trading of Kandi bracelets and just showing love overall. I think as the years have gone by more people have entered the scene that didn't know about P.L.U.R. and have created issues in the scene. There is also a lot of talk of bigger artists doing inappropriate things and getting so-called canceled and I just wish those bad things weren't happening. What happened to P.L.U.R.? 
One thing we always love to learn about artists is why they love their local scene. So what do you feel makes the scene in Texas stand out as special? And when we come for a visit, where should we go? 
Honestly when they say "everything is bigger in Texas" they mean it. Each major city in Texas has many things to offer in the EDM department. We have played in every major city in Texas and let me tell you, it's always a great time. But for an honorable mention, I will mention Houston, TX because they treat their local talent like true headliners. The crowd will be there at 9pm right when the doors open to hear each artist. We always love playing for Houston, TX because of how amazing their community is and their love for music.
We also have beautiful Austin, TX which is the music capital that holds the famous SXSW and brings together tons of people from all over the world. Austin brings all kinds of music outside of EDM that there is something for everyone. 6th street is a one-stop-shop to walk from club to club and experience something new everywhere you go. 
Finally, what are some goals you'd both like to achieve this year? Are there any exciting releases we should keep an ear out for on the horizon?
We would really like to play a major festival with bigger headliners this year. We have only been producing a little over a year and would love to get more exposure and plays on our music. I think having thousands of plays on our tracks is one of our goals for this year. We would also like to land a bigger record release on known labels like Subsidia, Deadbeats, or WAKAAN. 
We have a three-track EP called Abducting the Dead coming out on Deathstar Cult in April which is an all weird bass EP. This EP is massive and is going to be a great release on that label. We also have a collaboration coming out with Scafetta called "Left Me" which we hope to find a record label home for so we can finally release it. 
---
Follow LovelyBones on Social Media:
Facebook | Twitter | Instagram | SoundCloud