DJ Minx Selects: Techno Icons of Motor City's Underground Sound Livestream is set to feature some of Detroit music history's most prominent pioneering artists.
---
Known as Detroit's "First Lady of Wax," DJ Minx cut her teeth in the techno scene among some of the Motor City's most notable names including Carl Craig, Kevin Saunderson, and Moodyman. She has also been a mentor to a new generation of Detroit talent as well. Now, to celebrate the city's rich underground culture as well as her own legacy, she's joined forces with Lost Resort to present DJ Minx Selects: Techno Icons of Motor City's Underground Sound on March 15.
DJ Minx's stream traces the history of electronic music in the Motor City, kicking off with Kevin Saunderson, one of the fathers of techno, along with Delano Smith whose legacy and impact on rave culture is profound. Additionally, another icon from Detroit, Carl Craig, one of the most prominent artists to come from the second wave of techno, is also billed on the lineup. And to bring everyone up to the current era is DJ Holographic, who fuses various influences from Detroit's robust music history, including house, R&B, and nu-disco to put dancefloors into a frenzy.
Presented by Document Journal and Ray-Ban and produced by INFAMY Media and Lost Resort TV, the stream will take place at one of Detroit's most treasured venues, Marble Bar. Donations raised during the stream will support Detroit's Little Bit Project charity. The stream will be accompanied by a presentation of exclusive editorial pieces from Document Journal that display the stories behind these pioneering artists and the city's music history. With a lineup brimming with history and great music, this live stream is a must-watch for all electronic music lovers.
The party starts on Monday, March 15 at 12:30pm PT/3:30pm ET on Lost Resort's Twitch. Make sure to follow Lost Resort TV to know the moment the show goes live and let us know where you'll be tuning in from in the comments!
Tune in to Lost Resort TV on Twitch:
---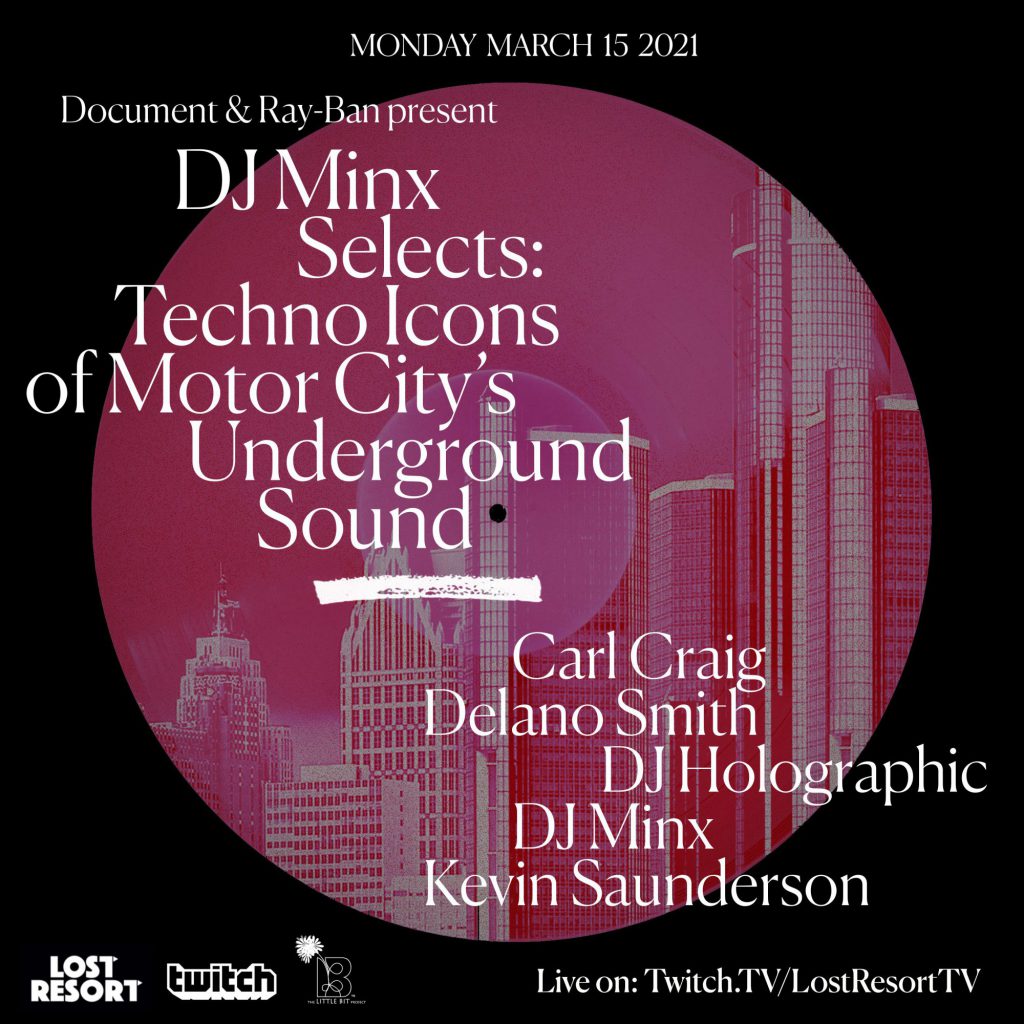 ---
Follow DJ Minx on Social Media:
Facebook | Twitter | Instagram | SoundCloud | Twitch