SHUZ swung by to chat about his debut EP Paradox, his new mastering company Purgatory Sound, and his goals for 2021!
---
Currently based out of Boston, SHUZ has been cultivating his unique style of bass music for the past few years. Listeners are often stopped in their tracks the minute they hear his high-quality sound design and cinematic soundscapes. This has garnered attention worldwide and he's toured with Black Tiger Sex Machine in China and opened up for Zeke Beats, Dirt Monkey, and more in Boston.
Last month, SHUZ dropped his debut Paradox EP and with his "eternal bass" sound in tow. The quality and overall feel of the EP is top tier, not to mention the journey it takes listeners on along the way. This release arrived after already stunning his growing fanbase with "Discharge" and "Drugs" in 2019 which were thoroughly impressive as well.
Not only does SHUZ make electrifying beats, but he also is a strong supporter of his releases being paired with visuals. These visuals are also made by him and make for an even more immersive experience, which elevates the music further. With so much talent under his belt and some ear-catching tunes, we knew we had to chat with SHUZ about his Paradox EP, his new mastering company, and more. So listen to this exclusive guest mix from SHUZ and read on for the full conversation!
Stream EDMID Guest Mix 256 || SHUZ on SoundCloud:
---
Hey SHUZ, thanks for chatting with us! Let's talk about your Paradox EP that was released last month. How did this EP come about and where did you draw your production process from? 
SHUZ: Hey guys! My Paradox EP has been a sort of close/ending to the first chapter of my music career. The concept of the whole EP is based around the human mind, as each of the songs represents a different scene that the mind conjures during this intense trip into the abyss. 
The visuals that pair with the music follow this girl who acts as the main character but also symbolizes the listener or even me myself. She emerges from the depths of the water during "Abyss" as the track slowly starts to pick up. By the end, she teleports above the clouds into a new dimension. Transitioning into "Paradox," she comes face to face with a masked figure who stares her down. This is her confronting her ego, her demon, all the bad things about herself that she's lived with for her whole life, but never dealt with. Throughout the track, she is forced to deal with her dark side and eventually comes to terms with herself.
"Paralysis" which is the interlude, shows the character in a beautiful tranquil garden of leaves. I wanted this to be the calm before the storm before the next track picks up with much heavier drops and sound design. "Save Me" then proceeds to be a final fight against one's self to push through to find peace within. The finale track "Reborn" essentially represents finding peace in the end, and being 'reborn' as a new person, a new way of looking at life. It was also the first track I wrote where I felt like I had developed a somewhat more unique sound palette. Hence the name. 
I had lots of inspiration from lots of artists, even though I have my own artist project, I'll always be a fan of music first. Artists like Fytch and Hex Cougar were heavy inspirations on this whole project, drawing from their melancholic vibe and darker toned atmospheres. Lorn was also another inspiration for the story, as I like to envision stories/visuals in my head while I listen to music, and there was this one time I was on the plane and I listened to his album The Maze to Nowhere in a weird half-asleep state, and my mind just took me on a wild ride. I also got to see G Jones on his The Ineffable Truth tour, and just how synced his visuals were to his music blew my mind. The visuals were also inspired by LEViT∆TE [v./concept//collapse.], which is SO SO SO underrated by the way. 
On SoundCloud, your Paradox EP is tagged as "Eternal Bass." Could you describe what that sound means to you?
I've sort of loosely coined the specific melancholic style of bass music I've produced this whole EP in 'Eternal Bass'. It utilizes a combination of orchestral elements, as well as epic choirs to layer with electronic synths. I like to think that it evokes a sort of epic blend of the three, which I hope leaves listeners feeling memorable about the story the track has told. 
Along with the actual EP, there is a full visual video that goes along with it. Additionally, you have made your own visuals to previous tracks such as "Drugs" and "Discharge". How important is it to have visuals that go along with your music?
To me, the visuals of my artist project are almost just as important as the music. I've always been intrigued about giving fans and my audience an experience while either listening, watching, or simply being at one of my shows. I always try to make the visuals as paired to the track as much as possible, to convey the imagery that I initially had in my mind.
I just recently in the last half-year or so, finished an Audio / Visual reactive Live Set that's around 40 minutes (sounds sort of like the mix I gave you guys!). It consists of an Ableton Live Set, combined with linking the VJ software Resolume, as well as playing my electric violin here and there.
What I'm most excited about this new set is that the visuals are all mapped with extreme detail to certain parameters, so I could filter something in the track, and the visuals would react accordingly, or I could play my e-violin and have a sort of ripple effect on the visuals triggered by the audio input. My setup is similar to the one that Zebbler Encanti Experience uses, shoutouts to my professor Zebbler. They're super awesome too 😀 
Last year, you started your own mixing and mastering company called Purgatory Sound. What made you want to go forward and start your own business?
To be honest, I've always wanted to own my own business, one of my long term 10-year goals is to open a music studio out in Los Angeles. Purgatory Sound is sort of the first step towards that goal. I actually co-own it with my good friend who also produces who goes by the name TRSTN, we both met at Berklee, and have really similar taste in music. We both thought it would be a good idea to start the business as not only could we help out other producers, we could work on our mixing mastering chops, as with every gig you learn something new and enforces your ears to be more attentive to detail.  
You got an early start with being around music through playing the violin. How have you taken that orchestral experience and combined it with electronic music?
Yup, I actually started playing the violin at the age of three, my mom still likes to laugh at photos of me in a diaper and a violin. I think although I didn't particularly enjoy it the most when I was younger, it definitely helped me develop musically and acts as a strong foundation to the production I do today. I also incorporate a lot of orchestral elements in my own productions whenever I can. Something about strings just brings out a certain feeling that other instruments can't. 
Aside from the pandemic happening, what has been the biggest struggle that you have faced so far as an artist, and how did you overcome it?
One of my biggest issues that I was facing (and still sort of am) was thinking that my songs were never good enough to release. It's in a sense, perfectionism. I'm sure a lot of other artists have it, as a few of my other producer friends also have this issue. It's really stopped me from putting out as much music as I want.
Like my EP came out just last month, which was like one and a half years after the last thing I put out. I just kept thinking it wasn't good enough and kept tweaking the smallest things. I've since slowly been able to retune my mentality to give less of a shit about making things 'perfect' since that doesn't exist and getting things to that 95% is good enough, your time after that is much better spent working on something new anyway. 
Apart from that, I also used to have this toxic habit of comparing myself to other producers all the time, either with stream numbers, or the amount of support from bigger artists they get. I've since gone on a huge social media break and rewired my brain to realize what's truly important. It took a sort of half a year hiatus from making music to realize what and why I was doing it, to begin with. Once I remembered why I started this, I was able to fix the bad habit and now, I'm in a really happy state.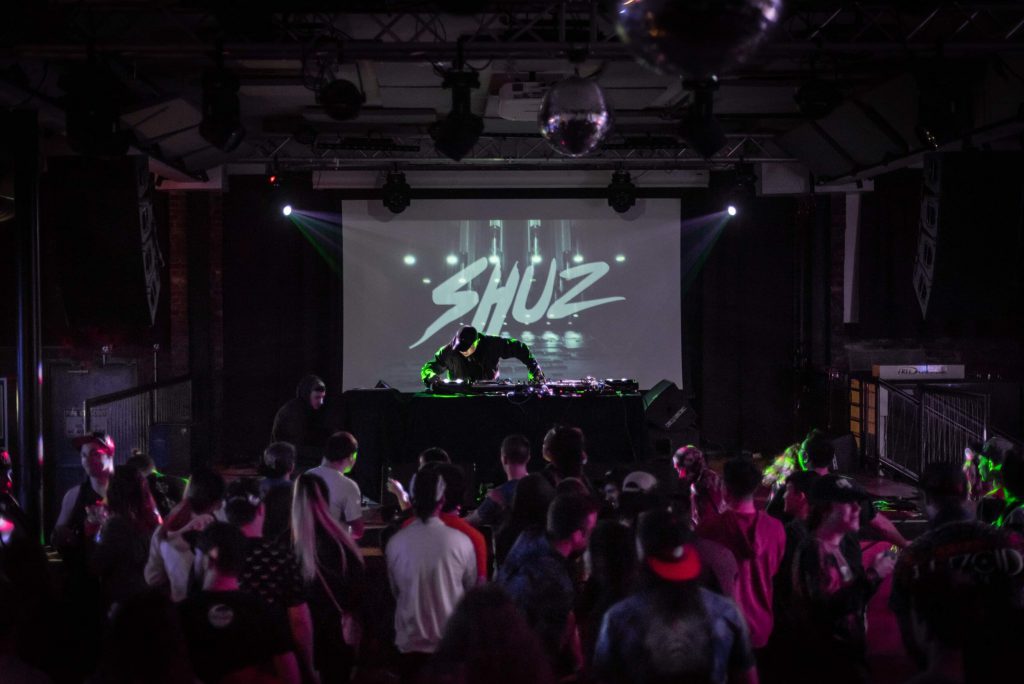 With a fresh start upon us with the new year, what are some goals you'd like to achieve in 2021? 
Well, I'm actually moving to LA in two weeks, which is super exciting since I've been wanting to do so for as long as I can remember. In terms of music, I'd like to just start dropping things on SoundCloud, I've got quite sick of the whole waiting for labels to get back, planning out every single detail of the release process. I've never actually just dropped tracks without trying to plan out every meticulous thing and it's definitely something I'll be doing a lot this year. So keep an eye out for that!
Outside of the music, what do you enjoy doing in your free time? Have you picked up any new hobbies?
During quarantine, I actually really picked up Boxing and some Muay Thai. Watching some of Tyson's old fights is like one of the most insane feats of athleticism you'll ever witness. Apart from that, I'm also pretty into powerlifting. I know, super bro type of hobbies. [Laughs]
But I also love pets, and I've been taking care of a friend's cat for the last half a year called "Chimi". She's hands down one of the cutest cats I've ever seen and I probably spend close to two hours a day playing with her. I'm also about to get a German Shepherd named 'Rokit' and have been getting really into researching dog training.
Finally, if you could offer up an inspiring message to your fans during this uncertain time, what would it be?
I think this whole pandemic situation can be a blessing in disguise if you try to think of it that way. You can either be that guy who complains all day about the same thing or you can think of it as the perfect time to perfect your craft, spend time with your family, and learn that one thing you've always wanted to learn. Also, try not to get too caught up in the alarmism narrative that the media has been constantly creating. Just stay in your own lane, the uncertain times are gonna end, probably sooner than later. 
---
Connect with SHUZ on Social Media:
Website | Facebook | Twitter | Instagram | SoundCloud