Space Yacht held a fantastic two-day event that offered fans a safe weekend filled with electrifying bass, groovy vibes, and prime artists!
---
When festivals and events came to halt back in March, the dance community faced the harsh reality of being denied access to attend live show events. Many artists in the industry took it as an opportunity to pave the way for a new era of the scene with untraditional events like live streams, drive-in shows, and wellness retreats. Following the trend of fulfilling fans' cravings for socially-distanced events, Space Yacht held an Open Air show at The Midway in San Francisco, and it was a blast!
Space Yacht, legends for throwing highly curated events, gratified fans with three electrifying shows in two days with artists like LondonBridge, TCHiLT, Mntra, Goshfather, VNSSA, OMNOM, and more. Set up on the rooftop of The Midway in the heart of San Francisco, the event filled up with roughly 300 dance music lovers who were guided safely to an outdoor area newly designed for socially-distanced shows. The venue in its entirety wasn't huge, but the production was simplistic and agile, making it the perfect fit space for a small, intimate show.
Setting off on my journey to join others on Friday night, I was overwhelmed with feelings of excitement—especially it being one of my first live-show appearances since March. 
Dressed ready for potential rain, I arrived at the venue and was greeted with a warm gesture by security and ticket staff. Outside the gates echoed traces of the vibrant bass that was about to tremble beneath my feet. Upon entering, I was stunned by the outcome of the event as everyone stayed in their social bubbles, swaying their bodies to the intoxicating beats I was about to consume.
There was one stage placed directly centered for the audience, and the rows were made to fill three tables placed six-feet apart with a max of four people. While taking my own health precautions, I observed security marking safe territories and making rounds around guests to make sure everyone was maintaining proper protocol. It is without hesitation to say that this renowned venue is headed in the right direction to continue hosting more COVID-friendly events as long as they're permitted.
Kicking off Space Yachts' first live show since March, MNTRA of Boiz House set the stage for what was about to be a memorable night filled with house and bass-fueled tunes. Followed with outstanding sets by TCHiLT, Trst., and LondonBridge, the night echoed of a true rave in nature. It wasn't until about 7:30 pm when OMNOM flourished on the stage, forcing everyone out of their seats to become one with the dance floor.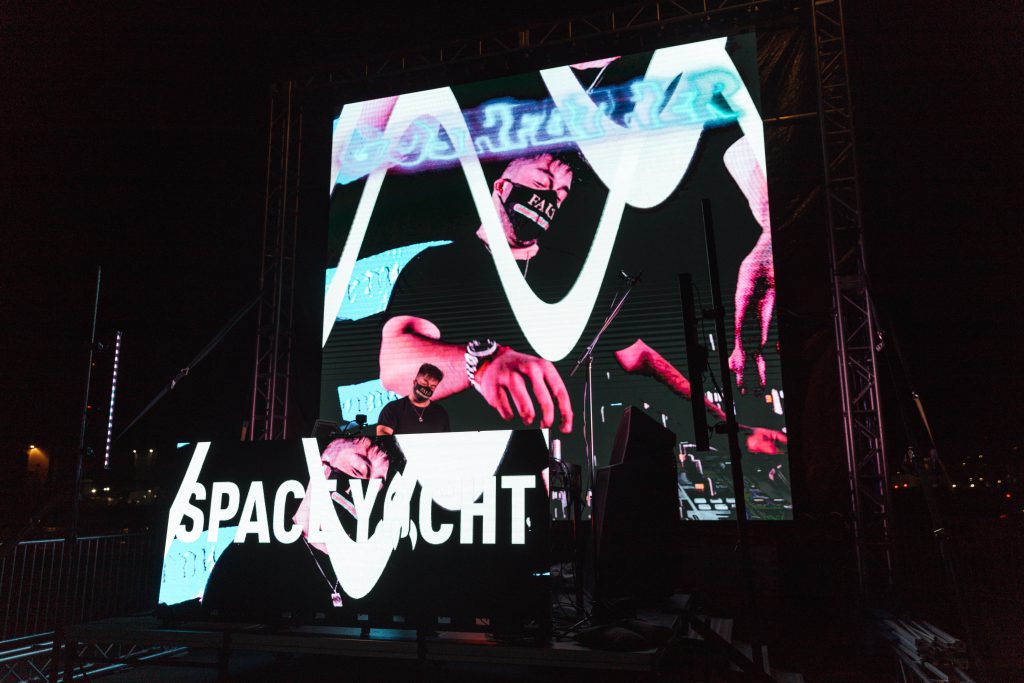 Each artist brought a range of exceptional beats that served the dance floors with energy that we've been craving for months. 
Attending Space Yacht events has always been on the top of my to-do list, and seeing artists that represent the label was satiating to say the least. Among the artists that have been thriving in the scene during the pandemic, Space Yacht's own LondonBridge served as one of my favorites as he delivered the dance floor with a generous amount of magnetizing bass and mesmerizing beats. 
In addition to LondonBridge, the final performance that night by OMNOM was the perfect remedy to enhance my night in true festival fashion. His energy volumized the crowd as he kicked off his set with an influx of house beats that transitioned quickly into a futuristic tempo. Throwing down some of his latest tracks, "Fo Free" and "Babysitter" was one of my highlights as San Francisco's Dirtybird Family came out to play. The moment he transitioned hit set into drum and bass was when my excitement kicked into full gear, finding myself getting lost in the vibrations.  
Friday night was definitely not the only night featuring a stacked lineup, the Saturday brunch and night show awakened the crowd with their performances in several ways.
As guests slowly started to filter in the second day, the ambiance of the brunch served much different than the first night. Each table was served with unlimited mimosas and a delicious brunch menu that turned Saturday morning into a bottomless party. dAvi A set the mood with a vivacious set that pushed the crowd into a safe space as we all began to move our bodies.
The impressive performances continued to sway the dancefloor with Andy P and Shane one, ultimately leading into my favorite set of the day: VNSSA. She enhanced the remainder of the show as she effortlessly turned Space Yacht's brunch into a disco day party. Her hour and a half set magnified the energy of the guests as she played music that echoed Mamma Mia's soundtrack vibes!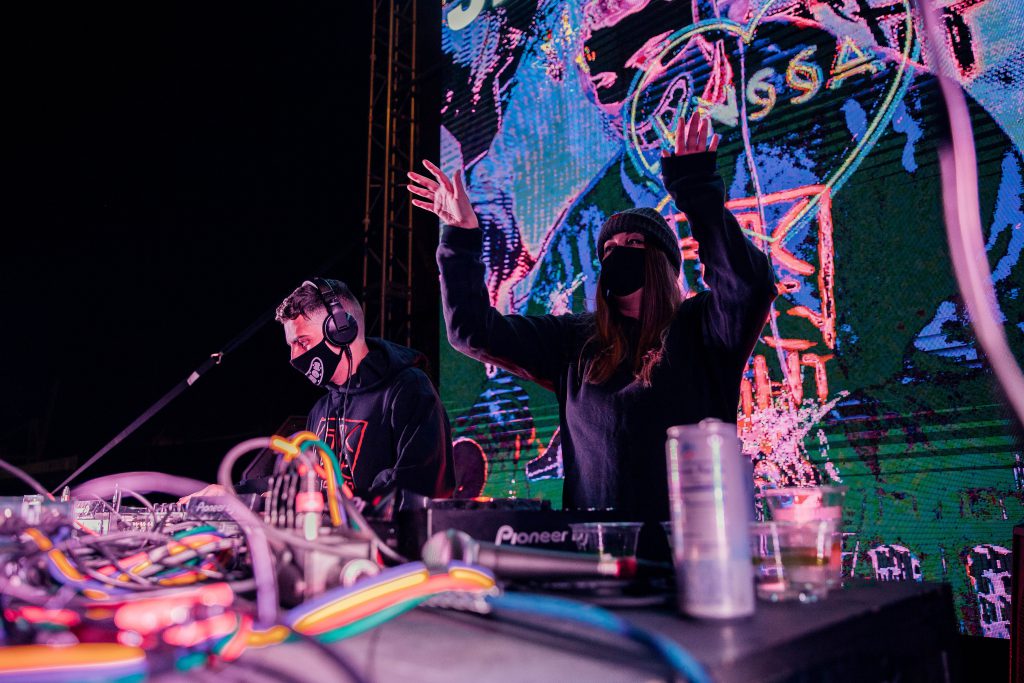 Saturday night's performances complemented the day party as it enhanced the energy that was exhilarated throughout the day. 
I was stoked to see many of the names highlighted on the lineup as it has been almost a year since I dipped into the world of live shows. Similar to San Francisco's secret after-hours (something I am very familiar with), Space Yacht's night party was filled with tech house sets from sets by FOOLiE and VNSSA (who threw it down impeccably once again).
Prior to these sets, 96 Vibe and DEM2 had my full attention with their dominant house throw downs, especially when DEM2 debuted their fresh track "Woodpecker" that energized the crowd in unparalleled ways. And of course, I could never forget Goshfather who brought the heat with an intoxicating fast-paced set filled with some of his favored tracks. Anchoring the night was an outstanding b2b set with VNSSA and OMNOM that proved the quality of Space Yachts first-ever socially distanced show!
As a whole, Space Yacht's sold-out Open Air San Francisco show was truly a memorable experience for the books. 
As we continue to face the curveball of no festivals for the remainder of this year, small shows like this will suffice if you're looking for a fix of live music. Space Yacht and the production truly went out of their way to bring to life a thrilling experience for their SF community, and driving the six hours to attend was well worth it.
If there is one thing I took from this experience, Space Yacht and The Midway's beautiful collaboration proved to be a space that is filled with positive energy, smiling faces, and happy ravers together as one again. I am excited for the future of shows, and can't wait for the impact this past weekend will have on the future of socially distanced events!
---
Follow Space Yacht on Social Media:
Website | Facebook | Twitter | Instagram | SoundCloud | YouTube | Twitch