David Guetta has announced United At Home, a livestream event with a goal of unifying communities during the COVID-19 pandemic.
---
David Guetta has announced that he partnered with Miami Downtown Development Authority (DDA) to stream a 90-minute live set. Called "United at Home" the stream has set off with the mission of raising money for the World Health Organization (WHO), Feeding America, Feeding South Florida, and the French Foundation Hospital in Paris. 
Set to take place on Saturday, April 18 at 3PM PT (6PM ET), David Guetta will be playing from a surprise location that will be revealed upon its broadcast. Some locals to Miami might have the opportunity to view his set from the safety of their balconies, while thousands of viewers will stream it on platforms like Twitch and YouTube. The DDA will also be streaming his set through their Facebook and Instagram accounts.
"My heart goes out to all those suffering from the global health pandemic," Guetta stated. "I hope that this livestream event will bring people together and help raise money for those in need." 
The goal of "United At Home" is to unite headliners' through the love of music during this current pandemic. He aims to connect listeners while performing on a "state-of-the-art production" as guaranteed by the event. They also plan to raise a commendable amount of money for the organizations and donate at least $150,000 to Feeding South Florida in order for the charity to distribute millions of meals within their region. 
Want to donate to this great cause? Head over to David Guetta's website for more information!
This "United At Home" livestream has been created in partnership between David Guetta the Miami Downtown Development Authority (DDA). They've teamed up as he's been a constant inspiration and supporter of the local community as they look for new ways to come together and support each other during these trying times.
"David Guetta's music has always brought people together," said Christina Crespi, Executive Director of the Miami Downtown Development Authority.  "While Miami – and the rest of the world – practices social distancing, there's no better time to unite virtually for a common cause than now."
Will you be tuning in on Saturday? Let us know in the comments below and make sure to check out our Livestream Tracker for more events happening this weekend!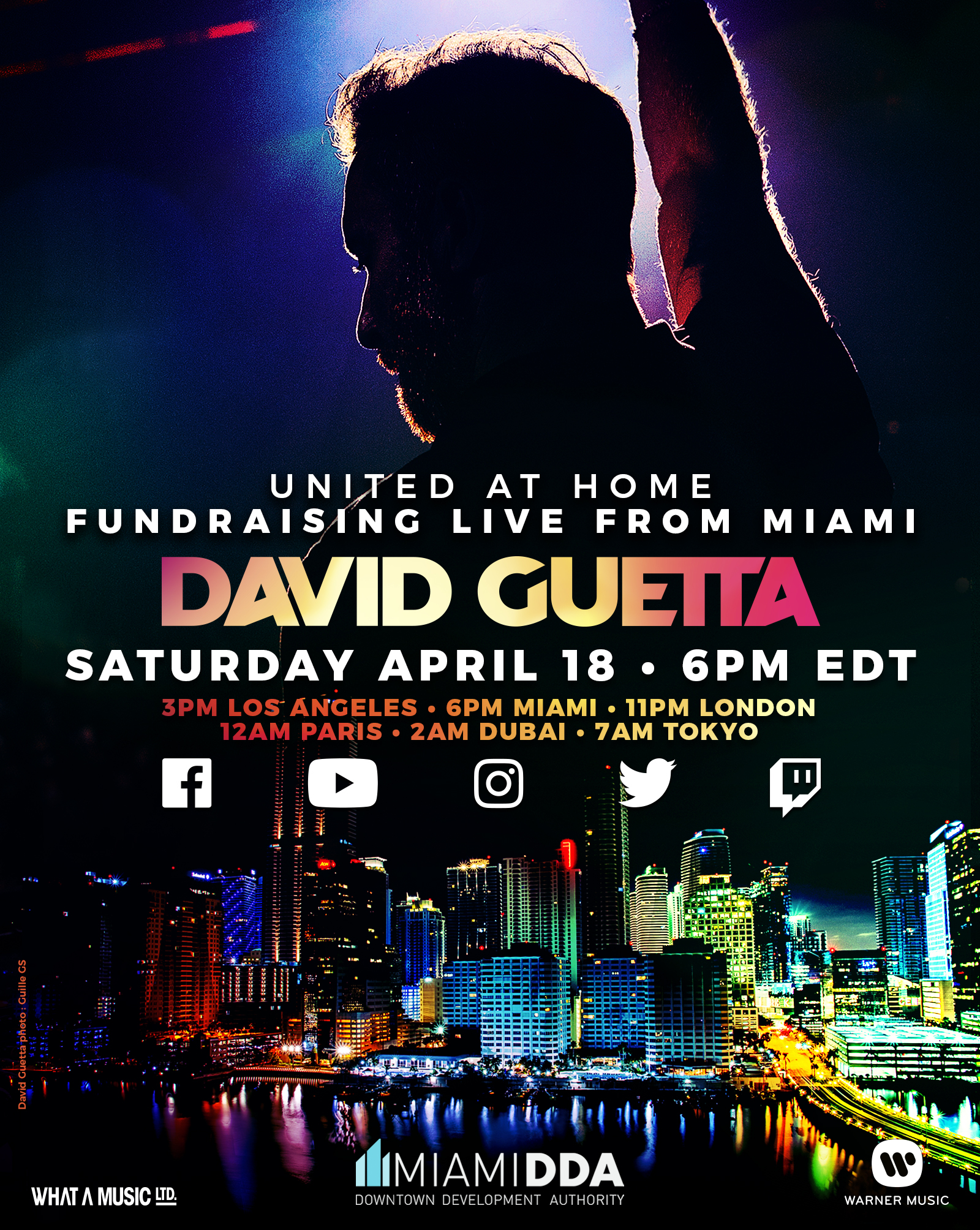 ---
Connect with David Guetta on Social Media:
Facebook | Twitter | Instagram | SoundCloud | YouTube | Twitch