Will you be getting down and dirty with House of Yes and Secret Dance Addiction during Ancient Aliens, their sober-centric virtual dance party?
---
When one of the most renowned nightclubs in New York City puts on a virtual event, it's sure to turn some heads. That's exactly what House of Yes has done with their latest showcase that's set to take over the realm of livestreams, Ancient Aliens. Partnering up with Secret Dance Addiction, an online platform that unites sober dance music lovers and those who put health above intoxicants, they look to help elevate the message of positive partying and bringing a sober-curious mindset to a wider audience.
Set to take place on Saturday, November 28, Ancient Aliens will feature some fantastic tunes from the likes of DoubleCrush and Silec, but there's more than just beats that will be occupying attendees. Amy Conte will be providing a shuffling lesson for those looking to learn how to bust a move, while Thuy will provide a lesson on how to read facial expressions to peer into your lover's soul. Additionally, there's a virtual bar with alcohol-free cocktail ideas from Lyre's, a costume contest, and more in store for those who attend!
"We are partnering with Secret Dance Addiction because we are drawn to their mission to build a mindful dance community that doesn't require alcohol to participate," said Jacqui Rabkin, Marketing and Cultural Director at House of Yes. "We recognize that many members of our community are sober-curious and appreciate the opportunity to learn about alternative and healthier ways to party. We want to foster genuine connections between people, where we call on them to participate in the experiences we design with their full attention and intention, and we feel like Secret Dance Addiction vibrates on that same frequency." 
Of course, what's a party without a little bit of socializing as well? House of Yes and Secret Dance Addiction have attendees covered with a Zoom party so they can mix and mingle with others who are attending the virtual event. Connecting with others is a massive part of the clubbing experience and will help you beat those winter blues, so don your best costume and get to Zooming!
Want to get groovy this weekend? Head over to Eventbrite to RSVP for the show and tune in to House of Yes' Twitch channel to catch all the action starting at 8pm ET (5pm PT), it's sure to be an out of this world experience.
Tune in to House of Yes & Secret Dance Addition Present: Ancient Aliens on Twitch:
---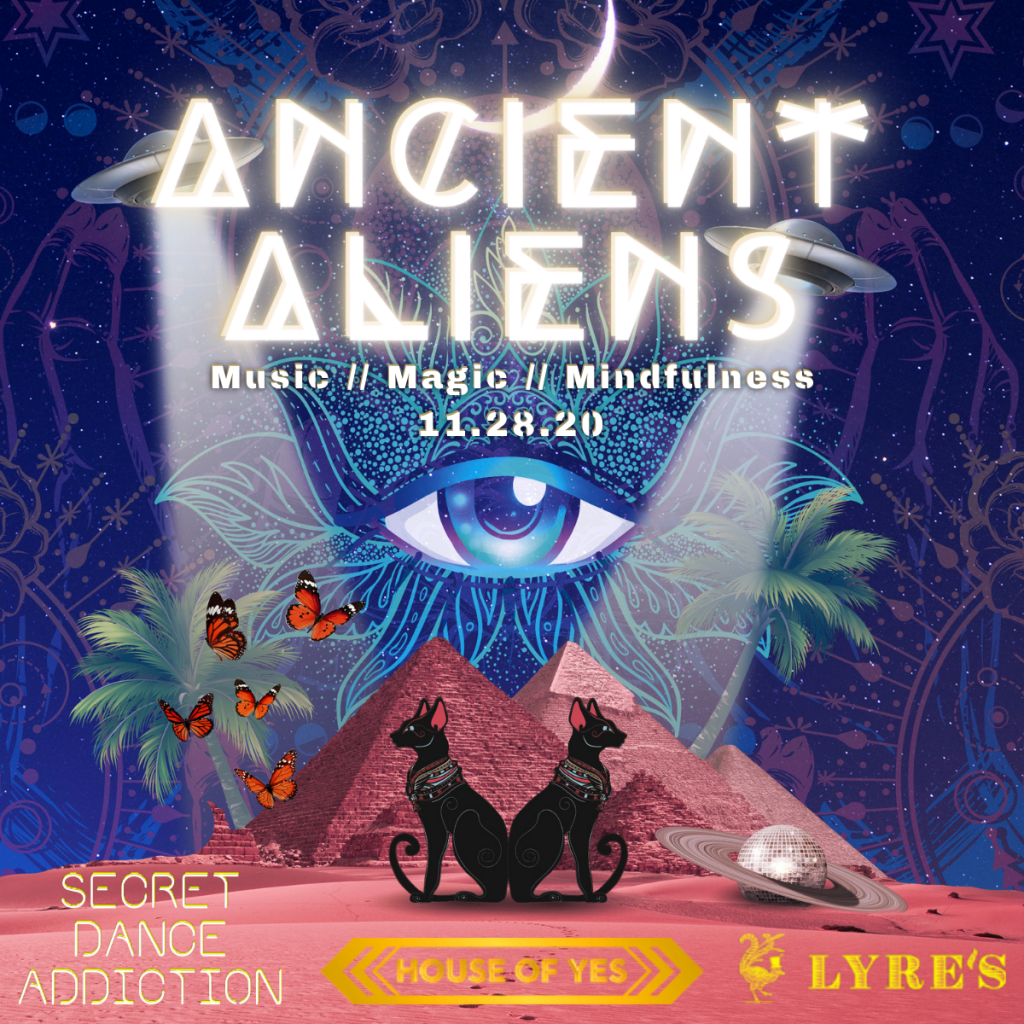 ---
Follow House of Yes on Social Media: