Saint Punk stopped by to chat about his new single "Light 'Em Up," grunge house, his YouTube series Band Practice, and more.
---
When you walk to the beat of your own drum, you stand out. Just ask Saint Punk, he's truly one of a kind. He's unique, bold, and in your face. No stranger to creating music, his previous work in a band naturally led to his dive into the world of electronic music. And he's been causing a ruckus since 2019 with the release of his first set of tracks "Daddy" and "Disko." Let's just say that his music packs a powerful punch, but above all, he's bringing a new genre to the table – grunge house.
Even in the face of the pandemic this year, Saint Punk has continued to deliver some heaters to get everyone moving to the beat. Landing tracks like "Everybody" on Thrive, "Fight" on Hexagon, and "It's Alright (Not)" on STMPD RCRDS, he's gained support from some of the scene's leading labels while furthering the depth of the grunge house sound.
After the release of his single "Light 'Em Up," we caught up with Saint Punk to chat about everything from his recent releases and his musical background to his Band Practice series on YouTube and the presidential election. Check it out below and don't forget to listen to his exclusive guest mix for a taste of his sound!
Stream EDMID Guest Mix 246 || Saint Punk on SoundCloud:
---
Hey Saint Punk, thanks for chatting with us today. We appreciate it. Let's start things off with a vibe check. How are you feeling following the presidential election and unpredictable 2020?
I am ecstatic about the turnout of the election. It doesn't surprise me Trump is going out kicking and screaming. He's a POS. As for the unpredictable 2020, at this point, I have no idea what to expect. How hard is it to wear a damn mask?! 
You recently created a playlist for CULTR with songs that have inspired you throughout your life. Tell us more about some of your earliest musical influences and artists you loved to listen to growing up?
To keep it short and sweet, Nirvana, Rage Against The Machine, Fleetwood Mac, to just name a few. My taste in music ranges but I grew up on grunge, rock, and punk rock music. Combining all my influences into the dance culture has been exciting and really awesome to see how well people are welcoming my grungy bass house sound.
Your resume is pretty impressive and diverse. We learned that you used to be in a rock band! Can you tell us more about that and what led to your transition over into dance music?
Playing in my band made me. Touring the country with my best friends were some of the best times of my life, but unfortunately or fortunately, depending on how you look at it, I decided to go off on my own and start focusing on production. I was doing all of the rough demos for the band, which is how I really got started producing. Now here we are!
When we hear Grunge House, we think of Saint Punk. The genre itself is pretty unique and new, so how would you describe the genre to someone who isn't all that familiar?
I think any artist who's asked to explain what they do probably have the same response—I don't know; whatever you make of it – it's hard to put yourself into a box. I don't go into a session thinking, yeah, this is grunge house. I just make music, and most of the time it comes out with this vibe. Of course, I have my influences, and if that comes through, then I love it.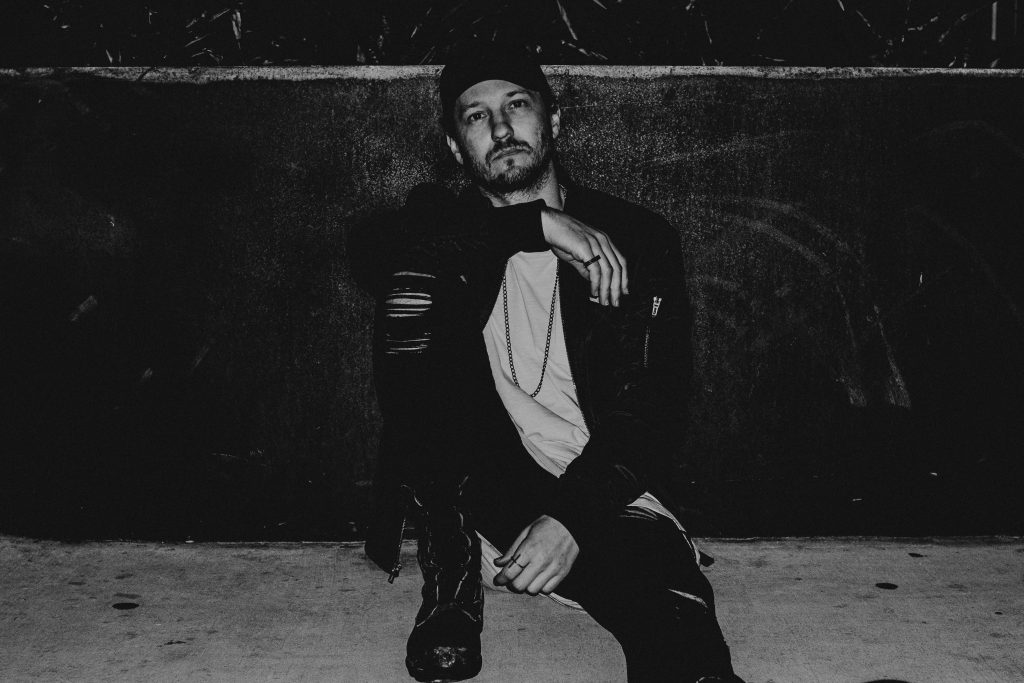 No one expected 2020 to turn out the way it did. The pandemic put a stop to normal life as we all know it. How has this year impacted you as an artist and an individual?
I think I probably speak for everyone when I say that this year SUUUUUCKS!!! This is the kind of shit you see in apocalyptic movies, and finally, everyone comes together to save the earth, except it's not a movie, and a lot of people don't give a shit. I live in LA, so the responsibility we have is always tantamount to the active cases spreading. I've mostly been locked up in my apartment since March. My girlfriend and I will make the best of great dinners from great restaurants—and great alcohol from great producers—but at the end of the day, all we want is to travel again, play shows again. Connect with people again.
Over the past six months, you've released a handful of tracks that we would consider socially conscious. What inspired you to create songs like "Molotov Cocktail," "Fight," and "It's Alright (Not)?"
There is so much shit going on in the US, between the pandemic, the President (who can't be bothered with it), and social injustice of every form. I've really felt the need to step up and be a voice. Music is a way to let out the frustration. I want my music to not only represent my current mood but also to withstand the test of time as we move forward into 2021. I want to look back and know I stood on the right side of history.
Your new single "Light 'Em Up" is quite the banger and your music tends to have an underlying message. What was the production process like for this tune in particular?
Every session is different. I may go in with an idea, but once I am locked in, things can completely change. With "Light 'Em Up" I wanted to play with new samples and rhythms a little bit more. I wanted to create a drop that felt more dynamic and rhythmically different than some of my others. Using samples of animals, like a crow and an elephant, that made up some of the sounds in the drop. It feels interesting and organic. That's what I'm all about.
Let's chat about your YouTube series Band Practice. You take the time to explain and educate viewers about the different elements in creating music. What's your favorite thing about the series? And how has the series impacted aspiring producers working to get their foot in the door?
Going into creating Band Practice, it actually started out me doing it live on Twitch, but I soon switched it up to pre-recorded videos and released them on YouTube. I wanted my producer fans and future producer fans to be able to go back to my videos and learn and grow as artists. The feedback I get from each video is always super humbling. This has opened up a lot of doors for rising producers sending in demos and asking for feedback. Sometimes it gets hard to answer everybody, but I make it a point to get back to everyone. Band Practice has opened up the idea of getting my label, Graffiti Records, fully locked and loaded to release rising producers' tunes beginning in 2021. 
With 2020 coming to a close and the world shifting into our new normal. What can we expect from Saint Punk in the future?
I live in the present as the future is very unclear. The one thing you can expect is my first album, which I am currently working on, and will have more details to share later.
Lastly, describe Saint Punk in three words. Ready, set, go!
Relentless. Unapologetic. Loud.
---
Follow Saint Punk on Social Media:
Website | Facebook | Twitter | Instagram | SoundCloud | YouTube | Twitch