Insomniac looks to the East Coast for their next partnership as they've joined forces with bass festival Forbidden Kingdom.
---
Since first emerging on the scene back in 2019, Forbidden Kingdom has already begun to carve out their space in the realm of bass music festivals. Dominating Florida during their first two editions that brought massive lineups filled with dubstep dons and rising artists alike, they've caught the attention of festival-goers across the country as well as behemoth brand Insomniac Events.
Today, Insomniac Events and Forbidden Kingdom have married the two coasts with an announcement that they'll be officially partnering up for the 2021 edition of the festival. Set to return to Sunset Cove Ampitheater in Boca Raton, Florida, on June 11-12, 2021, this strategic move will benefit both companies as the immersive production from Insomniac will take the festival to the next level while giving the company a larger footprint on the opposite coast.
"After witnessing Forbidden Kingdom's growth, feeling the buzz it created in the dance music community, and meeting the creative producers behind it all, I know it will be a perfect fit within the Insomniac family," said Pasquale Rotella, Founder and CEO of Insomniac Events. "They've built something special, and when I see someone as passionate about creating experiences as Pepe [Vargas] is, I want to support the vision."
Forbidden Kingdom 2021 will feature three stages to explore and plenty more in store that will be announced in the coming months. If past lineups for the festival are any indication of the power they'll be bringing to the stage, then bass music lovers can expect some true greatness in Florida next summer. Stay tuned for more details!
"I am thrilled and excited for this partnership. Having the experience of Pasquale and his whole team at Insomniac gives me the confidence that together we will take this festival to a new level," said Pepe Vargas, Founder of Forbidden Kingdom Music Festival. "Their knowledge will be invaluable to us as we introduce our brand to more music fans in Florida and beyond."
Festival passes for Forbidden Kingdom 2021 will go on sale Thursday, October 29 at 12pm ET via their website. GA passes begin at $109.99+fees, GA+ passes begin at $149.99+fees, and VIP passes begin at $249.99+fees, with layaway plans starting at $25 during the 72-hour sale.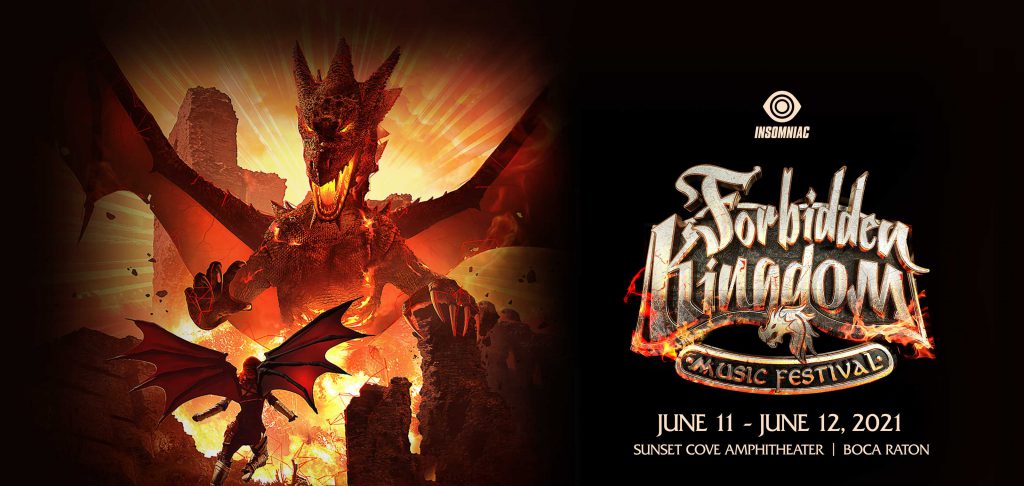 ---
Follow Forbidden Kingdom on Social Media:
Website | Facebook | Twitter | Instagram
Follow Insomniac Events on Social Media: