After the release of his debut EP, HOTBOX, Naderi swung by to discuss the production process, his previous work with other artists, and more!
---
Trying to establish a career in music can be extremely difficult, especially during the times we are currently living in. Naderi, on the other hand, has a different perspective when it comes to being an up-and-coming artist, even if he has to do it during a global pandemic. Over the years, this Sydney-based artist has worked with notable artists in the scene like Flume, Skrillex, and Alison Wonderland, but now he's set his sights on breaking out with his own releases and just unveiled his debut EP!
Out now for your listening pleasure, the six-track HOTBOX EP puts Naderi's signature melodic-bass driven sound on full display. Each tune on the release, including the likes of "Dead Astronaut in Space," "Switching Lanes," and previously released single "Stardust" (feat. Reo Cragun), showcases his skills in creating immersive soundscapes for listeners to explore. If you're someone who is craving some fantastic bass beats, Naderi really hit the spot with this release.
Looking to gain some extra insight into the mind of Naderi, we jumped at the opportunity to chat with this rising star. So take a listen to the HOTBOX EP on Spotify or your preferred platform, and read on for a discussion about the debut EP, working with artists like Reo Cragun and others in the scene, and plenty more!
Stream Naderi – HOTBOX EP on Spotify:
---
Hey Naderi, thanks for chatting with us today and congratulations on the release of your debut EP. What was the development process like for this release? Did you face any challenges in creating it?
The 'HOTBOX' EP is basically a time capsule. I used to think making an EP is just putting a bunch of tracks together and calling it a day, but the process transformed me as a person and artist, and the EP as a whole captures that. The art defined me, which then defined the art.
There were a few false starts and the whole pandemic situation made me push the release back a few months, but I still kept working on the songs (and still am right up to the last minute) because that's how my brain works. It's all a bit of an excuse to tinker and play with music.
I then got drawn into the art side of things, and I'm equally fascinated by pop art and science fiction. In the early stages I kept not being happy about the art, but I realised it's because I want to create a world that's in my head and not somebody else's. So, I've been using my old skills as a visual artist to create a world around this EP and NADERI as a whole.
On "Stardust" you worked with Reo Cragun to really bring the track to life. How did that relationship come about and what was the production process like on the tune?
So I'd never met Reo, but I was at Flume's crib in LA and started talking to some dude, and we got along super well. When we properly introduced ourselves, it was like "Oh what!!?" Since then, we've become really good friends and have written a lot of music together. I've made so many versions of "Stardust" that I nearly went crazy, but I'm in love with the finished song.
What was the most rewarding part of creating your own project and releasing this EP compared to working on one with another artist? 
They are both really awesome experiences, but when you're working with another artist on their music, it's like being a foster parent. I become emotionally invested in their music, but then at a certain point, you let go; and while you will always be a part of that song, it's not yours. I'm helping them tell their stories, and it's an honor to be part of it. This EP, however, is my music and it's my story, and I'm telling it how I want to tell it and making it look how I want it to look.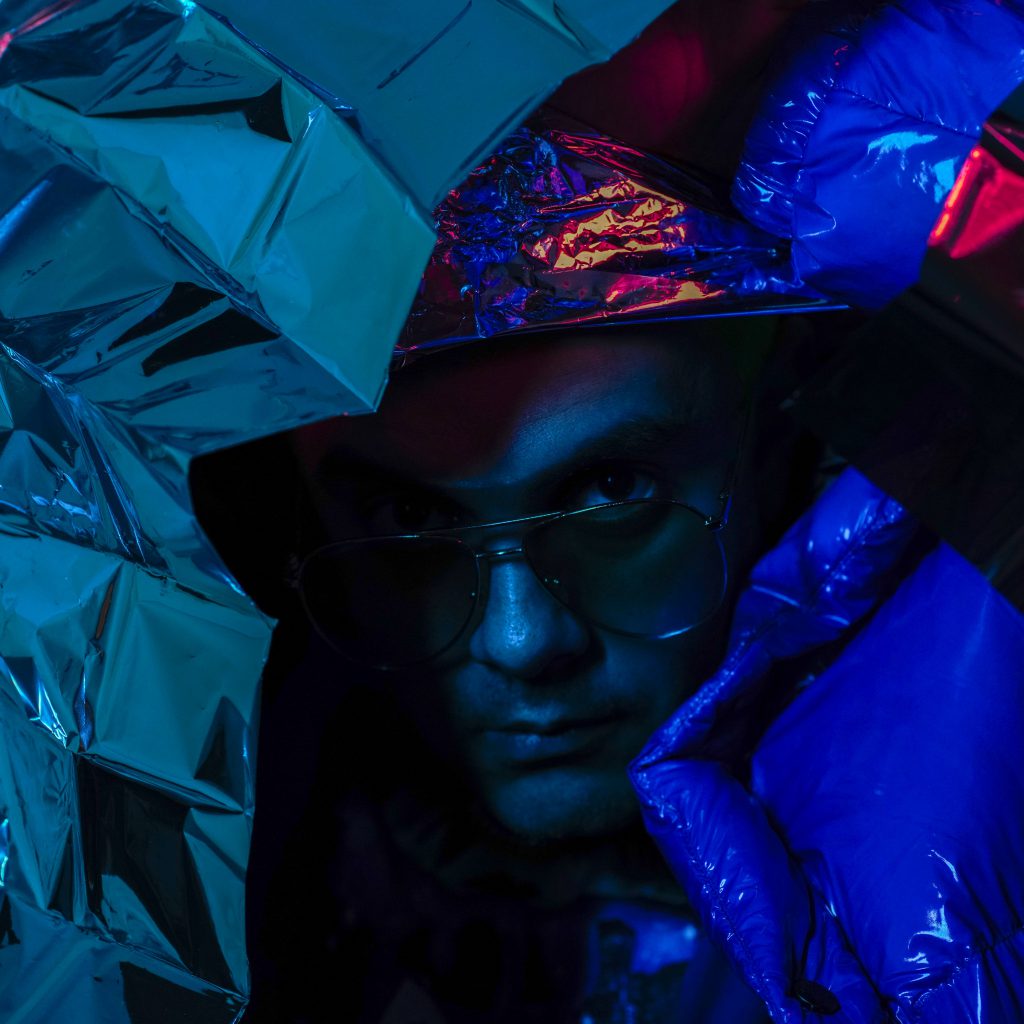 In the past, you've worked with artists like Flume, Alison Wonderland, Skrillex, and Marshmello. Can you tell us a little bit about how it was working with them? How has your creative process developed while sharing ideas with these big names in the scene? 
Working with Flume was interesting; I actually discovered him when he was 14, and I'm stoked that down the line I got to work on some of his groundbreaking album with him. Alison is probably one of the best supporters of my music, and from her, I learned that it's good to be myself.
Skrillex is just insane at what he does, and Marshmello made me realise how important the songwriting part of the process is. That really changed how I approach music. I didn't want to be that guy that's disconnected from the vocals. A lot of producers are like that, but I need the songs to have a part of my DNA in the singing, and I'm very hands-on in the vocal ideas now. 
When looking at your discography, one of the things that has stuck out are your fantastic remixes. How do you decide which tunes you want to put your touch on, and is there a certain approach you have to recreating them?
My aim at remixes has always been to remix songs that really make me feel human and alive. When I'm doing a remix, I want to make them better than the original. I want to make a remix that I would pick to listen to over the original version. I haven't wanted to do a remix for a while though, but I feel like I will again soon.
How do you deal with bouts of writer's block? Have you found a unique way to get your creativity flowing when you feel like you can't get the right flow on a track?
I don't believe in writer's block. I think that when people get what they consider "writer's block", it's when you're not good enough at what you do to make what your taste wants you to make. Your skills and tastes aren't at the same level, so you're a bit frustrated. The way I look at it is, I'm a producer; I produce, and making art is my job. So I get in there and get on with it, and that's all there is to it.
Trying to come up as an artist during COVID has proven to be a huge challenge for many. What has your experience been like over the past few months? How have you stayed connected with your growing fanbase?
In a weird way, this has been a really rewarding year. I've learned a lot about myself. It has been tough to promote music the way you're usually meant to. I was meant to go on tour and promote this EP in front of fans and use their excitement to help get more fans…the way things usually worked! 
I've had to be more creative and try and be more resourceful, especially since I'm all the way in Australia. Most Australian artists don't have a platform or a voice. Right now, Triple J isn't playing music that really reflects what I hear blasting from cars and Instagram stories from young Australians, so I'm REALLY fortunate that so many press outlets have been supportive of this EP so far. I don't know how I'd cope if I didn't have their support. 
I have noticed that even big artists aren't in the clear, either. Dua Lipa and Da Baby's "Levitating" is one of the best pop songs of the year, and it would be EVERYWHERE if it wasn't for the pandemic, but that's just the reality that big and small artists are facing right now. 
Mental health has been a big topic in the scene lately as artists and others in the industry continue to cope with the pandemic. What ways do you balance your mental health while being surrounded by the enormous pressure the music industry carries? 
At the beginning of the pandemic, I really took a moment to self-reflect and come to terms with what I really value in life, and realised that everything else is just noise. It's kind of crazy to say this, but I felt way more anxiety and other mental health stuff before the pandemic hit.
The pressure of having to keep up with other artists and all the bullshit that's a part of spending half your day on social media as part of your 'job' can really mess with your mind. I feel like everyone's had a little bit of a reset switch, and it's dope because, for the first time in ages, I feel like I have real freedom in my art.
Finally, since we're digging the spacey-ness of "Stardust," if you could travel anywhere in the galaxy right now, where would it be and why?
I spent way too much time thinking about this. I would like to go to the moon and look at the earth.
---
Follow Naderi on Social Media:
Facebook | Twitter | Instagram | SoundCloud