On Dark Skies & Holy Grail, Holly triumphantly throws his hat in the ring to become bass music's next big crossover artist.
---
Holly has gifted bassheads across the globe with his mixtape Dark Skies & Holy Grail, out today on HARD Records. Featuring 11 tracks that traverse the spectrum of genres defining bass-heavy music in 2020, including DnB, Halftime, UK Garage, Afrobeats, Hip-Hop, and Dubstep, this mixtape feels more like a dynamic soundtrack for your life rather than music curated exclusively for one setting.
On Dark Skies & Holy Grail, Holly blends in elements of styles trending in the more mainstream scene with popular sounds in experimental bass, to give listeners a true snapshot of contemporary bass music in 2020. Not to say there aren't dance floor heaters on this project, but the eclectic mix of energy and sounds gives the listener a sense of full bodiness and movement. Each track presents a unique combination of swag, nostalgia, new styles, and technical proficiency. Because of this, Holly's latest project has appeal for both underground heads and younger ears alike!
Listen to Dark Skies & Holy Grail on Spotify below, download or stream it on your favorite platform, and read on for more thoughts on the mixtape from Holly!
Stream Holly – Dark Skies & Holy Grail on Spotify:
---
By creating a mixtape of high energy tracks with experimental twists, Holly confidently bridges the gap between mainstream and underground.
We hear it on every song. Of course, given Holly's background and foundational production style, we hear heavy Trap and Hip-Hop influence across the tracks – for example, "Amusement," "Devotion," and "Pill Ride." However, there are also many twists and turns that I did not expect.
"Angel Fire," the second track on the mixtape with Sebastian Reynoso, embodies a full UK Garage beat that feels like it could be right at home amongst the Machinedrum discography. Similarly, Holly's track "Just Enough" with Baauer was also a welcome surprise, incorporating ambient sounds and Afrobeat drums with a Rusko-like classic dubstep drop.
The best example of Holly bringing together the old and the new to show us where we could be heading in bass music is "5 AM CDR Jam." A personal favorite track on this project, it's a Halftime song bringing that classic SHADES-style energy, with the sustained basslines and high-pitched sound design that have been made hugely popular by Peekaboo.
If one word can summarize Holly's attitude on this mixtape it is confident. At no time does it feel like Holly is trying to emulate an existing style or chase clout. Looking for Halftime meets Footwork, meets Neurofunk sound design? Try "Immune." Looking for a cross-section between R&B, Rap, and Beats? Look no further than "Friday Night." Each genre-bending expression on this project feels authentic and educated.
Does Dark Skies & Holy Grail indicate that Holly on his way to becoming bass music's next big crossover artist?
Dark Skies and Holy Grail feels like quite a divergence from Holly's past releases, signifying a step away from the experimental world and into the mainstage spotlight. Previous EPs, like his releases on Saturate Records (an experimental bass music label based in Hamburg, Germany), seemed geared specifically towards bassheads. Now, he is geared towards the entire music audience.
Needless to say, his timing could not be better. A huge vacuum exists in bass music leadership right now, and with more and more young producers entering this scene and looking for sonic role models, it is vital that the scene begins to raise new champions. So what's next for bass music? Who is going to fill the empty shoes littering the scene? Maybe it could be Holly. The potential is definitely there.
The level of stylistic maturity and commercial appeal on this mixtape is something I've never seen before from Holly, and I can really see a home for this amongst festival mainstages. However, what he's done on this project is still more of a unique take on mixing styles rather than creating his own. Whether or not Holly will realize his full potential and become ubiquitous across mainstage headlining slots by the time live festivals are back in force will depend on whether he can harness what he's done here, and create a truly unique sonic identity. We can't wait to see where his journey goes!
---
Holly – Dark Skies & Holy Grail – Tracklist:
Amusement (feat. UnoTheActivist)
Angel Fire (feat. Sebastian Reynoso)
Just Enough (feat. Baauer)
5AM CDR Jam
Immune
Devotion (feat. OG Maco)
Safety (feat. RahRah)
Pill Ride (feat. TEARZ, Ugly Duck)
Fridays Night (feat. Mac P Dawg, SUFFER GRiM)
All Star
Sunrise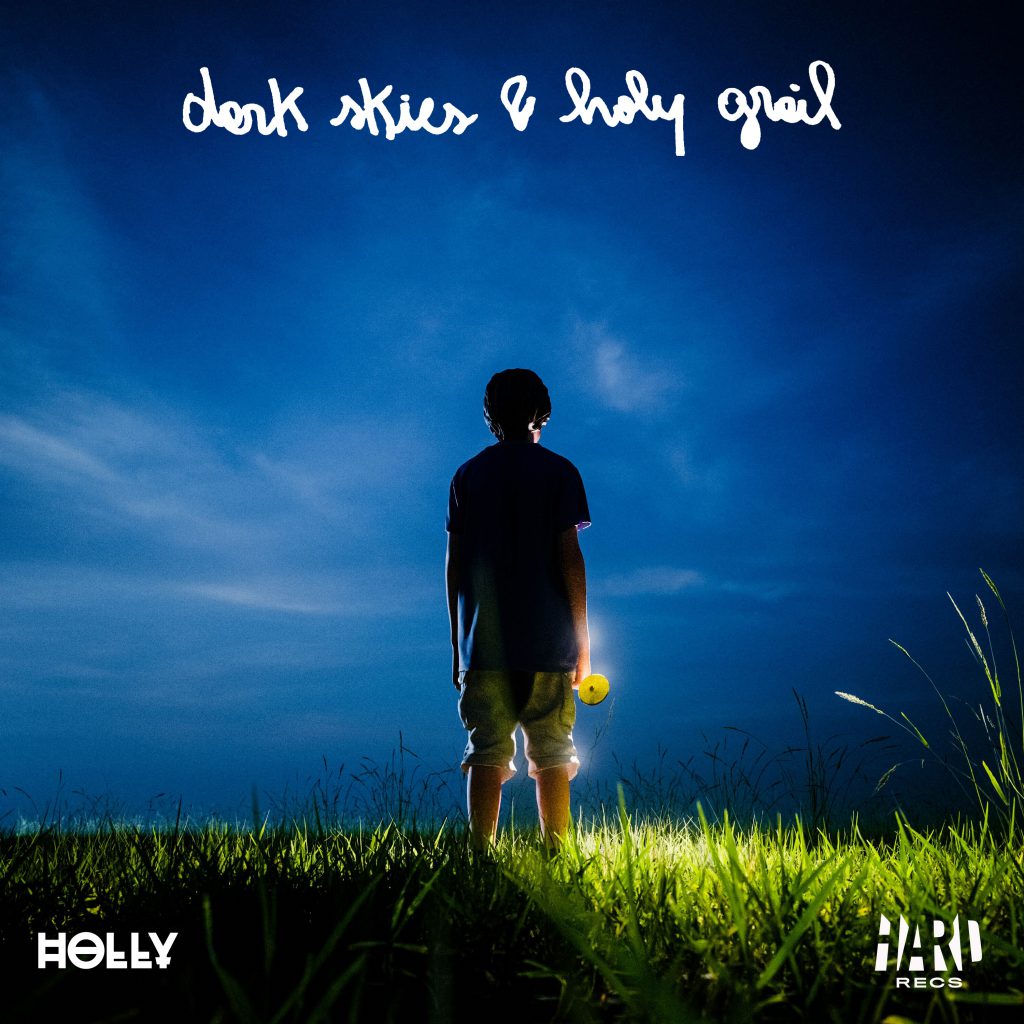 ---
Follow Holly on Social Media:
Facebook | Twitter | Instagram | SoundCloud