Over the past decade, rumors of Daft Punk playing the trash fence at Burning Man have circulated… but in 2017 it seemed like a reality.
---
One of the long-standing traditions at Burning Man for years now has been that the elusive duo Daft Punk would be playing a set at the Trash Fence. Stemming from a well-circulated rumor that reaches back to or before 2009, the running joke has seen set times posted to the Rock Star Librarian's Guide, fake VIP wristbands handed out, and even a skeleton at the Trash Fence itself waiting for their arrival.
In 2017, Tim Livingstone of SkiiTour and Tucker Gumber wanted to take the perpetual trolling to new heights with a full-on Daft Punk set at the Trash Fence itself.
Livingstone wasn't even planning to attend Burning Man that year but was convinced to go last minute by a friend at Shambhala. "My buddy Danny Elder (aka Rumpus) had an extra ticket and insisted that I join him. I had two weeks to prepare and as soon as I announced I was going, my buddy Tucker hit me up and said he had a big idea that he wanted me to be a part of," he said. "His idea was to top the Daft Punk show that he and The Funk Hunters pulled off the year before."
"This time the idea was really to make the enduring "Daft Punk is playing at the Trash Fence" rumor into reality."
Livingstone went on to discuss the finer points of how Tucker planned to get everyone to the right spot during the madness of Burning Man by using their own post office to deliver wristbands. "The invitations promised Daft Punk at midnight on Wednesday at the 12:00 location of the Trash Fence," he said. "Tucker had invited me and Danny (Rumpus) to don the legendary helmets and perform our best Daft Punk show in front of thousands of people. We thought it was an amazing idea."
There's no doubt that Daft Punk had a specific look to their show and vibe to their sets, so research had to be done to pull this one off convincingly. "Danny and I got busy studying live concert footage so that we could replicate their 'moves' and really pull off the illusion.  I spent two weeks frantically working on a mix that would make Thomas and Guy (Daft Punk) proud." 
It seemed like everything was going to go off without a hitch. "On Wednesday night we showed up at Tucker's camp and in addition to the absolutely stunning helmets, he provided us with two custom made suits to look the part." As there are no stages out by the Trash Fence, the plan was to play on top of one art car and then wirelessly connect that sound system with a bunch of other art cars to create a massive one. Brimming with confidence, they set off for the outer reaches of the Playa.
Things don't always go according to plan out at Burning Man, though, and after a lengthy bike ride to get to the trash fence the art car brigade was nowhere to be found.
"Tucker frantically headed out back towards his camp to try and find a solution and thirty minutes later Rumpus and I see this art car driving towards us blasting 'Around The World'. We were excited because we finally found our stage." Livingstone said. "We asked them "Are you guys here for the Daft Punk party?" They replied that THEY were the Daft Punk party. We told them WE were Daft Punk. They told us THEY were Daft Punk. Then we looked around and realized that there were dozens of art cars blasting Daft Punk rolling in from all directions."
"Because of the invitations, because it was Burning Man, and because "Daft Punk playing at the trash fence" is the ultimate troll… It quickly became one big chaotic but amazing gathering."
With no idea of where they were supposed to play and everyone claiming that they were "The Real Daft Punk" party, things were starting to go sideways for their gig. 
But just because their plans had gone awry didn't stop them from continuing to figure out a last-minute solution to save the set. "After wandering around for an hour trying to figure out where we were supposed to play, we were utterly confused and didn't think that our DJ set was going to happen," he said. "Finally, we ran into Tucker. His art car hadn't made it out there and was totally M.I.A. (standard Burning Man protocol) but he managed to talk to the DiscoFish art car and they generously offered their art car to become the main stage for the show."
The trolling was back on as they climbed up onto DiscoFish, but a surprise appearance was in store as a stretch-limo appeared on the horizon beyond the fence escorted by several Ranger cars with their blue and red lights flashing. It looked like an important guest was arriving. "A bunch of spotlights started following the limo and it stopped about 100m from the fence. Everybody rushed to the fence and the excitement in the air was palatable. The limo sat there as the tension built and then a cheer roared through the crowd as Daft Punk emerged from the limo dressed in white from head to toe."
"The crowd went crazy as they walked directly over to the DiscoFish and climbed aboard."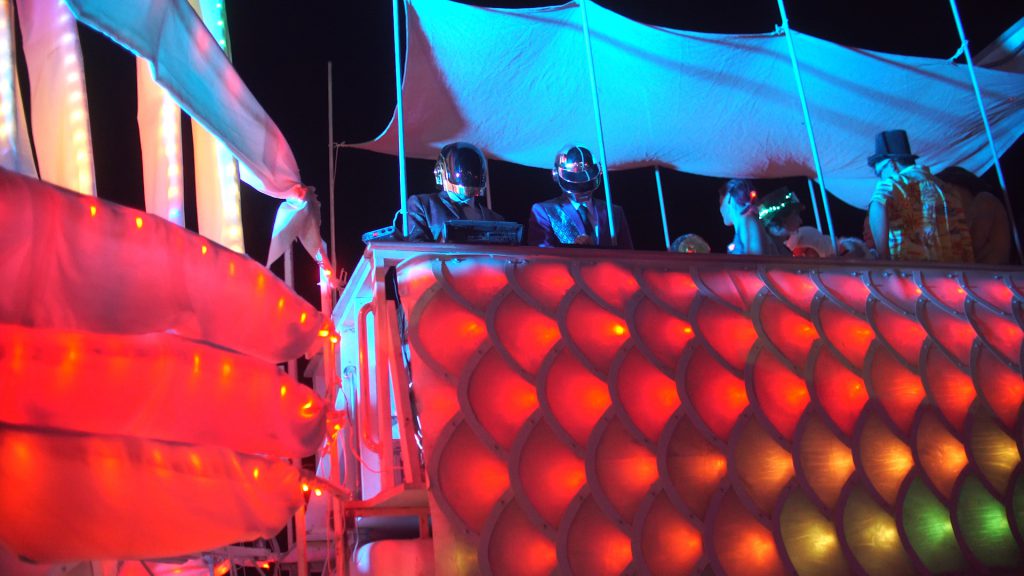 Was this actually happening? A Daft Punk set at Burning Man… and at the Trash Fence none-the-less?
For a moment, even the trolls were trolled as Tucker had put out an appeal on social media for the duo to play. "When they climbed aboard the art car we quickly realized that they couldn't be the real Daft Punk because one of them was a girl," said Livingstone. "We asked them if they had a set planned to play and they said they weren't even DJs, they just wanted to troll the party. So the four of us went into a hidden room and Danny and I quickly changed and put on our helmets."
"We climbed up to the top of the art car and for the next hour, we were Daft Punk."
"We climbed on top of the art car and 'Daft Punk' started DJing. The crowd grew and grew as the set went on and before we knew it we had thousands of people dancing in front of us and all the other art cars showed to combine into that one massive speaker." Livingstone continued, "We used the clapping and moving as we had practiced and, combined with this exclusive set, we were able to pull off what we thought was a convincing performance."
How convincing was it? Well, it became the talk of the town at Black Rock City the next day.
The buzz about Daft Punk actually showing up for the set at the trash fence was real as the story even made its way back to their own camp. "One of our new campmates rolled up and asked us if we had seen Daft Punk at the Trash Fence the previous night. We told him that the rumor had been going around for years and it was surely an imposter," Livingstone mentioned. "He laughed and said "Yeah I know about the rumors, but last night IT REALLY WAS THEM! They rolled up in a limo, did an outfit change, and then played an amazing set. I've seen them live three times and I could tell it was real by the way they moved and remixed songs."
While others continue to find new ways to troll Burners old and new alike in the future, this night is one that will go down in the books as one of the best. It quickly spread from Burning Man and was picked up by a variety of blogs just days after it happened, further cementing its legacy in the tale of "Daft Punk Playing The Trash Fence".
Listen to Daft Punk at the Trash Fence at Burning Man 2017: