Free Swim tastefully fuses that classic Lotus sound we all know and love with instrumental elements from a range of different genres.
---
Lotus is back at it again with another electronic-influenced jam album that packs an array of colorful sounds, jazzy guitar grooves, and a psychedelic ambiance that evokes feelings of utter euphoria. Free Swim, which stands as the tenth in their catalog of full-length studio albums, finds Lotus honing in on their signature style while also exploring a wide variety of different genres, from funk to psych-rock to disco.
Lotus never fails to surprise and satisfy with each new release, and Free Swim is no exception. This album puts a fresh new spin on the band's classic sound that will make you wanna put on your dancing shoes and subsequently kick them off to run around barefoot on the beach.
Give Free Swim a listen on Spotify, download or stream it on your favorite listening platform and read on for a deeper look at the tracks on this fresh album from Lotus!
Stream Lotus – Free Swim on Spotify:
---
The album's funky, disco-infused single "Catacombs" kicks off the listening experience.
As soon as I pressed play on "Catacombs," the LP's single released July 10, I immediately knew that Free Swim was an album to anticipate. The track begins with a steady percussive beat that gradually leans into a funky bass lead, which immediately provides a glimpse into Free Swim's lively atmosphere. Add into this mix a punchy synth pattern, jazzy guitar riffs, and occasional hints of flute, and you've got a track so eccentric and vibrant that it's contagious. You won't want to turn this one off.
The title track embodies the spirit of the album with its concoction of vibrant instrumentals!
"Free Swim" fully encapsulates everything that its eponymous LP stands for. The plunky piano loop is the main attraction of this track, and as soon as it caught my attention I couldn't help but start dancing. It accompanies a synth pattern and rhythmic guitar riff that copy each other's melodies, providing a new layer of depth to the instrumentals. At its most energetic points, this track gives me the same feel as a classic 2010's indie-pop tune with its infectious danceability.
And just like that, the track switches gears, fading into a psychedelic haze of atmospheric synth and wavy guitar riffs. If someone had never listened to Lotus before and wanted to get a feel for their sound, I would recommend this track to them as it perfectly accentuates the band's ability to explore varying styles and make them blend together seamlessly.
Before listening to Free Swim I wouldn't have thought that bright piano and synth sounds could be incorporated into a jam track; and yet, the genius of Lotus allows these sounds to co-exist in a way that demands your attention and leaves you wanting more.
Slow things down with "One-Eyed Jones"…
The band showcases their ability to mix their original sound with new on "One-Eyed Jones" which reads like a classic jam tune at first, laying upon a groovy bassline and ridden with sax licks while incorporating electric piano to give it a contemporary twist. The guitar melody jumps around the synth in a way that spotlights the mix of different instrumentation.
Like "Free Swim," the track finds itself melting into a hypnotic daze before launching back into the upbeat bliss introduced by the earlier section of the track. Those moments on Free Swim where Lotus slows everything down before jumping back into that high energy are most definitely highlights of the album.
…and pick it back up with "Straight Blade"
The dance music influence is strong in "Straight Blade" with a drum-n-bass-esque foundation that's unlike any other track on this album, and something I was most definitely not expecting. I wouldn't have thought DnB and jam could exist so well in the same space, and yet "Straight Blade" makes these two very different genres go together like peanut butter and jelly.
The fast-paced beat pairs perfectly with a melodic bassline and dreamy guitar that ripples through the song like waves – it's a contrast which is emphasized by its unpredictability, yet leaves you wondering why you've never heard anything like it before.
Discover your new beachside jam with "Earl of Grey."
We reach my personal favorite track on the album with "Earl of Grey," which drew me in immediately with a dreamy chord progression that dissolves into a flourish of light and whimsical synth. This one reminds me of something Tame Impala would put out, with its psych-rock influence blended with indie-pop fun, the ideal summer anthem. It's the perfect detox to follow up the high-energy "Straight Blade," and once again Lotus' musical range is put on full display. The vibe of this one is immaculate, to say the least.
"Land of the Lush" brings it all home to close out the release.
Enter into a full-on dreamscape with closing track "Land of the Lush," which, as the title suggests, is luscious in its purest sense. It's everything you could possibly want to close out the rollercoaster of sounds and emotions that the album evokes – it eases into a chilled out haze before launching into an upbeat fanfare of instrumentals that sums up the Free Swim listening experience in the perfect way. Let it whisk you away into dreamland while you revel in its euphoric atmosphere.
Free Swim has once again proven the capacity of Lotus' musical talent.
By the end of Free Swim's runtime, I was left exceptionally satisfied (and fully unable to listen to anything else). Free Swim brings full circle everything about Lotus' style that is known for fully captivating listeners, all the while adding new dimensions to their sound that manifests in a symphony of eclectic sounds. This album paints the perfect picture of what's next for Lotus – an ever-continuing ascension into uncharted musical territory.
---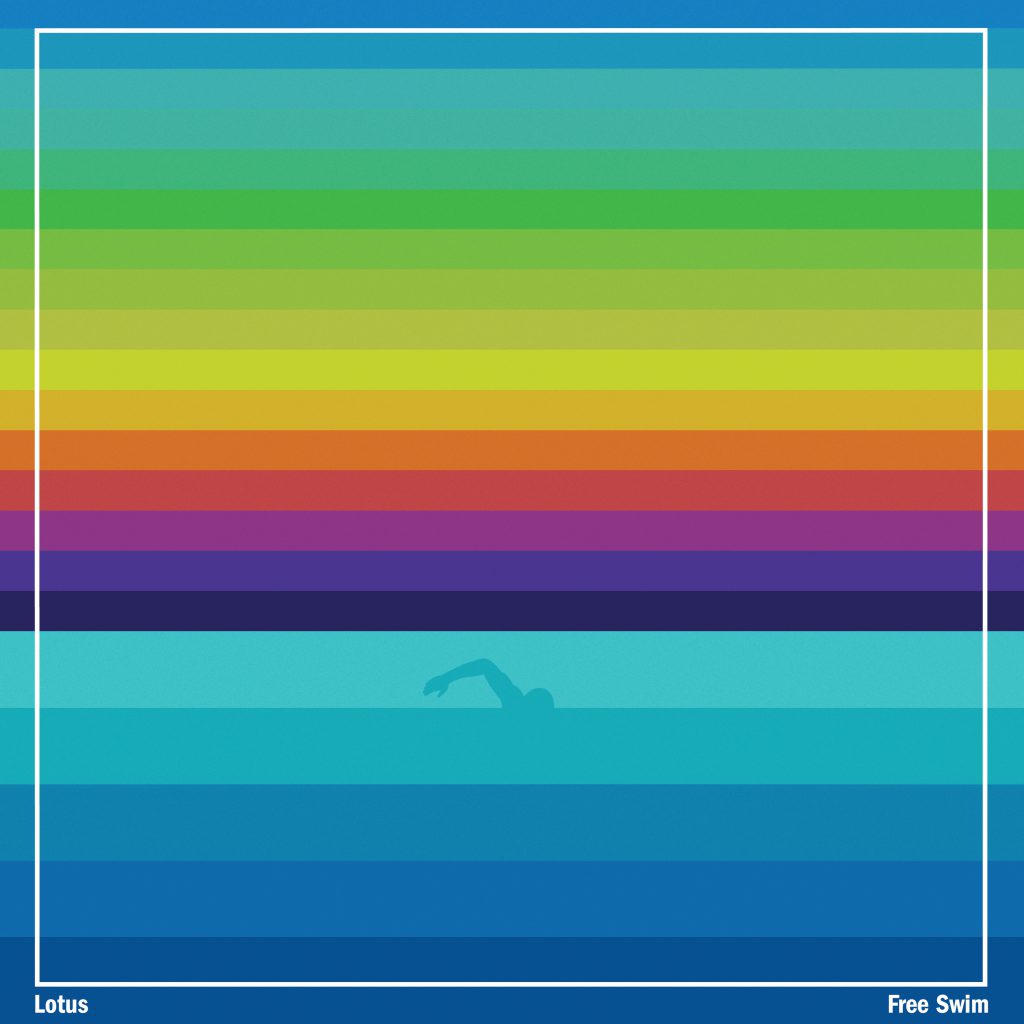 Lotus – Free Swim – Tracklist:
Catacombs
Turtlehead
Free Swim
Sepia Rainbow
One-Eyed Jones
Bjorn Gets a Haircut
Straight Blade
Earl of Grey
Snake Island
Land of the Lush
---
Keep up with Lotus on Social Media:
Website | Facebook | Twitter | Instagram | SoundCloud | YouTube