HARD Summer's BackHARD BBQ will play host to Claptone, Dillon Francis, Lil Texas, and TOKiMONSTA for a weekend full of fun in the virtual realm!
---
As temperatures continue to heat up during the hot summer in Southern California, HARD Summer is looking to turn up the dial an extra few notches with the details surrounding their upcoming BackHARD BBQ Virtual Rave-A-Thon. Set to take place on August 7-8, this two-day affair featuring grillmaster Pasquale Rotella will bring plenty of tasty sets directly to your rave cave.
If there's one thing that HARD Summer has become well-known for over the years it's their stacked lineups with some of the scene's top names, even for their STAYCATION Virtual Rave-A-Thon held back in April. BackHARD BBQ carries on that tradition in style with standout artists such as Claptone, Dillon Francis, Snakehips, and Louis The Child.
Other notable names featured on the bill include JOYRYDE, Lil Texas, and TOKiMONSTA. You also won't want to miss performances from JSTJR, who has been dominating the virtual realm on Twitch all quarantine long, and YehMe2, who will be spinning a bounce house set. The HARD Events crew has also put together a playlist for fans to get ready for the weekend, so make sure to check that out on Spotify as well!
Follow HARD Events on Twitter for the latest updates, check out the schedule below and make sure you're following Insomniac Events on YouTube and Twitch so you can get a reminder the moment the streams go live!
Watch the HARD Summer BackHARD BBQ Virtual Rave-A-Thon on Twitch:
---
HARD Summer BackHARD BBQ Virtual Rave-A-Thon Schedule:
---
HARD Summer BackHARD BBQ Virtual Rave-A-Thon Lineup: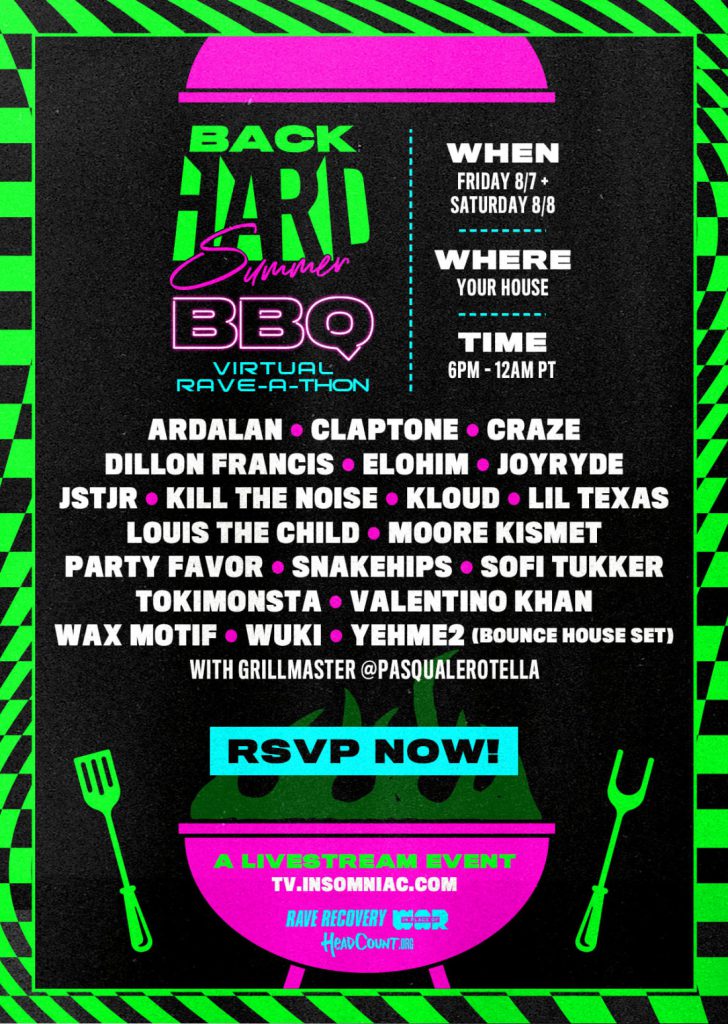 ---
HARD Summer BackHARD BBQ Virtual Rave-A-Thon – Lineup By Artist:
Ardalan
Claptone
Craze
Dillon Francis
Elohim
JOYRYDE
JSTJR
Kill The Noise
KLOUD
Lil Texas
Louis The Child
Moore Kismet
Party Favor
Snakehips
SOFI TUKKER
TOKiMONSTA
Valentino Khan
Wax Motif
Wuki
YehMe2 (Bounce House Set)
---
Connect with HARD Events on Social Media: