After a flurry of fantastic livestream sets and releases, we jumped at the chance to lay low and have a chat with rising bass artist Laiilo.
---
As one of the top cities in the world for dance music, Los Angeles has been the proving grounds for many artists who are looking to make their break and dominate the scene. That's exactly what rising bass music artist Laiilo. set off to accomplish and she's already made some huge strides forward, even in the face of the global pandemic.
This self-proclaimed "Ninja Master of Laying Low" has been dropping some serious heat in the digital realm with performances during a number of showcases over the past few months. Whether she's spinning for Austin-based collective Baked Up, taking the virtual Discovery Project stage during the EDC Las Vegas Virtual Rave-A-Thon, or delivering a wonky set during SLVMBER PARTY on EDMIDtv, Laiilo. has proven time and time again that she's got her finger on the pulse of the bass scene.
And her skills don't stop after she set finishes either as Laiilo. continues to hone her skills in the studio with collaborations like "No Limits" with Solarius while also diving into the realm of graphic and visual design as well. So, when the opportunity to explore her backstory, get inside her mind, and have her spin a mix presented itself, it was a no-brainer for us to sit down with this future star. Listen to her mix below and learn more about Laiilo.!
Stream EDMID Guest Mix 230 || Laiilo. on SoundCloud:
---
Hi Laiilo., thanks for taking the time to chat with us today! Let's start off by digging into your history a bit. Who were some of your earliest musical influences and favorite artists when you were growing up?
Hey EDM Identity, thank you for having me! ❤️ Growing up I was always around so much music, especially growing up in a Filipino and Russian family! One of my best memories of falling in love with music was when I was 5 years old, my dad would religiously take me off-roading in his 1997 Jeep Wrangler with the roof off blasting No Doubt, Eminem, Nirvana, Limp Bizkit, Linkin Park, Blink 182, the list goes on! At this time Gwen Stefani lead singer of No Doubt was one of my main musical inspirations to become a singer— her amazing powerful voice, badass attitude, and empowering lyrics had me starry-eyed throughout my childhood.
Alternately I was exposed to Hip-Hop & R&B at a very young age by my older sisters. They showed me all the greats Ashanti, Ja Rule, Notorious, Tupac, Wu-Tang, Tribe Called Quest, MF Doom, J Dilla, Erykah Badu, and so much more! Hip Hop definitely stole my heart with those bangin' sub-lines, pretty melodies, dusty drums, smooth vocals, and those lyrical flows. To this day Hip-Hop has been my first love and continues to be a major influence in the music I make today.
What drew you to dance music, and more specifically the bass music side of the spectrum? Was there a moment you were like… "Whoa, I love the wubs"?
I was in a lot of dance classes growing up— Ballet, Hip-Hop, and Jazz so connecting with music physically came second nature to me. My first exposure to EDM was when I was in 5th grade— my friend showed me "Satisfaction" by Benny Benassi and "Sandstorm" by Darude. After that moment I wanted more of this different music! I started into my musical exploration searching through YouTube, and that's where I found a whole new world of music. I dove deep into indie music, oldies, classics, and underground hip-hop building my iTunes library, making playlists and burning CDs.
The first time I fell in love with the wubz was when my friend played Zeds Dead's remix of "Eyes on Fire" by Blue Foundation on my way home from a party, I TRIPPED OUT! I was so moved by the pushing and pulling dynamics of the sounds, the vocals, the driving drums, and the melodic soundscapes. 2010 was the year that my ears were blessed with the sounds of Rusko, Caspa, Bar 9, Zed's Dead, Skrillex, Bassnectar, Foreign Beggars, and my love for electronic bass music was ignited.
You've released a number of tunes on SoundCloud over the past few months like "lay low" and "No Limits" with Solarius. Can you share what your production flow is like? How do you get the creative juices flowing?
Before diving into production first and foremost I like to make sure I'm energized with coffee and food! Before opening the DAW I ask myself two questions: is this a creative day (sound design) or a technical day (arrangement)? My mood, inspiration and creativity levels usually determine this for me. If I am feeling uncreative, sound design days are a good go to— that's when I will design and collect sounds to create a sound pallet.
When I open Ableton and start a new production I like to start building within a 8 bar loop. I begin by building the drums out— the kick, snare, hats and various percussion elements. Once I have a swanky 8 bar groove going and my head is boppin' I'll typically lay down a sub line and determine what scale to write in. From there I like to browse through my Artist Identity folder and add in top melodies and sound fx to set the tone/ mood of the song.
Once I have a solid foundation of rhythm, and atmospheres I will start to bring in sounds I have designed from a sound design day, arrange them into a flow and start to experiment with different processing and effect racks to fine-tune. From there I'll begin to build out the structure of the song from left to right and let that momentum carry me as far into the song as possible!
What have you been working on in the studio lately? Do you have any fresh releases that are due up on the horizon?
I've been in the lab non-stop since COVID-19. The extra time has definitely been a blessing in disguise, I've been able to dedicate more of my time to learning, recording vocals, finalizing music for releases, and starting new productions. Lately I have been focusing on learning new mixing and mastering techniques to help me finalize some of my upcoming releases.
Other than learning I have made quite a few new tunes that I'm super excited to share! Some of my upcoming releases include genres from Experimental Trap/ Dubstep, Experimental Trip-Hop/ Pop, Deep Dub, Downtempo, Halftime, and Drum and Bass. I'll be sending a few of these projects to different labels in hopes of getting a release on a major label with a good following. Aside from label releases I have quite a few singles and collaborations that I will be self-releasing within the next few months.
Aside from your work in the studio you've also taken the virtual stage to play during showcases on EDMIDtv, Baked Up, and Insomniac during the EDC Virtual Rave-A-Thon on the Discovery Project stage. When you're playing during livestreams is there a different vibe compared to live shows? How have you adjusted for having no crowd?
There are many pros and cons to livestreams and live shows. Of course, nothing can compare to live shows— the slammin' sound systems, the community, and the energy from the crowd, all there to share an experience. As a DJ and performer, I love to feed off the crowd's energy so my first few live-streams I felt like it was a little hard to make a connection with the viewers.
But after doing a few livestreams I began to really like them— the convenience of location, quality video footage of the performance, and the cherry on top: you can see all the love in the chat! Since livestreams, I've made a lot of new friends and have got to be a part of some incredible virtual events! I am so glad we are still able to virtually attend and perform at events and continue spreading good vibes through frequencies. ❤️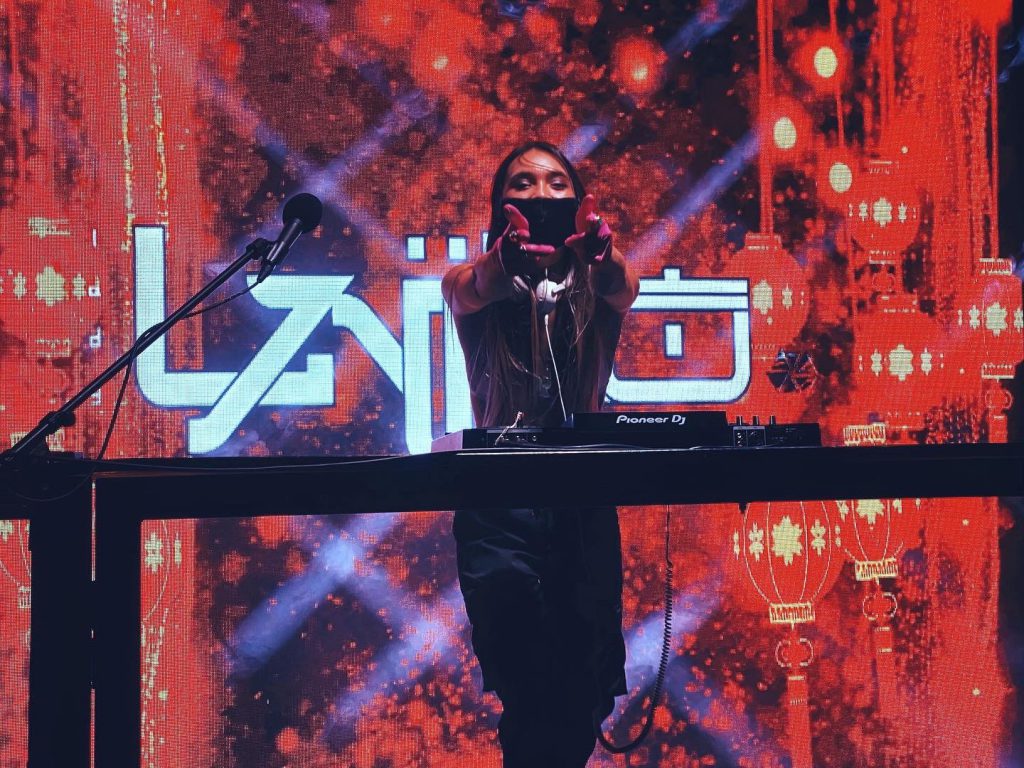 What's your preparation like when you have a set or mix on the horizon? Do you find yourself digging for tracks and include a few secret weapons in there for good measure?
When I'm preparing for a set I like to listen to a lot of music! I'll spend a solid day or two browsing the depths of SoundCloud and Bandcamp. Once I have bought/ collected music I start to build my playlist in rekordbox. Knowing the vibe of the event really helps when deciding which tracks will be in my mix— which ultimately determines what tempo range I will play. I like to include many secret weapons aka original music in my sets, as my goal is to one day have a full hour set of original music. Currently, I have about 28 original tracks and collaborations of original music (roughly 39 mins of my set).
Many artists have discussed the impact that the coronavirus pandemic has had on them, whether it's the loss of live shows, lack of inspiration when in the studio, etc. Have you faced similar hurdles? What's your experience been like?
I have experienced many ups and downs during the coronavirus pandemic. Disconnect from friends, family, shows, and reality, in general, has definitely had its effect on me. Lack of inspiration in the studio is always a tough day. I've learned to accept the defeat and not fight it when the momentum isn't there.
When I'm experiencing hurdles in production I like to indulge and re-spark my creative energy into graphic design and visual design. Graphic design has been a major outlet for me to fall back on when I'm uninspired musically and has helped me get through many uninspiring days in the studio. It's a helpful balance that keeps my creativity going in a natural cycle.
As an artist who is currently rising through the ranks of the scene, aside from the pandemic, what's been the biggest struggle you've faced so far?
Aside from the pandemic, the biggest struggle I've faced in my musical journey so far has been perfecting mixing and mastering, a whole other beast in its own. I've studied mixing for a year now and had multiple eye opening mixing breakthroughs but am still on a mission to achieve cleaner and louder results!
Finally, with half of the year gone and the pandemic still raging on, what are some of your goals over the rest of the year and beyond?
Some of my goals for the rest of the year include releasing a lot of new Laiilo. music, getting a release on a major label, have a feature on a Spotify playlist, launch Laiilo. merch, record a music video, build my YouTube and continue to build and focus on my livestream segment called Breaking Barriers with Solarious. Another big goal of mine is to debut ACORA, my Pop Bass Music project with Solarious.
Aside from that, I am looking forward to playing a Virtual Stage for a Festival in Japan this August. Stretching beyond this year, I plan to design more music and fashion and collaborate with different companies/artists as well as work hard towards landing some festival bookings once quarantine is lifted. I'm super excited and blessed to be in this moment and to be able to continue working hard towards my crafts.
---
Follow Laiilo. on Social Media:
Facebook | Twitter | Instagram | SoundCloud | Twitch