After a rocky start on the first day, Rave Family Block Fest has announced that they're postponing the remainder of the virtual festival.
---
There are a number of hurdles that promoters and artists who have looked to the virtual realm to keep the vibes rolling during the pandemic have faced. Whether it's a poor internet connection, licensing issues, or problems with the platform they plan to stream on itself, it can be tricky to navigate. Now, Rave Family Block Fest, formerly known as Electric Blockaloo, has been the latest to experience some serious logistical issues that led to today's announcement that they're postponing the remainder of the show.
Having already been postponed once due to an update to Minecraft, Rave Family Block Fest pressed on with their new dates and staggering large lineup in tow. But within hours of the virtual festival kicking off yesterday, problems began to surface at a rapid pace. Some who had purchased tickets received no information about how to access the festival, others felt misled that there was no music in-game, and unplanned server maintenance by Mixcloud that further sidelined the experience for many.
This was compounded by an inability to access the festival on a console due to the virtual festival being hosted on private servers and a split between Java and Bedrock that further diminished the number of people who could experience it together. Additional issues included a lack of understanding on where the stages were, how to navigate to them, and even functionality problems that presented themselves to those who were able to log in.
In response to the issues that plagued the first day, the organizers of Rave Family Block Fest released a statement to address the hurdles and postpone the show to a future date. "We have decided to postpone the event, while still leaving our festival and camping open for the people who have been enjoying them for the last few days," the statement from Rave Family reads. "Many artists indicated that they still want to Have their music in-game, and with more time – and hopefully sleep – we will be in a better place to fully deliver the festival everyone deserves."
Those who would like to receive a refund can request one with Rave Family stating that they'll issue them within 48 hours. The servers will remain up for those who choose to continue to dance the weekend away in Minecraft and explore the world that was created. No date was announced for the new edition of Rave Family Block Fest, so stay tuned for updates and more details as they surface.
Read the full statement from Rave Family Block Fest: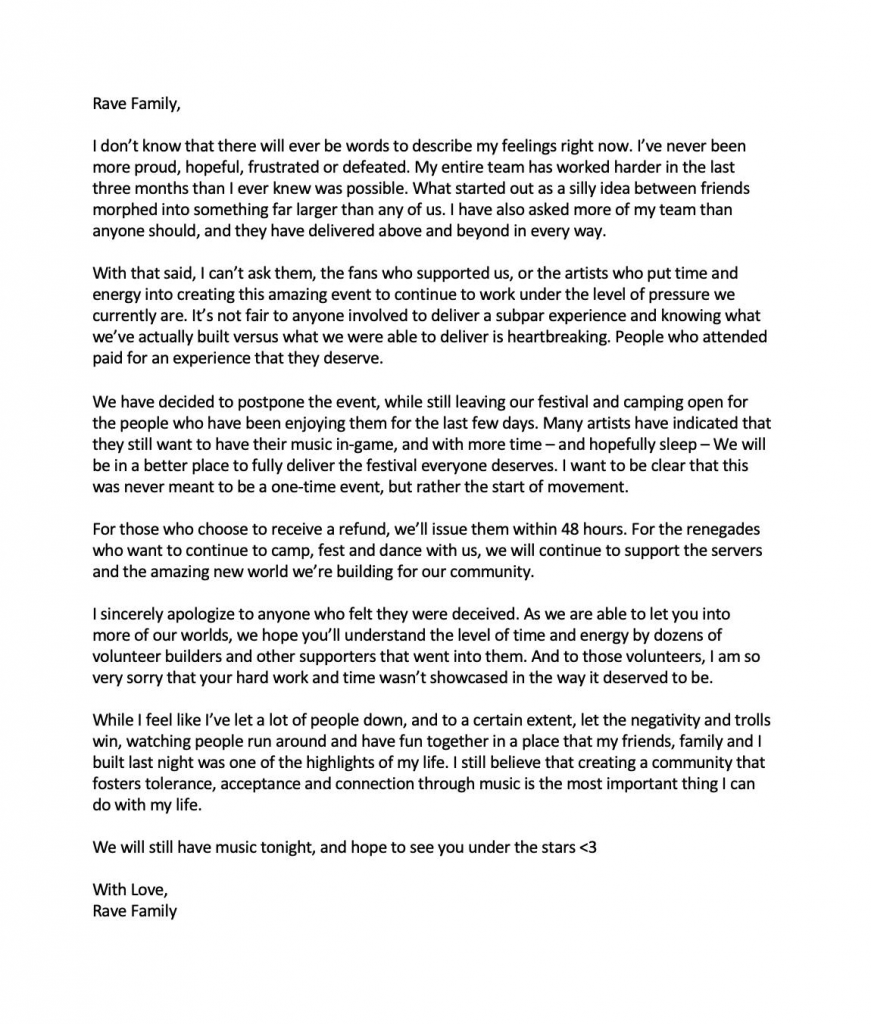 ---
Follow the Rave Family on Social Media: