Lionshare is bringing PEEKABOO, Dirt Monkey, Eprom, and GoldFish to Colorado this month for their Dirty Drive-In series!
---
Update July 18: Lionshare has postponed the two remaining dates of Dirty Drive-In after new updates on COVID-19 in Colorado. Details can be found in this post.
---
Previously: It's a completely new world for the music industry in the wake of the coronavirus as festivals and events around the world have been cancelled or postponed. Needless to say, the industry flipped upside down. However, these times call for outside-the-box thinking and creative solutions, and one of those has been drive-in raves. Now, Lionshare has announced that they're bringing the concept to Colorado with a four-part series called Dirty Drive-In!
The Dirty Drive-In event series sees Lionshare team up with Feyline to dominate Thursdays during the month of July with headliners PEEKABOO, Dirt Monkey, EPROM, and incredible duo, Goldfish being announced earlier this week. Taking place on July 9, July 16, July 23, and July 30 at The Mile High Flea Market in Denver, this will give dance music lovers in the bass capital some summer fun, even if quarantine measures are still in place. Other artists who have been announced to play in support during the series include Break Science, Decadon, Templo, DMVU, G Space, Zeke Beats, Chee, and Jinco, with more to come.
Lionshare and Feyline make safety their top priority, so there are strictly enforced ground rules during the Dirty Drive-In shows. Temperature checks will be made at the gate before entry, and anyone above 100.4 degrees Fahrenheit will be denied entry. Masks will also be mandatory and worn at all times. There will also be 10-12 feet in between cars to stay in line with social distancing measures.
Beyond having some fun and getting a dose of beats, Dirty Drive-In is committing to help raise contributions for social justice charities. The series is also dedicated to donating the net proceeds from their merchandise to social equality and has agreed to match artists willing to donate part of their fee to the movement and will do a 100% match. Voting registration will also be available onsite, encouraging Coloradans to vote in the upcoming election to make a change and fight systematic racism.
Car passes are available now via Festicket and we've teamed up with Dirty Drive-In for your chance to win a car spot for the show headlined by EPROM on July 23. Let us know if you plan to attend in the comments and don't forget to enter!
Enter to win a car pass for the Dirty Drive-In featuring EPROM:
Win a Car Pass to the Dirty Drive-In in Denver Featuring EPROM!
---
Event Details:
Date: July 9, July 16th, July 23rd, July 30th
Ages: All Ages
Hours: 6:00 PM – 11:59 PM
Venue Address: 7007 E 88th Ave, Henderson, CO 80640
Tickets: PURCHASE HERE
Facebook Event Page: RSVP HERE
---
Dirty Drive-In 2020 – Headliner Lineup: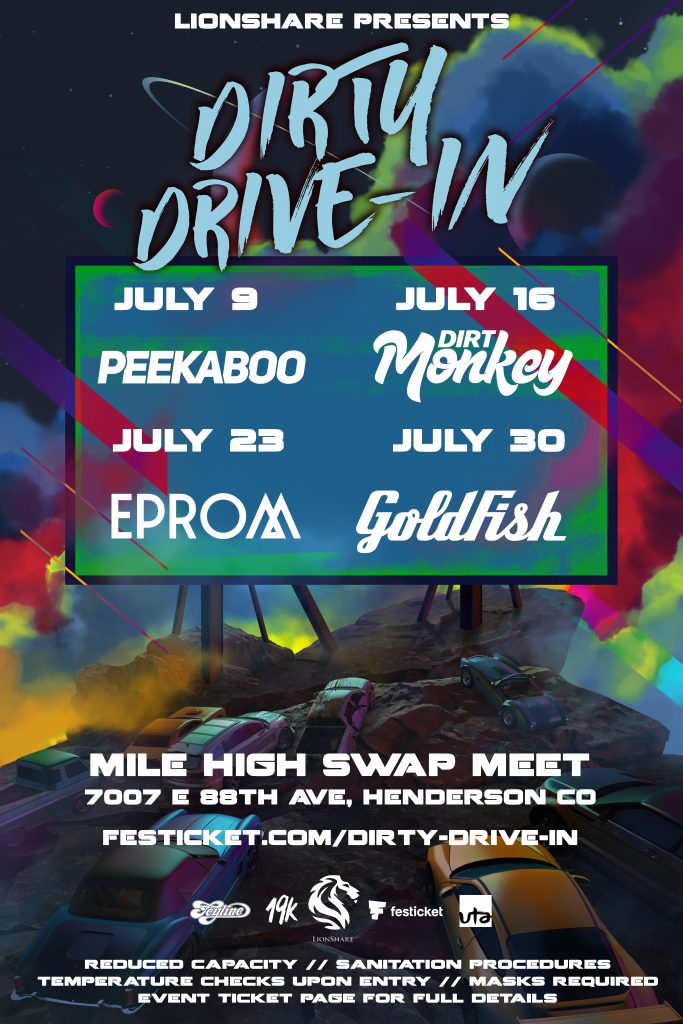 ---
Follow Lionshare on Social Media: