Beyond Wonderland at The Gorge Virtual Rave-A-Thon livestream is coming to your rave cave this weekend with a stacked lineup!
---
Earlier this year, Pasquale Rotella made a huge announcement that Insomniac was returning to the Pacific Northwest after nearly a decade-long hiatus in the State of Insomniac update. Fans were stoked when the official announcement for Beyond Wonderland at The Gorge dropped, especially since the lineup was packed with insane talent like Zomboy, Anna Lunoe, Chris Lorenzo, G Jones, and so many more. However, COVID-19 put all our hopes and dreams on the sidelines and Insomniac announced that the two-day festival is canceled and will return in 2021.
That isn't stopping Insomniac from bringing the good vibes and tunes to the comforts of your home as they've announced the virtual edition of the festival! That's right, Insomniac is ready to bring the vibes that permeate The Gorge straight to your living room, bedroom, and rave cave this weekend Saturday, June 20, and Sunday, June 21. Following a little break from the consistent run of streams, they're back to work with Beyond Wonderland at The Gorge Virtual Rave-A-Thon.
Today, they dropped the lineup and it's packed with talent that includes major artists like Laidback Luke, TESTPILOT (deadmau5), and Dash Berlin, along with some other stunners ranging from Showtek and YehMe2 to Ghastly and Nitti Gritti. Additionally, sets from rising stars like Lucii, Blunts & Blondes, and William Black are ones you shouldn't sleep on. Check out the full lineup below and let us know who you're most excited to catch this weekend!
Additionally, Beyond Wonderland at the Gorge Virtual Rave-A-Thon will benefit the Equal Justice Initiative and Rave Recovery, a relief fund created specifically for dance music fans impacted by the COVID-19 health crisis. Donations can be made now or during the broadcast.
Follow Beyond Wonderland on Twitter for the latest updates and make sure you're following Insomniac Events on YouTube and Twitch so you can get a reminder the moment the streams go live!
Watch sets from Beyond Wonderland at The Gorge Virtual Rave-A-Thon on YouTube:
---
Beyond Wonderland at The Gorge Virtual Rave-A-Thon Schedule: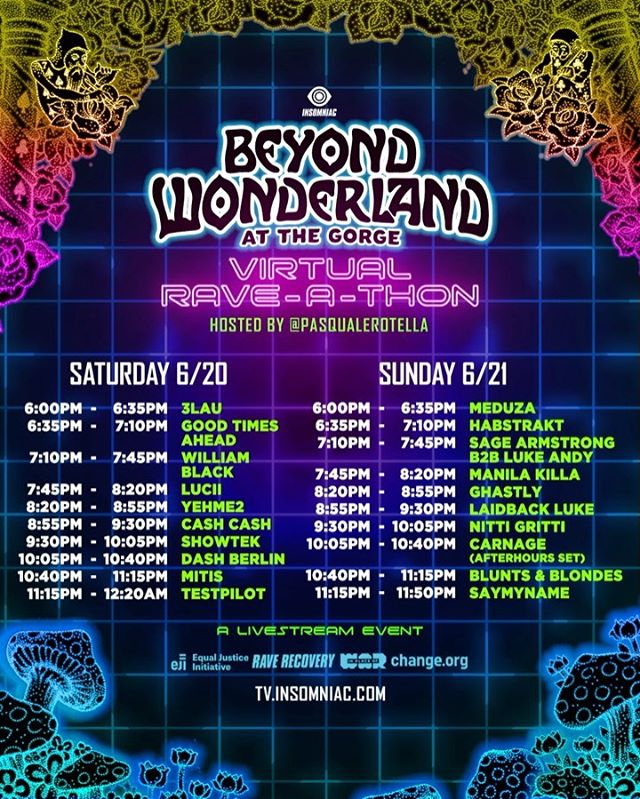 ---
Beyond Wonderland at The Gorge Virtual Rave-A-Thon Lineup: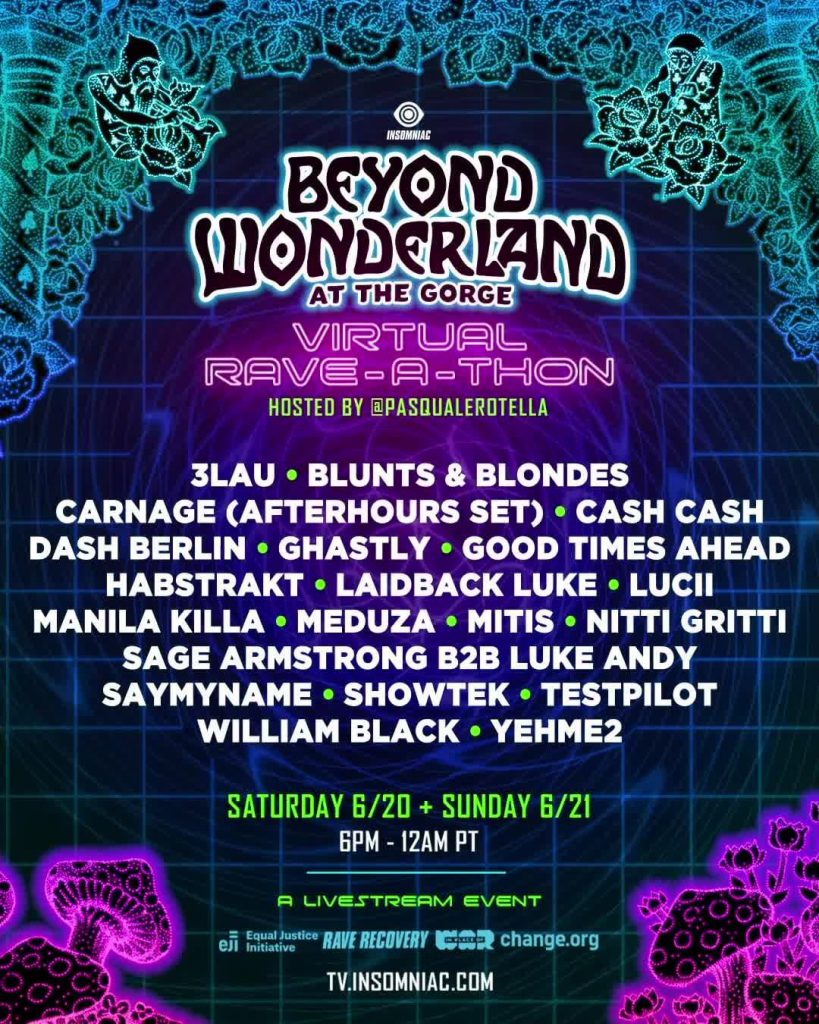 ---
Connect with Beyond Wonderland (PNW) on Social Media: