Kai Wachi takes us through how "Run" came about with Dylan Matthew, his take on Writer's Block, and plenty more!
---
If you appreciate heavy bass served up with a side of phenomenal sound design, then Kai Wachi is the guy for you. This Boise based producer has masterfully created some of the heaviest tunes in bass music to date. It's impossible to listen to a track of his and not feel the need to get up and get hyped.
One of the early members of the Kannibalen family, Kai Wachi has perfected his craft and his production techniques throughout the years. The result being head-splitting dubstep that has gotten him slots at Lost Lands, EDC Las Vegas, Paradiso and many more. To add to his long list of successes is his recent DEMIGOD headline tour, which had numerous dates sold out across the country.
With his first release of this year, he shows listeners a more emotional side with his new single "Run". The track features lush vocals from Dylan Matthew and beautiful chord progressions from Kai Wachi along with his signature heavy bass sound mixed in. While 2019 was a huge year, we are glued to our seats to see how 2020 plays out for him!
Take a listen to "Run" on Spotify below, download or stream it on your favorite platform, and read on for our chat with Kai Wachi!
Stream Kai Wachi & Dylan Matthew – Run on Spotify:
---
Hey Kai Wachi, thanks for chatting with us today! Let's talk about your most recent release, "Run", that's out now on Kannibalen. What was the process behind making this track with vocalist Dylan Matthew?
I started writing chords on my keyboard and initially liked the idea of the intro and built it off of that. The drop I had the idea of being able to make it emotional without it being a future bass kind of track. It worked out well and once I linked up with Dylan, he really took the songwriting next level.
Can we expect more "CRY WACHI" tracks like this in the future?
Oh yeah. I honestly resonate with my music more right now when I make songs like this. I get super proud of them. I'll have more, but I really want to take my time with them to get them perfect.
In 2019, you had a ton of releases including your album DEMIGOD and All My Demons. What is your process in creating so many tracks? Do you ever face writer's block?
I just spit a lot of those tracks out, I honestly don't know how I did it. But I was in the rat race of 2019 in the bass scene when I was making those tracks. In my opinion, I come out with watered-down versions of my own music when I work that fast. The tracks are still cool, but they were more for going hard live.
Let's chat about your recent "DEMIGOD" tour that concluded in January. A majority of those dates completely sold out. What was that feeling like as you heard that news?
It felt really good and relieving because your first tour is really the ultimate test of how well you're actually doing and if you took the step at the right time. So grateful for everyone who came out!!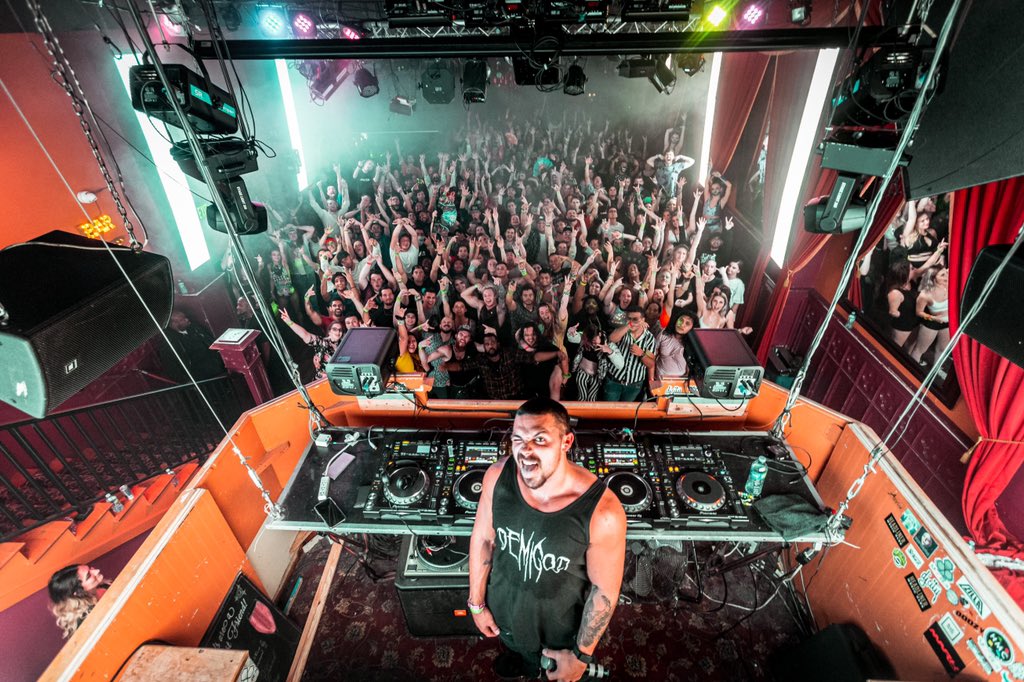 In light of all this coronavirus (COVID-19) news and show cancellations, how has this changed the course of the next few months for you and your team?
We are more focused on creating better music and using the time to dial in the areas that we feel need more attention. Specifically for me – the music!
Now that everyone will be at home for the next couple of weeks, you announced you will be releasing a 4-week workout program. That's a great way to give back to people in such hard times. What are some other ways people can give back?
I think other DJs doing live streams and one on one lessons is great! For me, I don't own CDJs, and I felt what better way to personally give back than to offer a workout plan since that's right up my alley and will keep people healthy during a tough time.
What has been the biggest struggle that you've faced so far in your career, and how did you overcome it?
Comparison. Comparison of my numbers and music to others. Which in 2019 drove me to the worst mental state of my career I've ever experienced. I overcame it by approaching music with no boundaries again as I used to when I was younger.
If you could give one piece of advice to artists who are looking to break into the bass music scene, what would it be?
Don't make tracks for other DJs to play. It's a trap. Make weird sh*t. Make it your own. F*ck formulas. That's how you make a name. 
Finally, are there any big 2020 goals that you have set for yourself?
This year will be my best year of Kai Wachi music. I can feel it.
---
Connect with Kai Wachi on Social Media:
Facebook | Twitter | Instagram | SoundCloud