Okeechobee Music & Arts Festival gave us one last weekend of musical satisfaction before the COVID-19 pandemic picked up.
---
Speculations about whether or not Okeechobee Music and Arts Festival would transpire had been brewing before the big day, but my crew along with many others were looking forward to the experience. I'll admit that it did seem a bit trivial to head to a music festival despite the current conditions of the time, but I think I can speak for most when I say we were readily prepared for this to be the last festival for the foreseeable future.
At the festival this year, we took it upon ourselves to experience Okeechobee as we never had experienced Okeechobee before. We partied hard, but we sanitized harder – there was never a moment during a set where a friend or stranger would kindly ask to "holler" at my keychain hand sanitizer during a set, for which I gladly kept backups in my extra compartments. With that being said, the Portal was every bit as paradisaical as I had remembered in past years.
Looking for our photos from Okeechobee this year? Check out our full gallery over on Facebook!
Upon arrival, Thirsty Thursday was in full swing at the sandy shores of the Aquachobee stage.
I was a bit concerned about getting there late Thursday evening in regards to camping placement. Why? Well, if you've been to Okeechobee before, you know that you need to enter the Portal with those you plan on camping with in order to maintain the row-by-row structure of cars they implement.
Those concerns grew as I arrived at the venue alone but immediately vanished as I felt the urge to catch a set. Instead of searching, I just parked my car in the first open spot on the outskirts of the festival in a race to make it to the music after making a feeble attempt to weave through the rows and find my friends' spot. I'd worry about camping later.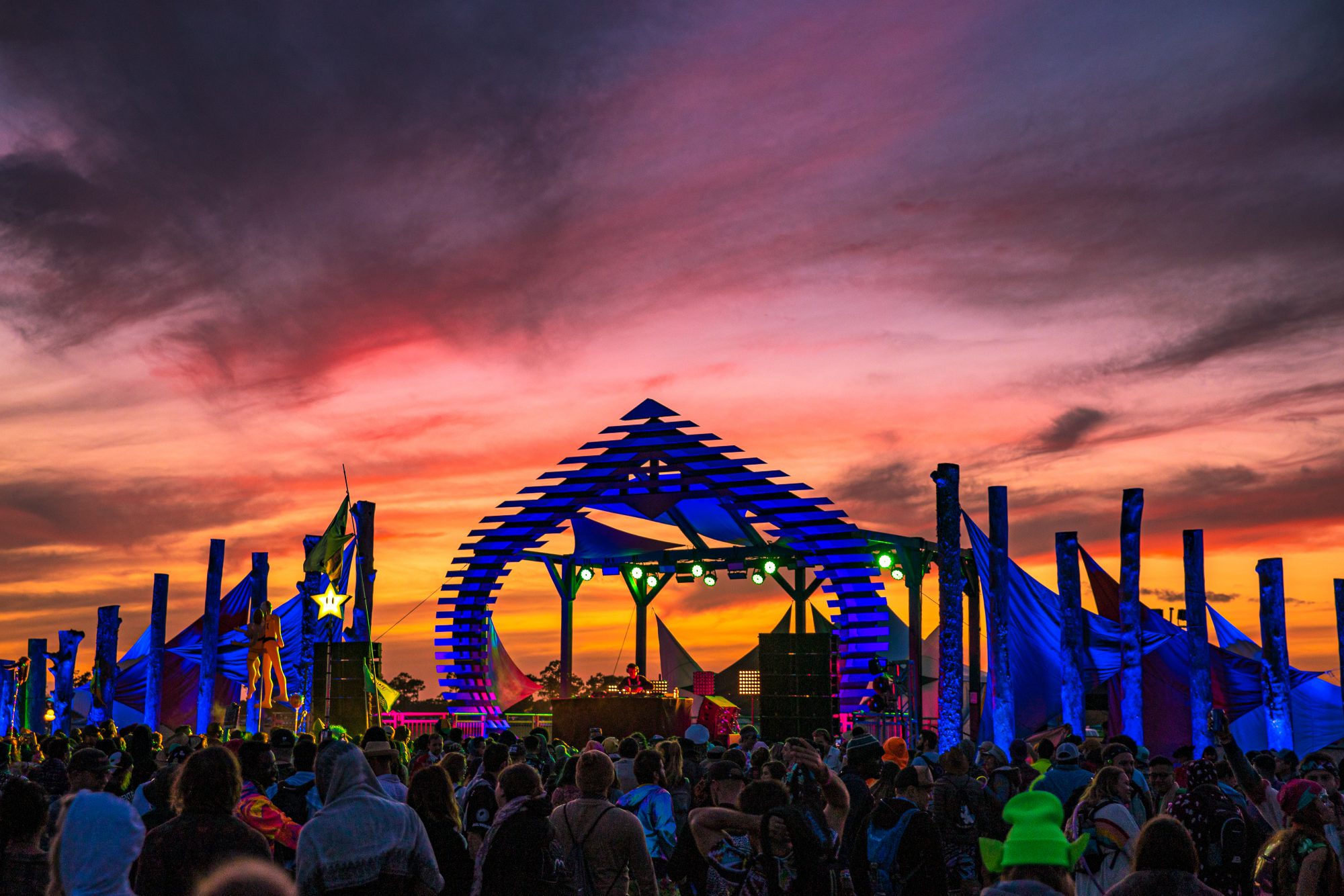 The tropical oasis of a stage known as Aquachobee has remained a serene spot for raging and rejuvenating.
Though there have been some aesthetic alterations to the stages at Okeechobee over the years, this stage is one of my favorites. That night, we were thrust into some serious dub with the master himself, Caspa, as he captivated us through those old school UK vibes amidst a moonlit Aquachobee. Tracks like "Deja Vu" reverberated through the grounds, and the reality that we were actually back at OMF after a year-long hiatus reverberated as well.
The next morning I woke up slightly flustered thinking about camping by my lonesome for the duration of the festival, which is not something I am accustomed to doing. Luckily for me, the volunteer coordinating car parking and camping was more than willing to let me find my festy fam, who had graciously done their best at "roping" off a spot, aka blockading it with coolers and tapestries until my arrival. After that power move, I was back in action.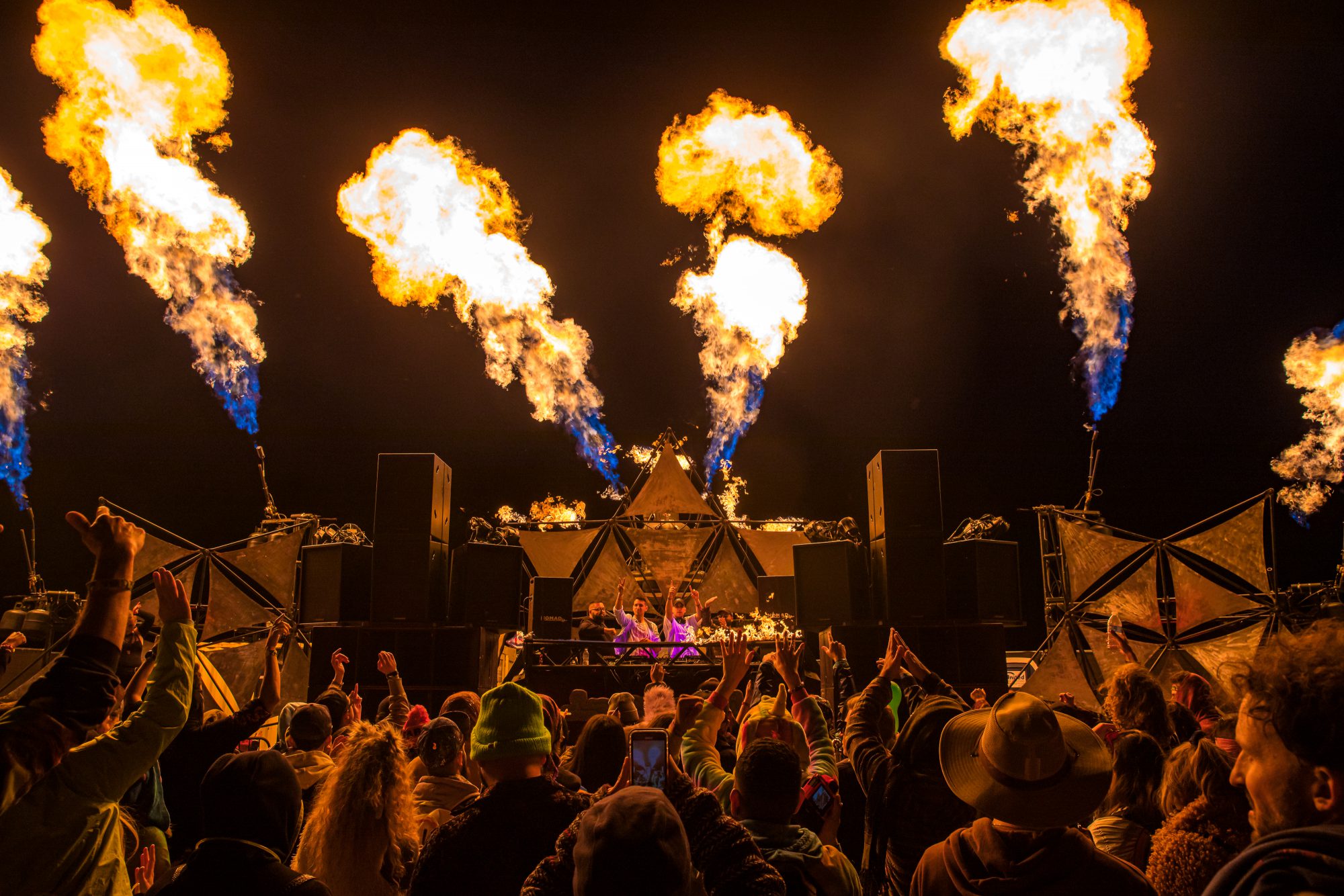 Insomniac really stepped up to the plate in terms of production for the festival's return this year.
Not that recent years hadn't been epic with production, but oftentimes it was sad to stand in the further back of the main stages because the sound simply didn't do the performers justice. But to me, nothing is a bigger mood killer than being jolted around by other festival-goers when you're all just trying to get your groove on. I enjoy a spacious dancefloor, gravitating towards the back of most sets depending on the crowd.
Insomniac ensured I could comfortably maintain my distance in a less-crowded part of the stage while not compromising any audio experience, and they surely didn't hold back on any of the pyrotechnics, which were hot fire, literally.
The weather at this year's edition of OMF was a delightful surprise to say the least – beautiful breezes during the day, and chilly nights to soothe our sweaty selves.
Though the evenings were a touch too cold for my liking, and I'm sure many others, the weather was more than permitting at Okeechobee. We were able to frolic around on Friday morning at Yogachobee and not get heat exhaustion, which is a rarity for the heart of Florida at that time of year.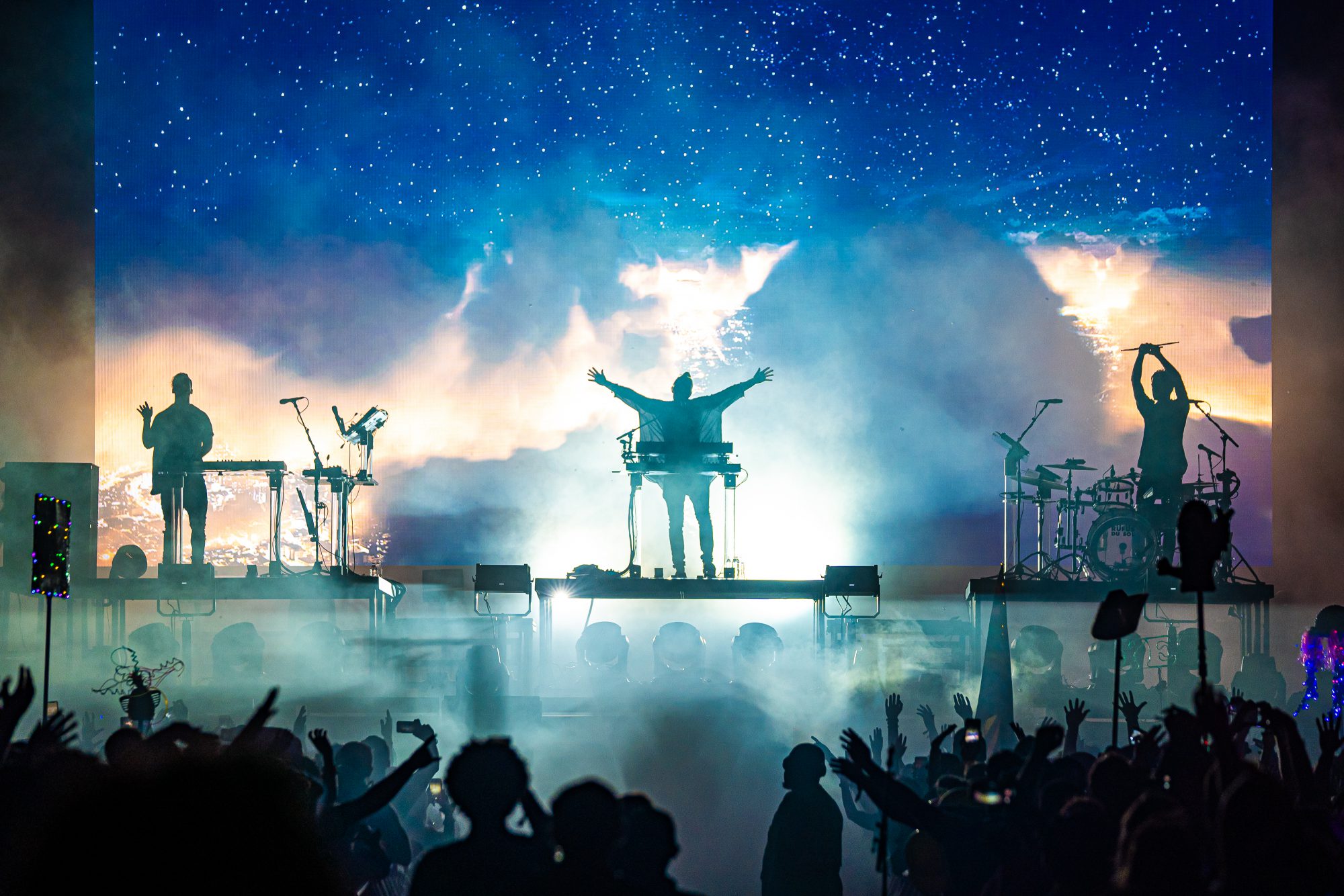 But who did I catch during my experience at Okeechobee this year? Let's get back to the music.
On Thursday, Rufus Du Sol serenaded us on the BE stage with crowd-favorites like "Innerbloom", setting in those sexy, sultry vibes that are synonymous with their sets. Huxley Anne and Ivy Lab threw down a massive b2b set at the fired-up Incendia Stage, which is always a seriously sweltering time.
Then, on Friday, Big Gigantic knocked me into nostalgia at their set at the BE stage, crushing classics like "Touch the Sky" which was truly magical. Adding to that magic later in the evening was Papadosio, who perfectly performed well-loved songs like "Find Your Cloud", sending us into pure euphoria when accompanied by the stunning visuals behind the band.
Papadosio put us in a daze only for us to be jolted awake by Bassnectar shortly thereafter.
Sampling a slew of vocals and instrumentals throughout his performance, Bassnectar boasted mashups including Ciara's "Goodies," Skee-Lo's "I Wish," and so much more. He also dropped a brand new track with YOOKiE entitled "Open Your Mind." This evocative track was both emotive and energetic, putting the crowd in a mesmerizing trance if only for a moment.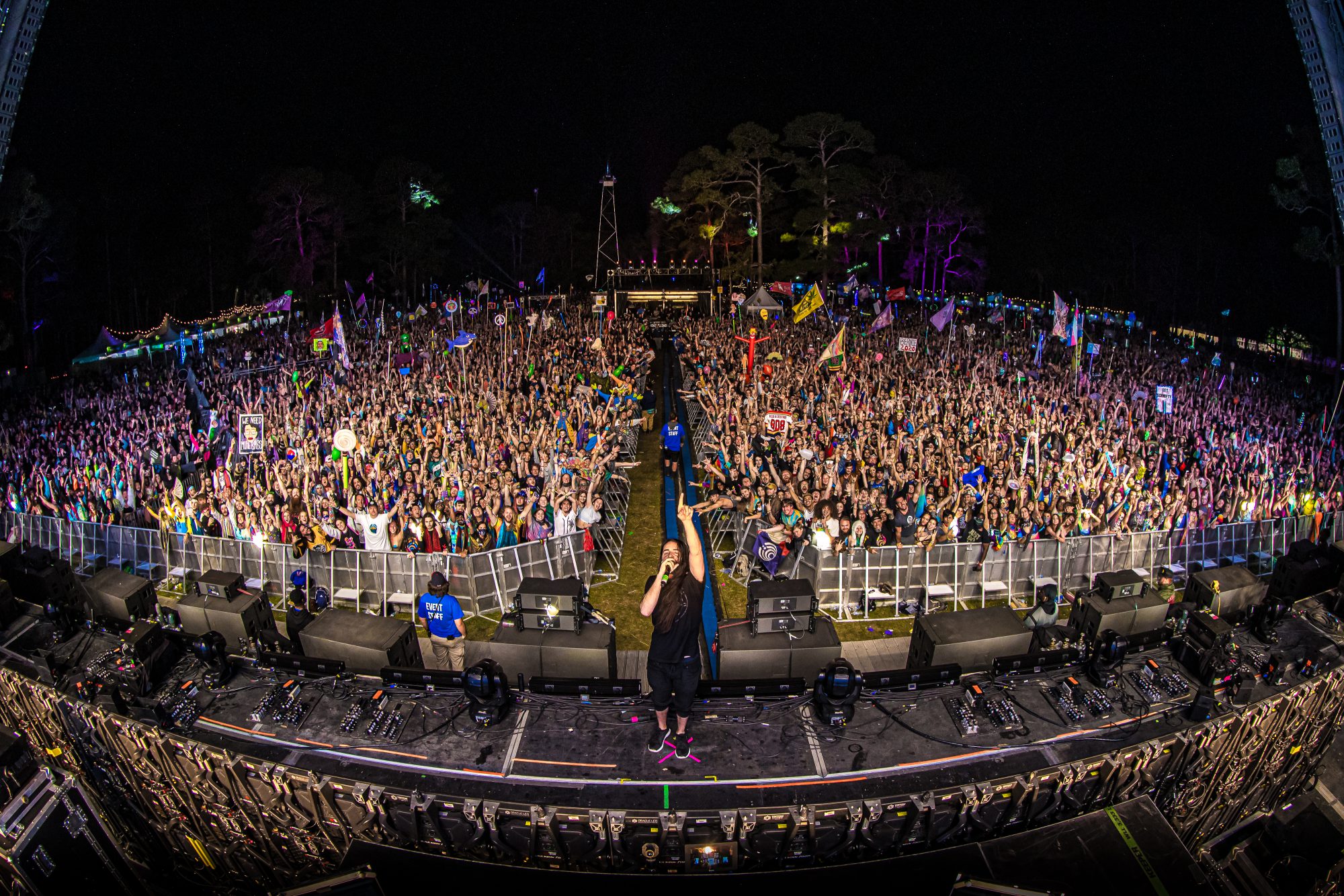 Anticipations were running at an all-time high for G Jones and Tipper who took to the HERE stage Saturday evening, causing the crowd to thicken out like none other.
I have seen some crowds in my festival days, but the number of party people sitting down for hours before Tipper's set was unprecedented at a festival of this size. Once he took to the stage, everyone was up and at em' getting down to the glitch as he rinsed raunchy tracks like "It's Like" and "Bilirubin," keeping the crunch alive through the night.
Yheti performed an impromptu set late at night on Saturday in the RV area, attracting thousands of Okeechobeings to the secret spot and fully initiating the party. Fur coats and slap bags were abundant as everyone set up tapestries throughout the area, jamming out to some insane sounds at the wee hours of the morning.
Saying goodbye is always bittersweet, this time especially so as reality began to creep back in on Sunday. 
Thankfully, we had GRiZ and Ghostland Observatory to serenade us on Sunday Funday, making things more sweet than bitter on that beautiful evening. GRiZ kept the good times rolling and the funk afloat, opening up by spitting rhymes with a relentless unreleased track regarding spaceships, and needless to say, it blasted us into bass space real fast.
Having not seen indie-electro band Ghostland Observatory since 2012, admittedly I had forgotten just how phenomenal their live sets were because of their elusiveness in touring. I think I speak for the masses that their performance was nothing short of amazing.
This was especially apparent when they rinsed one of my personal favorites, "Sad Sad City," all the while entrancing the crowd with their pristine instrumentation and vivid vocals. But the end was terribly near at that point and we all knew it could be our last time dancing in the dust for quite some time.
Overall, the return of Okeechobee was one for the books and an edition of the festival that has left me with lasting memories.
Despite the constant comments regarding the coronavirus pandemic, things were wild and wonderful and whimsical at the latest edition of Okeechobee. Although I'm unsure about the future of festivals for the foreseeable future as many continue to be postponed or cancelled, I am confident that as a community we will continue to support one another for some time to come.
I can't wait to re-enter The Portal in the future and see how Okeechobee can continue to wow me in the future. Stay safe and secure until next time, my festival friends!
---
Connect with Okeechobee Music & Arts Festival on Social Media: