The third edition of Bass Canyon is primed to be one of the most explosive yet with Liquid Stranger, 12th Planet, Subtronics, and more joining Excision!
---
After two absolutely massive editions of Bass Canyon at The Gorge that delivered some serious drops to the iconic venue, there's no doubt that it is one of the best festivals to attend if you love the wubs. After announcing that the festival would be returning this year on August 28-30 earlier this year, all that was left for Excision to unveil was the lineup to push headbangers over the edge with excitement.
Today, Bass Canyon tickets went on sale but that wasn't the only surprise Excision had in store for his loyal following as the lineup dropped along with it. This year, the festival will feature some of the most notable names in bass music like Liquid Stranger, Spag Heddy, Ganja White Night, Eptic, and 12th Planet.
Joining in on the fun will be a bevy of artists like Champagne Drip, Kompany, Subtronics, Space Laces, and LSDream who will surely be bringing the heat with their sets. Other artists on the lineup that stuck out immediately included Wooli, Hex Cougar, and SubDocta, while a DnB Set from Downlink is going to be another fantastic set you shouldn't miss either.
Of course, Excision himself will be bringing along multiple sets throughout the entire event with a standard set, detox set, and b2b performance with Illenium in the cards. Check out the full lineup below and let us know who you're most excited to catch in the comments!
Tickets for Bass Canyon are available now via BassCanyon.com/Tickets, grab yours today and don't forget to purchase your shuttle or camping passes as well. 
---
Bass Canyon 2020 Lineup: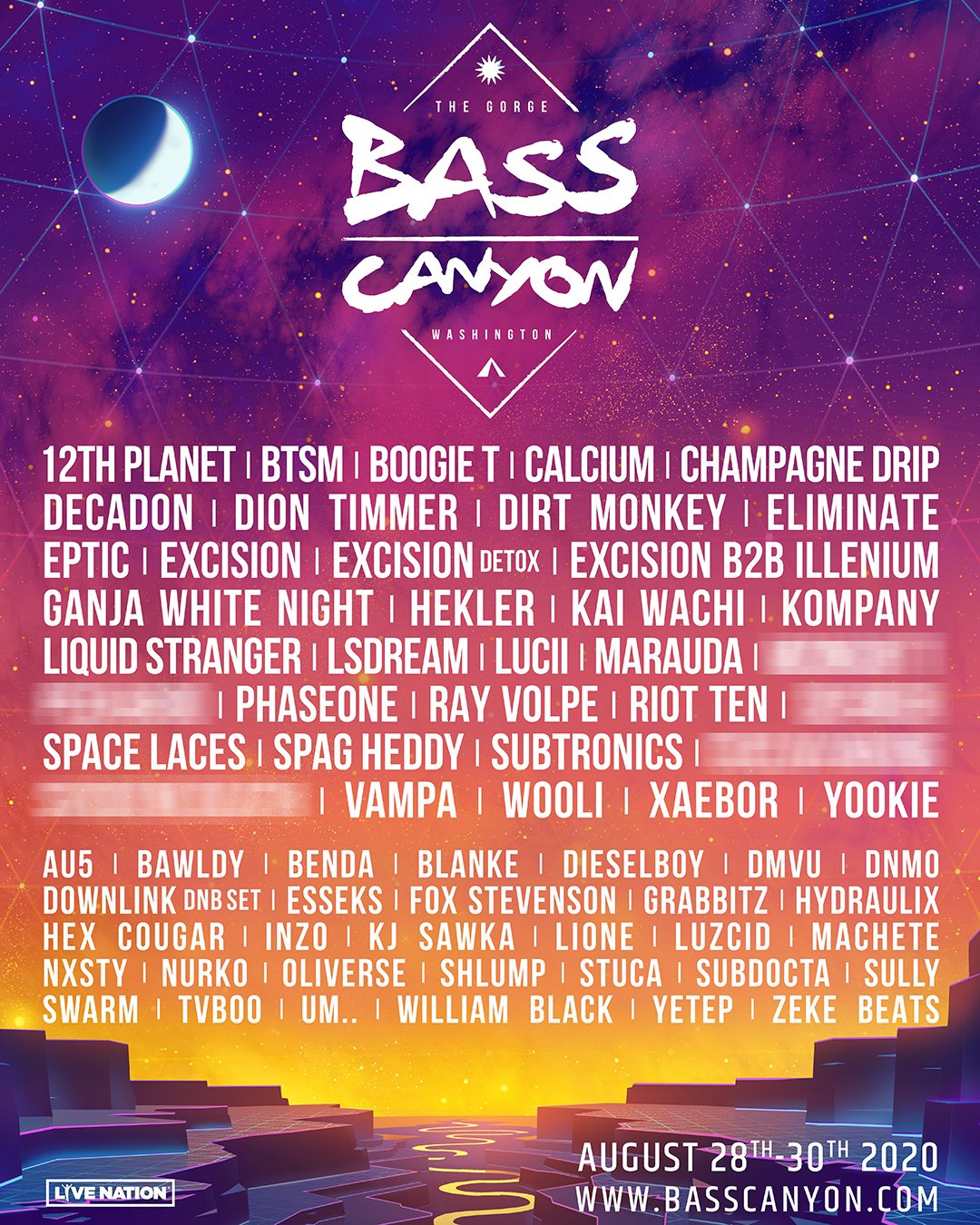 ---
Bass Canyon 2020 Lineup By Artist:
12th Planet
BTSM
Boogie T
Calcium
Champagne Drip
Decadon
Dion Timmer
Dirt Monkey
Eliminate
Eptic
Excision
Excision Detox
Excision b2b Illenium
Ganja White Night
Hekler
Kai Wachi
Kompany
Liquid Stranger
LSDream
Lucii
Marauda
???????
???????
PhaseOne
Ray Volpe
Riot Ten
???????
Space Laces
Spag Heddy
Subtronics
???????
???????
Vampa
Wooli
Xaebor
YOOKiE
Au5
Bawldy
Benda
Blanke
Dieselboy
DMVU
DNMO
Downlink (DnB Set)
Esseks
Fox Stevenson
Grabbitz
Hydraulix
Hex Cougar
INZO
KJ Sawka
Lione
Luzcid
Machete
NXSTY
Nurko
Oliverse
Shlump
Stuca
SubDocta
Sully
SWARM
TVBOO
Um..
William Black
Yetep
Zeke Beats
---
Follow Bass Canyon on Social Media: