After unleashing an initial lineup that was absolutely massive, Sonic Bloom adds Minnesota, SoDown, Chali 2na, Cut Chemist, and more to the bill!
---
More than a dozen new additions have joined the already stunning lineup for this year's edition of Sonic Bloom. Joining the ranks of this year's headliners are Colorado favorites Minnesota and SoDown along with other artists like John Summit and Chali 2na with Cut Chemist. They're all welcome additions and will guarantee quite the adventure with their sets out on Hummingbird Ranch this June 18-21.
Colorado is no stranger to high-quality bass music, and this year's festival offers something extra special for Tipper's Saturday night takeover as he'll be joined by Detox Unit, Resonant Language, and Restraint. Each DJ set will go hand in hand with top tier visual artists Datagrama, Cullen Hasel, Steve Haman, and Tenstrip respectively to create a synchronistic audio-visual experience unlike anything ever before seen at Sonic Bloom.
This year's lineup also shines a light on a plethora of talented Colorado-based producers as well. Sonic Bloom welcomes Nobide, Melody Lines, and Banshee Tree as they each bring a unique musical flavor ranging from deep house to downtempo. Also joining the party in 2020 are emerging bass talents Xenolinguist, NotLo, Mermix, and LER.
Not to be left out is blossoming Jamtronica act Schema Things who will bring their unique left-field jams, and highly polished melodies to the ranch this year. Rounding out phase two is Denver based house and techno producers Nick Irvin and Miss Tree who are set to deliver their high energy dance floor bangers to Sonic Bloom 2020.
Tier one tickets are sold out, and tier-one VIP packages are on track to do the same, snag your passes via Eventbrite before they go up in price once again! Let us know what you think about this year's lineup in the comments below!
---
Sonic Bloom 2020 Phase 2 Lineup: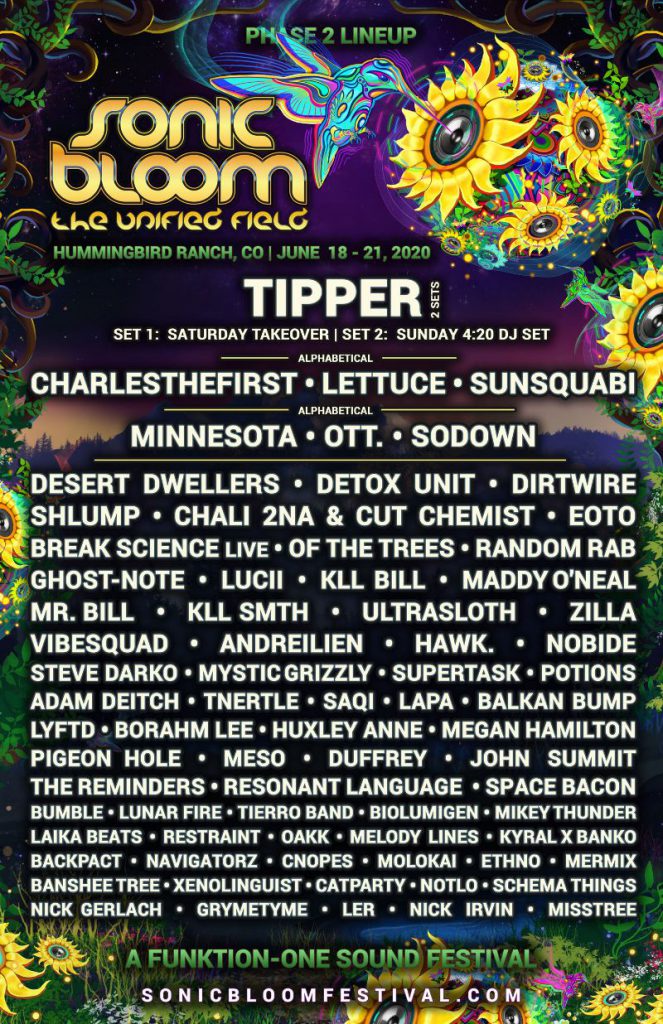 ---
Sonic Bloom 2020 – Phase 2 Lineup By Artist:
Tipper
CharlestheFirst
Lettuce
Sunsquabi
Minnesota
Ott
SoDown
Chali 2na & Cut Chemist
Detox Unit
Resonant Language
Restraint
Desert Dwellers
Dirtwire
Shlump
EOTO
Break Science Live Band
Of The Trees
Random Rab
Ghost-Note
Lucii
Ultrasloth
Kll Bill
Maddy O'Neil
Mr. Bill
Kll Smith
Vibesquad
Zilla
Andreilien
Hawk
Steve Darko
Nobide
John Summit
Melody Lines
Banshee Tree
Xenolinguist
Mermix
Cat Party
NotLo
Schema Things
LER
Nick Irvin
Mystic Grizzly
Supertask
Potions
Adam Deitch
Tnertle
Saqi
Lapa
Balkan Bump
Lyftd
Borahm Lee
Huxley Anne
Megan Hamilton
Pigeon Hole
Meso
The Reminders
Duffery
Space Bacon
Bumble
Lunar Fire
Tierro Band
BioluMigen
Mikey Thunder
Laika Beats
Oakk
Kyral X Banko
Backpact
Navigatorz
Cnopes
Molokai
Ethno
Nick Gerlach
Grymetyme
---
Follow Sonic Bloom on Social Media: