House and techno legends Lee Burridge and Derrick Carter join the ranks of the inaugural Altus Festival alongside Bonobo, Justin Martin, and more!
---
South Lake Tahoe continues its growth as a premier music festival destination this spring with the addition of Altus Festival taking place this March 18 – 21. The inaugural Altus Festival highlights the symbiotic relationship between top-tier dance music and a one-of-a-kind outdoor adventure. This spring attendees can expect top-notch sets across the upper echelon of house, techno and old school hip-hop. In addition to the piping hot beats, attendees can relish in all Lake Tahoe has to offer with skiing, hiking, and adventure just steps from the stages.
This year's acts include the legendary Sugarhill Gang featuring Grandmaster Melle Mel and Scorpio (of Furious 5). Additionally, Altus Festival will host Mr. G (live), Osunlade, Whomadewho, and Robag Wruhme. Altus Festival has gone above and beyond to showcase some of the hottest names in underground dance music. Not only has the festival brought together some of the hottest up and comers, but they have also recruited the genre-defying Nick Monaco, Nor-Cal house legend Doc Martin, and Bay-Area favorite Sunshine Jones.
Altus Festival is also offering a killer deal on all-inclusive packages. Packages include four nights of accommodation in South Lake Tahoe, a four-day festival pass, and three days of skiing or riding at the iconic Heavenly Mountain with numerous on-mountain DJ sets.
Don't miss your chance to catch these legendary artists melt away winters chill in South Lake Tahoe! Grab your festival passes as well as accommodation and ski packages via their website!
---
Altus Festival 2020 Phase 2 Lineup: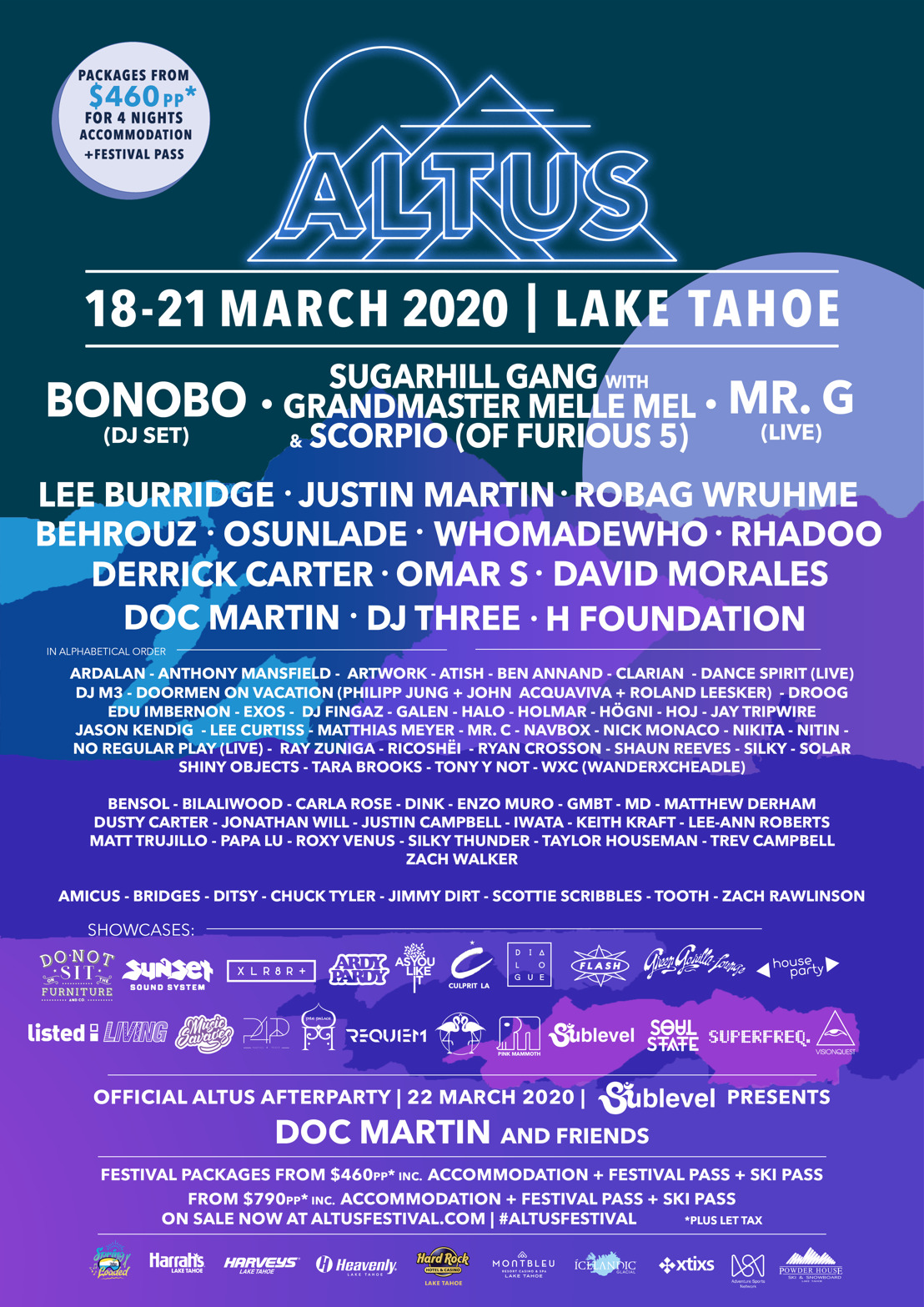 ---
Altus Festival 2020 Phase 2- Lineup By Artist:
Phase 2 artists indicated by *
Anthony Mansfield*
Ardalan
Artwork
Atish
Ben Annand
Behrouz
Bonobo
Bridges*
Chuck Tyler*
Clarian
Cute Jesus*
Dance Spirit (Live)
Derrick Carter*
Ditsy*
DJ M3*
DJ Three*
Doormen on Vacation (Phillip Jung + John Acquaviva + Roland Leesker)
Droog
Edu Imbernon*
Exos
Gale
H Foundation*
Halo*
Holmar
Hӧgni
Hoj*
Jay Tripwire
Jason Kendig*
Jimmy Dirt*
Jonathan Will*
Justin Martin
Mr. C
Mr. G (Live)
Navbox
Nick Monaco*
Nikita
Nitin
No Regular Play (Live)
Lee Burridge*
Lee Curtiss
Matthias Meyer
Omar S*
Osunlade*
Ray Zuniga
Rhadoo*
Ricoshëi
Ryan Crosson
Robag Wruhme
Shaun Reeves
Silky
Solar*
Shiny Objects*
Sugarhill Gang with Grandmaster Melle Mel and Scorpio (from Furious 5)
Sunshine Jones (Live)*
Tara Brooks
Tony Y Not
Whomadewho
WXC (Wanderxcheadle)
Bensol
Bilaliwood
Carla Rose
Dink*
Enzo Muro
GMBT
MD
Matthew Derham*
Matt Trujillo*
Mike Gushansky*
Dusty Carter*
Jerome Joyce*
Jonathan Will*
Justin Campbell*
Iwata*
Keith Kraft*
Lee-Ann Roberts
Matt Trujillo*
Papa Lu*
Roxy Venus*
Silky Thunder*
Trev Campbell*
Zach Walker*
Amicus*
benjam*
Bridges*
Chango*
Cute Jesus*
Ditsy*
Chuck Tyler*
Jimmy Dirt*
Lions in Paris*
Patrick Coe*
Ralf*
Scottie Scribbles*
Tooth*
Zach Rawlinson*
---
Follow Altus Festival on Social Media: