Looking to bond with like-minded people and be a part of an immersive camping experience? Elements Festival has you covered in 2020.
---
After announcing a massive lineup, for the first time Elements Music & Arts Festival has introduced Vibe Villages and Theme Camps to the already extensive housing options. The festival, which takes place May 22-25 in Lakewood, PA, added these camping areas in order to connect the community on a deeper level and bring additional programming to the weekend.
There are seven different Vibe Villages to choose from and each differs in size and location. Within each village, groups of 8 or more are able to submit an application for their theme camp. Themes can be based on group costumes, art installations, building a stage, or anything you can think of to add to the uniqueness of the weekend. This experience allows you to bring your own personality to the campsites.
The cost to participate in a theme camp is $25 per person which helps fund the Vibe Villages amenities and programming. To sign up for a theme camp the group leader must fill out this google document and follow the instructions within! Don't have enough people to create a group camp or looking for one to join? Try the Elements Festival / Lakewood Family Facebook Page!
Read on below to see the breakdown of each of the Vibe Villages! Don't forget to grab your tickets via their website as well!
Elements Festival 2020 Vibe Villages: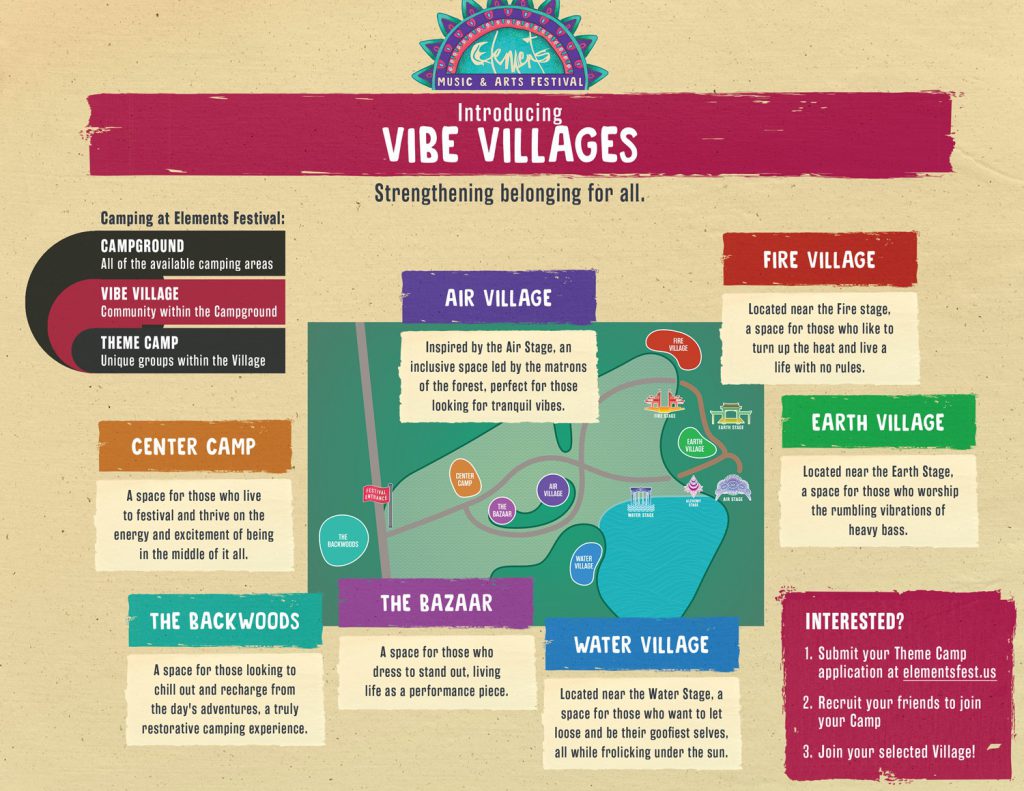 Earth Village
The Earth Village is located near the Earth Stage and is made for those who love heavy bass. The stage is headlined this year by Jade Cicada, TOKiMONSTA, and Gramatik.
Water Village
The Water Village is for those who want to let loose and be goofy under the sun. The Water Stage is headlined by Claude VonStroke and features artists such as Golf Clap and Fleetmac Wood.
Fire Village
Located near the Fire Stage, this Vibe Village is for those who live life with no rules. Diplo (Higher Ground Takeover), Bonobo (DJ), and Chris Lake are all headlining the Fire Stage this year.
Air Village
The Air Village is inspired by the Air Stage and is located in the middle of the festival grounds. This year's Air Stage headliners include Bob Moses (Club Set), Four Tet, Yotto, and YokoO. It also is including a Desert Hearts lineup of Mikey Lion, Lee Reynolds, and more.
The Bazaar
The Bazaar is for those who want to stand out and live life like a performance piece. It is located near the Theater Stage.
Center Camp
Center Camp is for those festival-goers who live for the energy of being in the middle of it all. It is located between GA Camping and the Central Cabins/VIP Camping.
The Backwoods
The Backwoods, located furthest from the stages, is for those looking for a more relaxed camping environment.
Not interested in joining a Vibe Village? Check out all of the other camping options for Elements Music & Arts Festival 2020.
---
Follow Elements Music & Arts Festival on Social Media: